"Holocau$t i$ fake hi$tory" is not anti-Semitism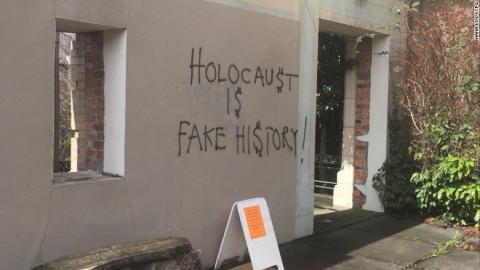 This neatly written phrase was spray-painted on a synagogue outer garden wall in Seattle's upscale Capitol Hill neighborhood Thursday night. It's being treated as a hate crime and blamed, by extension, on President Trump, but where is the hate?
---
By Carolyn Yeager
A REPORT AT THE HILL headlined it "anti-Semitic vandalism" and repeated that it is an "anti-Semitic act."
The Seattle Times used the words "toxic expression" and "anti-Semitic, Holocaust-denying graffiti." It may be holocaust-denying, but it is not anti-Semitic. The two are not the same.
Rabbi Daniel Weiner of Temple De Hirsch Sinai must be rubbing his hands with glee. A neighbor, thinking s/he was doing a good deed, covered the graffiti with a sheet on which was written "Love Wins", but the rabbi took the sheet down.
"It was a very sweet gesture and touching, but we took it down … I think it's extremely important that people see this."
Of course they want people to see it. That's why Jews so often spray this graffiti themselves on their own buildings and walls so they can keep complaining that anti-Semitism is a serious problem in society. I am not suggesting Rabbi Weiner had anything to do with it, but only that he will not be in any hurry to scrub off the carefully drawn lwords. [Wouldn't it take practice with a spray can to print so clearly?] He said the Seattle police are investigating the incident as a hate crime.
What could be better for the Jewish community?
Seattle Police Department spokesman Patrick Michaud said police did not have a suspect but officers will be patrolling the area around the temple when they have extra time between 911 calls.
Why this is not a hate crime
What needs to be said in relation to this story is that, apart from the vandalism, which is wrong, the statement "Holocaust is Fake History" is a true statement that is not anti-Jewish in itself. It is not an insult or a defamation against Jews, even if they are under the mistaken belief that a 'holocaust' really happened to Jews just as the Soviet Union and the world media back in the 1940's said it did (as war propaganda).
The current focus on fake news (which seems to have begun with President Donald Trump calling CNN a fake news outlet) makes it very convenient to get the truth across by using the fake news term for the familiar holocaust narrative. Most Jews do not like President Trump at all, and his straight talk is one of the reasons. Rabbi Wiener said of the graffiti to the Seattle Times:
"It really is a toxic mix of Holocaust denial, the stereotypical charge that Jews are obsessed with money, and the notion coming from the (President Trump) administration that all facts are fungible … fake facts, fake history," Weiner said.
The notion of fake facts, fake history started way before Donald Trump came along, but he has made the concept real and recognizable to the majority of Americans. This is a fantastic contribution by him! Because of how the MSM has treated Trump's campaign, and now his first 50 days in office, everyone is aware that fake news exists smack dab among the major news outlets and television broadcasters. This makes 'fake history' something everyone can also understand and find evidence of.
The Holocaust IS fake history and Jews ARE the world masters with money. Why should we have to deny it? Denying it is what is fake.  Why have four of the last eight US Treasury Secretaries been Jews, a number greatly disproportionate to the population? Why is the head of the Federal Reserve Board always a Jew? It was a foreign Jew, Paul Warburg, who designed our questionable Federal Reserve System and became its first chairman. There are many surveys of the world's richest men (now including women) and invariably Jews appear way out of proportion to their numbers in society. It's common knowledge that Jews throughout history have been highly associated with gold, banking and financial investment schemes, in connection with usury. This is not based on lies, but on facts. Finally, it's also true that Jews continue to dream up more ways to extort more reparation money out of Germans, and to also get it from non-Germans, all based on Holocaust. Jews also have constant lawsuits pending for "stolen" artwork, "stolen" real estate etc. lost or left behind during WWII because of their emigration to other localities. So further enriching themselves is very much a part of Holocaust for Jews and that is the reason for writing the s's in the form of dollar signs. Similarly, the impossibility of the 'Holocaust' happening as it's been handed down to us is based on scientific and physicall facts, not lies – facts that deny it should be called a 'Holocaust' at all.
So, yes, 'Holocaust is Fake History'. That is a statement of truth, and a statement that must now be boldly repeated wherever and whenever the opportunity presents itself.  It is a great statement, a great meme, powerful and concise, shocking but true. What's best about it is that it invites argument by those who want to disagree, and argument is welcomed by truth-tellers. So let's discuss it – not criminalize it.
Proclaiming 'Holocaust is Fake History' is not anti-Semitism, but liberation for all.