How Orthodox Jewry is robbing an American town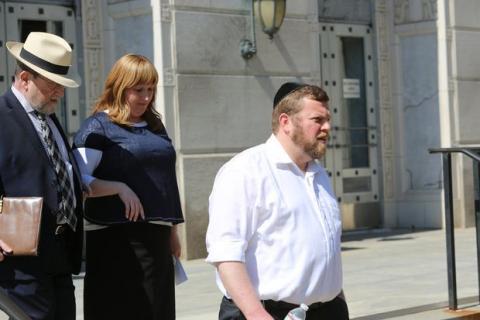 Yocheved (left, with lawyer) and Shimon Nussbaum leave the federal courthouse in Trenton on Monday following their initial appearance on benefits fraud charges. (Cristina Rojas | For NJ.com)
---
By Carolyn Yeager
The story emerging out of Lakewood, New Jersey paints a picture of greed and parasitism that cannot be brushed or argued away. It is clear as day that one group of people who consider themselves worthy of "special treatment" feel justified in subsidizing their religious way of life off the backs of the unholy goyim – who should toil for their benefit. Seven couples have been arrested so far, but many more arrests are said to be coming. Read on and you will see how it works, and how they defend themselves.
*   *   *
TWO COUPLES HID MORE THAN $1.5 MILLION EACH while collecting tens of thousands of dollars in Medicaid and other benefits as part of an elaborate scheme in Lakewood NJ, according to criminal complaints filed against them by the FBI.
Mordechai and Rachel Sorotzkin were arrested by agents on Monday along with Yocheved and Shimon Nussbaum on federal criminal complaints, since unsealed, that accuse them of stealing government funds from a variety of federal benefit programs, including Medicaid.
Nussbaums claimed family of 7 lived on $1.5K a month
On applications she made between 2011 and 2013 for benefits through NJ FamilyCare, Section 8 and the Supplemental Nutritional Assistant Program — better known as food stamps — Yocheved Nussbaum claimed her seven-person household's income was never any higher than $1,500 a month, according to a criminal complaint filed against her and her husband Shimon.
Investigators said the Nussbaums collected more than $178,000 in Medicaid, Section 8 and SNAP benefits from 2011 through August 2014.
Before they ever applied for benefits, investigators said, the Nussbaums had been in control of numerous businesses opened under the names of relatives, including a clothing company, a real estate business and a daycare company, as well two bank accounts in the name of an autism non-profit opened in 2011 and 2012. Investigators said they determined the family went on to make more than $265,000 in 2011, more than $198,535 in 2012 and $1.8 million in 2013, largely from those company's funds.
"[D]uring calendar year 2015, after [the Nussbaums] had stopped applying for and receiving […] benefits, they received an additional $1,500,000 in checks from Daycare Company 1 made payable to Individual B (a relative), […] they deposited these funds directly into their personal bank account at Fulton Bank." wrote an FBI agent.
Mordechai and Rachel Sorotzkin …
first signed their family up for NJ FamilyCare benefits in 2011, when Rachel Sorotzkin told the state she was making $1,333 every two weeks, and her husband was receiving a $350 scholarship payment each month, money that went towards supporting four children.
Her family went on to collect approximately $96,000 in benefits, the complaint said, including $22,000 in Medicaid payments for care associated with the birth of a child.
Later that year, she became a partner in a limited-liability corporation, which entitled her to more than $46,000 of its 2011 profits. On subsequent applications for Medicaid benefits, she never disclosed that income – or more than $1.5 million that her husband deposited into their joint bank account.
Two other couples, Rabbi Zalmen Sorotzkin and wife Tsiporah, and Mordechai and Jocheved Breskin, have been charged in state Superior Court with second-degree theft for wrongfully collecting more than $585,000 and $338,000, respectively, in benefits.
How the beeper store contributed to the investigation
Yisroel Malamud pleaded guilty in Trenton federal court in February to running an unlicensed money transmitting business (Beepers Plus), following an FBI investigation. He admitted transferring $3.5 million to third parties on behalf of his customers between 2010 and 2015. Some of the defendants in the benefits fraud case had transferred money through Malamud's business.
*  *  *
A columnist for the Star Ledger, Mark Di Ionno, has come up with more detailed information about the Lakewood community. The following is from one of his columns. 
Rabbi Zalmen Sorotzkin and wife, while stealing from Medicaid, Social Security and food and housing agencies, live a luxurious lifestyle in a mansion at the end of a cul-de-sac valued at $885,862. It's owned by Congregation Lutzk (where he serves as rabbi) and is tax-exempt as a religious property.
Mordechai and Jocheved Breskin's home is valued at $577,000. The Nussbaums, who earned $1.8 million in 2014, live in a home valued at $450,000.
The three orthodox couples who were arrested the following day live in homes valued between $627,000 and $450,000. All three are on the tax rolls, with two couples paying about $10,500 in property taxes and the third paying $7,487.


Why poverty in a township where money is flowing?
The official poverty rate in Lakewood is 38% and per capita income is $11,775. By contrast, neighboring Brick Township has a poverty level of 6.1% and a per capita income of $34,840. The reason for the difference is the high number of children in the orthodox families and their hiding of income.

Seventy-five percent of the homes in Lakewood sell for between $400,000 and $1 million. Still, home building goes on unabated; the township population doubled to 100,000 in 20 years. In 2016, all the properties had a total assessed value of $6.5 billion. In 2017, that rose to $9.5 billion, yet the 6,000-student public school system remains broke. Here's why.
The cost of transporting 30,000 private school students in gender-specific buses to a multitude of Orthodox schools consumes the bulk of the public school's $24.5 million transportation budget. (Remember I wrote previously that orthodox Jews dominate the seats on the school board – now we know what they're doing there. Shocking that all taxpayers are subsidizing the transportation of private school students. -cy)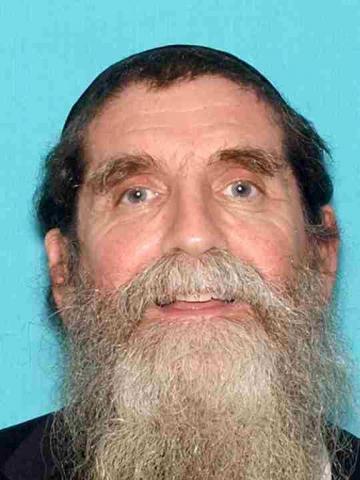 The district also sends 346 special education students to "out-of-district" schools, including 193 to the School for Children with Hidden Intelligence (SCHI), which charges tuitions in the $100,000-range. SCHI's owner and founder [right] is Rabbi Osher Eisemann, who was indicted in March by the state attorney general's office on charges of transferring $630,000 of publicly-paid tuition funds into SCHI's foundation accounts and using the money for personal investments and expenses! In the linked article, we learn that "SCHI receives $1.8 million a month in public tuition from the Lakewood School District to teach students with special needs."
What a racket! The more 'public money' is available, the more rabbis will open schools and shuls to get their hands on it.
Federal money pours in
Meanwhile the township received $28,642,612 in federal housing subsidies last year.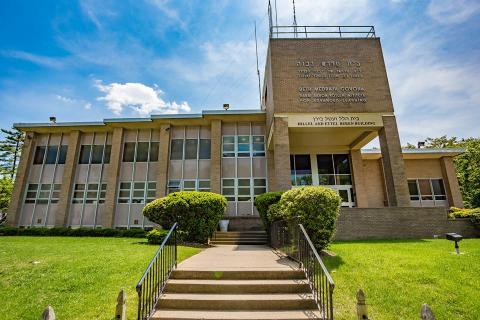 The township received $10,837,810 in Pell grants given to 6.500 students in six yeshivas, the largest being Beth Medrash Govoha (main building above). The yeshiva also received a $75,000 Homeland Security grant.
I'm sure the Jews who run the Yeshiva know how their students manage to marry and have children while the father remains in school for so many years. As a post-graduate institution, the men may remain students for decades! I'm not sure what constitutes completion of the program.
The Lakewood office for the state-run and federally-funded WIC (Women, Infant and Children) program for poor pregnant or breastfeeding women and children under 5 is one of the busiest in the state (#4) – even though Ocean County has a huge population of retirees.
"The party's over"
Authorities have said more arrests will be made, and that additional charges including tax offenses may be filed against some of the defendants already charged.
"We are sending a message to this community that the party is over," one law enforcement source told The Star-Ledger, adding that the investigation is "far from over." But are they just wanting to "end the party" but not give any of these people jail time - maybe because they have many children? We'll see.

The Ocean County Prosecutor's Office has asked anyone with information about the abuse of public assistance programs to contact them.