A Day at the Bendlerblock—July 20th, 1944
AS A SUPPLEMENT TO HERMANN GIESLER'S STORY of the day's events as given to him by the investigators, Wilhelm Mann has written this dramatic account of how the conspiracy unfolded and collapsed within the walls of the Bendlerblock, the makeshift headquarters of the hopeful new governing elite of the Reich.
The Bendlerblock was a complex of buildings taking up most of a city block that housed the main military offices in Berlin. It was so named because it was located on Bendlerstrasse (Bendler Street) in central Berlin. Bendlerstrasse and Bendlerblock were used interchangebly to identify the military headquarters. Today it serves as a secondary office of the German Federal Ministry of Defense. In 1955, the street name was changed to Stauffenbergstrasse, as part of the glorification of the July 20th assassin as a hero of the nation. -cy
By Wilhelm Mann
Above: Bendlerblock entance in 1942 (left) and more recent
---
Trusted generals of the Third Reich waited nervously in their offices at the Bendlerblock – Berlin headquarters of the OKW Home Command and General Army Office (AHA) – for the call from Colonel Claus von Stauffenberg that the bomb had this time exploded and killed Hitler.
Notable among them were: Col General Ludwig Beck (retired since 1938); Col General Friedrich Fromm, Chief of the Home Army Command; General Friedrich Olbricht, Chief of the AHA, and his chief of staff Colonel Albrecht Mertz von Quirnheim; General Fritz Thiele, Deputy Chief of Communications (under General Erich Fellgiebel); Col General Erich Hoepner, retired but now in uniform again; Hans Bernt Gisevius, ex-Gestapo man just in from Switzerland.
Shortly after 1 p.m. the message came in from Wolfsschanze and it was Fellgiebel's voice: "Something fearful has happened; the Fuehrer's alive."
General Thiele and General Olbricht listened on the phone. Fellgiebel, Chief of Communications at Headquarters, did not tell them that, shortly before, hoping to avoid serious complications for himself, he had congratulated Hitler on his escape. The two didn't know what really happened – if the bomb didn't explode or Stauffenberg failed to place the briefcase that contained it. They didn't convey the message to anyone else either, instead decided to wait and went to lunch, or – as Thiele was said to do – walk uneasily through the nearby Tiergarten Park.
By 3 p.m. they were back at Bendlerstrasse, still very cautious, unsure what to do. Rumors of a failed bomb attempt were floating. Communication between different Army offices and Headquarters went on, causing further confusion – the telephone line from Wolfsschanze remained open (an error by Fellgeibel), so Field Marshal Wilhelm Keitel and Lt General Wilhelm Burgdorf were able to call various Wehrkreise and individual commanding officers to counteract the Valkyrie order.
Stauffenberg landed at Berlin-Rangsdorf airport shortly after three o'clock and called Bendlerstreet with the message: "Hitler is dead." When the Colonel arrived after 4 p.m., General Olbricht was still hesitant to act. Without Olbricht's authority, his chief of staff Col. Mertz von Quirnheim initiated the first written and verbal orders of Valkyrie. "He railroaded me," Olbricht said later to Gisevius.
Stauffenberg and Olbricht together entered the office of Home Army Chief Fromm and informed him of Hitler's death, then requested that the Army take over as the governing authority of Germany.  Fromm expressed strong doubts.  Olbricht, now convinced that Stauffenberg was telling the truth that Hitler had been killed, suggested that Fromm might call Field Marshal Keitel at Wolfsschanze to find out. Upon doing so, Keitel assured him that Hitler was alive.
A highly dramatic exchange of words, blunt confrontations and even physical encounters with drawn revolvers followed.
      Fromm: "Keitel told me Hitler is alive!"
      Stauffenberg: "Keitel is a liar – he has lied often in the past. I saw Hitler carried out dead."
      Olbricht: "We issued Valkyrie."
At that Fromm exploded. He raised his fist, accused the two of high treason and put them under arrest. Stauffenberg turned it around and tried to put Fromm under arrest – a comic situation except for the seriousness of it. Stauffenberg shouted, "I activated the bomb – Hitler is dead." Fromm countered: "You shoot yourself, the assassination failed." Stauffenberg moved toward Fromm; Fromm jumped up and threatened Stauffenberg.  Now von Kleist and von Haeften, Stauffenberg's aides, rushed in with drawn pistols and the turbulence settled at once.
No longer in authority, General Fromm was given another chance to change his mind – he did not. He and his adjutant, Capt. Bartram, were locked in his office with their telephone blocked and Col General Hoepner took over. Now the new Commander of the Home Army, Hoepner had been stripped of his army command a few years ago and had arrived at the Bendlerblock in his civilian clothes, carrying his uniform in a suitcase.
In the meantime, the teleprinters had started to dispatch the Valkyrie code and follow-up orders to all the sixteen Wehrkreise. It was a slow process as the order sheets had to first be coded, and then decoded at the other end; some Wehrkreis offices didn't receive it until the whole affair was over.
General Paul von Hase, the Berlin city commander, was now supposed to move the various military units in and around Berlin – to occupy or cordon off all the places, offices and ministries according to the Valkyrie plan. (See Valkerie, Part 4 for an explanation of the Valkyrie plan)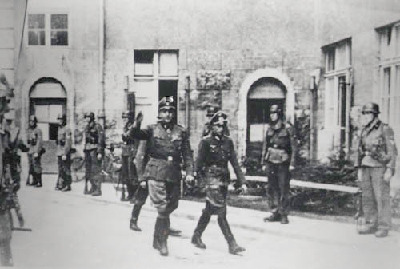 Bendlerblock on the afternoon of July 20, 1944
---
Between 4:00 and 5:00 p.m., the Bendlerblock saw many new arrivals. It began to look like a gathering of the old Reichswehr, with the Prussian/Bavarian/Silesian nobility: Ludwig Beck, retired Col General and former chief of staff, now designated commander of the revolt government, dressed in civilian clothes; the Counts von Schulenburg, York von Wartenburg, von Bismark-Schoenhausen, von Schwerin-Schwanenfeld, von Hammerstein, and Berthold von Stauffenberg (brother of Claus); Klaus Bonhoeffer and Dr. Otto John. Shortly afterward, Berlin's Chief of Police Wolf-Heinrich Count von Helldorf arrived with Hans Gisevius.
Only Carl Goerdeler, the future chancellor, and Field Marshal Erwin von Witzleben, the new chief of the Wehrmacht, were missing. Goerdeler's whereabouts were unknown; he had gone into hiding several days before. Beck asked about Witzleben and was told by Gisevius that he was on his way to Zossen (OKH - Oberkommando Heer/Army Supreme Command) to take over command of the Wehrmacht.
The commander of Wehrkreis III-Berlin, General Joachim von Kortzfleisch, was called to Bendlerstrasse and told by Olbricht that Hitler was dead, the Army was taking over and the troops in Berlin should be dispatched according to Valkyrie plans. Kortzfleisch refused and shouted, "The Fuehrer is not dead – Fuehrer is not dead!" When he tried to leave the offices, he was detained at gunpoint. General von Thuengen took over for Kortzfleisch, going to his headquarters at Hohenzollerndamm, where he was not involved in any further action.
Olbricht gave chief of police Helldorf the order to alert his police forces and await further instructions; after a short while Helldorf left for the police headquarters and Olbricht returned to his office.  Increasingly impatient, Gisevius asked Beck to call Lt. General Wagner, the deputy chief of staff in Zossen, and order him to proceed according to the Valkyrie plans.
But at Zossen, Lt. General Wagner informed Witzleben that Hitler was alive. When Witzleben arrived at the Bendlerblock around 8:00 p.m. he was furious about the course of events. "This is a fine mess," he said, and vehemently argued with both Stauffenberg and Beck, banging his fist on the table. He left for Zossen in a rage; the conspiracy was without its military commander – the commander never had any troops! Witzleben was not seen again; he realized the putsch was over.
The talking, arguing and telephoning continued. Beck quietly oversaw the operation, not saying a word. Stauffenberg feverishly telephoned the Wehrkreise to get Valkyrie activated. Gisevius urged 'action now' and argued for forming assault parties of officers to go into the field, pending the arrival of troops. Soon after, he left for Helldorf's police headquarters to answer Helldorf's urgent request to know the situation at Bendlerblock..
In the middle of all the turbulence, an unbelievable scene occurred: The black-silver uniformed SS Oberfuehrer Pifrader from the RSHA (Reichs Sicherheits Hauptamt-SS Security chief) walked in and requested that Colonel Stauffenberg accompany him for an interview at the RSHA office. He was immediately apprehended by the conspirators and put under guard.
Remer's decisive move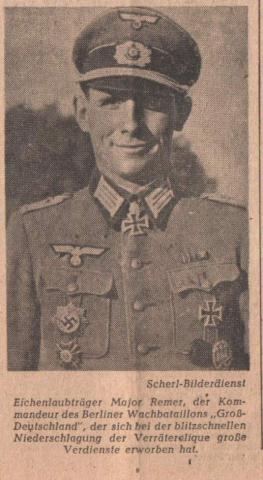 From a newspaper story at the time commending Major Remer
---
The Guard Battalion "Grossdeutschland," commanded by Major Otto Ernst Remer, was an elite troop of battle-hard soldiers and highly decorated front officers. It was divided into four companies of about 1000 to 1200 men. Remer dispatched three companies to cordon off the center of the city, according to General Hase's order. He kept one company in reserve at the Lustgarten area. As a good soldier Remer obeyed the order, but when General Hase gave him a Lt Colonel as a liaison, he became suspicious. 
By 6 p.m. the platoons were all in their positioned places. Remer checked them out and returned to Hase's headquarters at Unter den Linden. When he overheard a muffled talk between Hase and his chief of staff Lt. Colonel Schoene to arrest Goebbels, he knew there was something fishy going on. He called his officers to a meeting. 
Joseph Goebbels was Gauleiter for Berlin and Minister for Propaganda and Cultural Affairs, but also Reichs Defense Commissioner for The Gau-Berlin. Lt. Hagen, one of Major Remer's officers who worked for a time at Goebbels' ministry, suggested he visit Goebbels at his residence immediately. Remer was suspicious that perhaps Goebbels was involved in a Party conspiracy against Hitler, and Goebbels was not sure about Remer. After a dramatic verbal exchange between the two at Goebbels' apartment, Remer was handed the telephone and heard the Fuehrer at the other end of a direct line to Wolfsschanze, never blocked by Fellgiebel.   
"Do you recognize my voice, Major?" asked Hitler, and Remer acknowledged that he did, having spoken privately with Hitler not that long ago. Hitler gave him the order to snuff out the plot with all his might and energy. He made Remer the de facto Commandant of Berlin until the newly appointed Commander of the Home Army, Reichsfuehrer SS Heinrich Himmler, arrived. At Goebbels' invitation, Remer set up a new command post in the downstairs room of the house. It was 6:30 p.m.
"Alea iacta"- The die has been cast
By that time, the teleprinter and telephones at Bendlerblock had ordered the Wehrmacht units located in and around Berlin to their specified areas. When most of the marching military units reached the areas cordoned-off by Remer, his officers contacted the commanders of the arriving units and they were put under Remer's command. For a short while a serious problem occurred – Remer's platoons were confronted with an armored group from Krampnitz, a suburb of Berlin. Their tanks were on standby not far away from Goebbels' residence. It took some talking, telephoning and some pushing by Remer's subalterns before they learned that the unit would only obey orders from Col General Guderian, and Guderian was on Hitler's side. Clear road all the way. 
Remer sealed off the whole district around the Bendlerblock and set guards at all street corners and building entrances; he issued strict instructions to accept orders only from his command post. Lt. Schlee, one of Remer's platoon leaders who guarded the front and main entrance of the Bendlerblock, was shuttling between Remer and Olbricht, receiving different orders. He was detained at one point by Col. Mertz von Quirnheim, but when Quirnheim left the room, he walked out without being checked or held up. He immediately reported to Remer the situation there, including discovering General Kortzfleish locked in an upper story room, and that none of the orders of Fromm's Home Army had been dispatched. (The men in the communications center, starting to catch on, deliberately delayed sending the messages, or in some cases didn't dispatch them at all.) This report convinced Remer that the center of the conspiracy was located in the building on Bendlerstrasse.
Col. Gen Fromm and his adjutant Capt. Bartram were still locked up at Fromm's office without a telephone connection, but with a functioning radio, which told them that the assassination failed. A small, little known exit in their office made it possible for Bartram to slip out several times and deliver a counteraction order from Fromm to the staff officers of the AHA on a different floor of the building. Fromm was also allowed by Olbricht to move to his apartment in another part of the building. 
Herbert, von Heyden, Pridun and Harnack – officers of AHA not in the conspiracy – were ordered to Olbricht's office for guard duty. They instead requested answers about the tumultuous goings on in his offices and the Bendlerblock entrance. Olbricht's answer was halting and evasive. The four officers refused cooperation and let Olbricht know their soldier's oath to Hitler was binding. They left the office without any hindrance. 
All of a sudden, shots were fired. A dozen officers entered with weapons – Herbert was shooting, Pridun was shot by Stauffenberg, who in turn took a hit in his arm.  Bullets were flying; blood was on the floor – an unbelievable tumult. 
During all this tangled confusion, Lt. Colonel Herbert was able to get Fromm out of his apartment and back to his office, where Beck, Stauffenberg, Hoeppner, Olbricht, Mertz von Quirnheim  and Haeften were held at gunpoint by the AHA officers. Fromm then said to them, "Well gentlemen, I am now going to do to you what you did to me this afternoon."  They were disarmed and a court martial was set up.  General Beck asked to keep his revolver; he was granted permission, with Fromm telling him to "hurry." Beck raised his gun and shot himself through his temple, but the wound was not fatal. He staggered and, helped by Stauffenberg, tried again, collapsed, but remained alive. 
Fromm ordered Capt. Bartram to form a firing squad and gave the five men time to write their last words and wishes. Olbricht immediately began writing, while Hoepner asked Fromm for a man-to-man talk. After a half hour, Fromm urged them to finish. 
In the meantime, the order was given by Major Remer to the Lt.'s Schlee, Arnds and Schady to enter the Bendlerblock and arrest the leaders of the conspiracy. When they approached the building, a scuffle began with a group of officers guarding the entrance. Fists were swinging, bodies pushing, but no shots exchanged. The officers who tried to block them were locked up in the porter's lounge. When Schlee entered the hall, shouts and shots echoed through the floor and ceilings. 
Informed that Schlee's Guard Battalion soldiers were entering the building, Fromm quickly announced, "In the name of the Fuehrer … (naming the accused) … are condemned to death." Stauffenberg then spoke, trying to take responsibility for the whole thing, saying the others were only following his orders, to which Fromm said nothing. The condemned men, except for Hoepner, who was taken away to a military prison after his private meeting with Fromm, were marched out of the office. Fromm now ordered a staff officer to give General Beck the mercy shot and left the building for Goebbel's residence.
In the courtyard of the Bendlerblock, shortly after midnight, under the glare of some automobile head lights, Valkyrie found its bloody end.

References:
The History of the German Resistance 1933-1945. Peter Hoffmann, McGill-Queen's University Press, Montreal & Kingston, Third Edition 1996
History of the German General Staff 1657-1945. Walter Goerlitz, Barnes & Noble Inc., 1995
To The Bitter End. Hans Bernd Gisevius, Houghton Mifflin Co., Boston, 1947
Inside Hitler's Headquarters, 1939-1945. General Walter Warlimont, Presidio Press, Novato, Cal., Bernard & Graeve Verlag, 1962.
The Journal for Historical Review, Vol. 8, No.1, 1988, "My Role in Berlin on July 20, 1944" by Otto Ernst Remer.