Donald Trump should apologize to supporters for calling them "violent, vicious"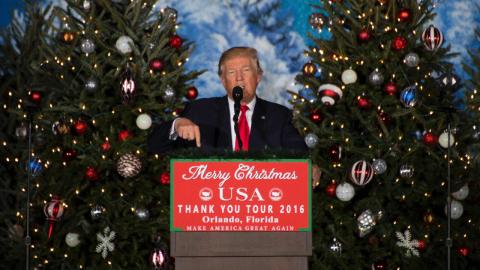 President-elect Donald Trump speaks to supporters at a rally in Orlando, Florida on Dec. 16, 2016 as part of his post-election "Thank You Tour".
---
by Carolyn Yeager
LAST NIGHT IN ORLANDO, FLORIDA, our president-elect actually said to his enthusiastic base of loyal supporters who had gathered by the thousands to show their love and appreciation for him:
"You people were vicious, violent, screaming 'Where's the wall, we want the wall' … screaming 'Prison, prison, lock her up,' I mean you are going crazy, I mean you were nasty and mean and vicious, and you wanted to win, right?
Now, same crowd … now, it's much different. Now, you're laid back, you're cool, you're mellow, right? You're basking in the glory of victory, and we're already getting to work."
He said that in response to a group in the vast audience who had started chanting "lock her up" after Hillary Clinton's name had come up. It's been clear since his election victory that Trump doesn't want to hear that chant anymore. He has more gently indicated his rejection of that chant in previous post-election rallies, but last night he tried something new. He was clearly using hyperbole, not meant to be taken literally, but it was wrong. It came off as ugly and "passing the buck" on his part. Who was vicious in dealing with his opponents in order to win? He was. Now he wants to be mellow and cool as he expands his base of support to include his former adversaries. My comment: His original supporters are intelligent enough to go along with this (up to a point) without his giving gist to the enemy, even if jokingly.
These are the first words Donald Trump has said that offended me personally, and today, seeing them brought up in news reports in all the mainstream media, I'm still offended and even angry at him for saying them. I'd like to wag my finger in front of his face.
I know he does not apologize, so probably that is not the right word to use. But he should put out a statement that he took exaggeration too far in describing his supporters at the rallies in the way he did last night, and take care not to do it again. Not one was ever 'vicious'. None were "violent'. They didn't 'scream.' They peacefully chanted "Build that wall," showing how much they wanted him to follow through on that particular promise. They peacefully chanted "Lock her up," exhibiting their thirst for justice, not politics as usual. All the violence, all the viciousness came from the anti-Trumpers and was directed at peaceful Trump supporters.

When he said to the crowd, "Now you're cool, you're mellow" … he was speaking about himself and signaling his shift from campaign mode to Oval Office mode. But his base wants him to know we still want that wall and the prosecution of Clinton if investigation supports it.
Never take your base for granted.