Ein Anderer Hitler by Hermann Giesler: The West Offensive
 WAR CAMPAIGNS: The West Offensive of May 1940 was entirely planned by Adolf Hitler
Translation and Commentary by Carolyn Yeager and Wilhelm Mann
Ein Anderer Hitler, Druffel Verlag, Leoni am Starnberger, 6th edition, 1982.
Copyright 2010 Carolyn Yeager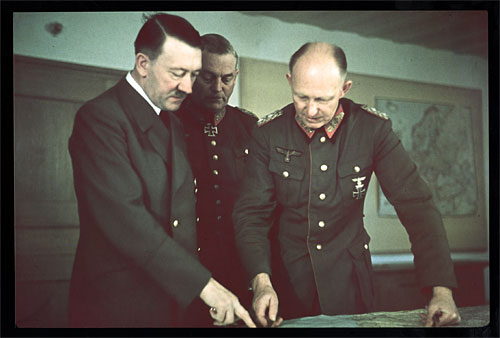 Hitler: Now I took Keitel (center) and Jodl (right) into my confidence—no, I did not win them over for my plans right away. They disapproved and raised objections, like: Would it not be wiser to go northwards around the Maginot fortifications?
Translators' Introduction:  In the following chapter taken from Hermann Giesler's memoir Ein Anderer Hitler, the Fuehrer's detailed explanation to his architect-friend in the map room of his headquarters in Winniza1 should clarify once and for all who was the author of the West campaign, and eliminate the fantasies of most military historians of the past decades who accept Generals Franz Halder or Erich von Mainstein as the genius strategist and original planner.
Those fallacies are still considered historical fact today. Their origin can be found in statements by former chief of staff Colonel General Franz Halder in his Kriegstagebuch2 as well as remarks by General Walter Warlimont, deputy chief of operations at the OKW, in his book Inside Hitler's Headquarters (See "The Controversy: Keitel vs. Halder")
General von Manstein's reports and messages to OKH and his detailed descriptions of the events in late 1939 and early 1941 in his book Verlorene Siege, came closest to Hitler's description. As chief of staff of Army Group A with headquarters in Koblenz, von Manstein, from October 1939 on, bombarded Army chief of staff Colonel General Halder with memos that suggested corrections for the organization of German forces at the Western war theater, which were readying for the offensive.
Several postponements, caused partly by bad weather, partly by the accident of General Felmy's staff officers at the Dutch border3, gave Manstein the opportunity to suggest in detail a radical change of the offensive strategy. Giving up the old von Schlieffen plan, he preferred instead a thrust across the Maas River at Sedan with three armies of Army Group A, and a rapid move to the mouth of the Somme River at Abbeville.
On November 12, 1939, to their utmost surprise, Army Group A received a teleprint with Hitler's detailed orders finalized along the lines of von Mainstein's strategy. In his book, Manstein describes that event: "…maybe Hitler came to that thought by himself. He had an eye for tactical possibilities and pondered a lot over maps. He could have recognized one could cross the Maas the easiest way at Sedan, when further down the panzer of the 4th army would have it much tougher. He could have seen the Maas crossing near Sedan as a favourable place …." (V.S. p. 106)
Any message from von Manstein had to go by way of the commander of Army Group A, Generaloberst Gerd von Rundstedt, to Halder, before it got to Hitler. Von Manstein suspicioned that his and von Rundstedt's messages never reached Hitler's desk. On February 17, 1940, von Manstein—who in the meantime had been sacked as chief of staff of Army group A (Halder didn't like Manstein, was jealous of him, and so interfered with his intentions and strategy plans)—had, as the newly appointed commander of the 38th corps (far in the hinterland, an infantry force in Stettin), to report to Hitler. It was at that meeting that Hitler first got acquainted with von Manstein's "new innovative plans" forwarded to Halder (but never received by Hitler) that were so close to Hitler's own findings.
Thus the strategic dice were cast—Rundstedt's Army and Guderian's Panzer were ready.
*   *   *   *
It was a large collection of maps bound in leather: The France War Campaign in its Chronicle Sequence. One day it was placed on Adolf Hitler's work desk. The Armed Forces Adjutancy had told me the volumes were prepared as a military-historical documentation, and its first edition was presented to Hitler at Winniza.
Adolf Hitler, as a preamble for his giving me a review of the campaign which surprised the world, explained to me that he had already requested from the chief of the general staff (Franz Halder), before the end of the Polish campaign, a presentation of the strategic dispositions for an offensive campaign in the West. He said, "First, I did not trust the peace; second, an offensive in the West had to be thought through and prepared in all its details; and finally, the timing—the most important factor. We were permanently under time pressure and still are; the time, she stays as a powerful ally with the enemy, more relentless than the past winter with its premature snow, ice and shattering cold."
Pensive, he added, "From my youth on, like a premonition, I never liked snow or ice.
"Already, long before the French campaign, I told you that the chief of staff presented me in September 1939 with the rehashed Schliefen plan4—not, however, in detail. How it happened—I mean, the arrogance of a presentation of shallow nothingness, of repetitions of the thought processes of the honorable General Schliefen, which was still, in its operational principle, part of the 19th century and not accounting for the possibilities of modern weapons, tanks and air force!"
Adolf Hitler was silent, remembering.
After a while, he said, "I looked at the chief of the general staff and was convinced that any further words, or even a critical analysis, would lead to nothing, would end in emptiness—he is not able to think in all dimensions at all, but he is convinced he is of a unique military capacity. He is lacking in ideas, novelty, imagination, daring and, above all, in the charisma that is characteristic of a military leader.
"But how much time remained to change that 'strategy according to Schliefen,' and those meticulously compiled tactical detail plans by radically new offensive thinking? In the short time available, one could only reinforce tank units and motorized divisions in front of Luxembourg, and thus at that attack section emphasize the offensive thrust in the direction of Neuchateau and Sedan.
"I gave the order to attack at middle of November '39. Then that mysterious betrayal of the start of the offensive happened. Its discovery was relayed to me at your office, on November 8th5. I immediately called the offensive off. It was not easy, we lost time. But on the other hand, the assassination6 against me did not succeed, and the decision to call off the attack turned out later to be correct because of the very unfavorable weather conditions.
"The traitor, up till now, has not been found7. Camouflaged, he sits in a high military position; all offensive deadlines have so far been betrayed! What hatred against me, and National Socialism, lies behind that revolting and cowardly treason—without any hesitation German soldiers are sacrificed.
"A decision in the West in 1939 was not possible anymore. We lost time, valuable time, but I used that time to deal with the strategy of the French campaign and to thoroughly study the tactical details which derived from it."
We walked over to the maps and Adolf Hitler opened the volume. First was a map surveying the area from the Mediterranean to the North Sea, marked with the military forces as of September 1939.
"I was now dealing on my own with the strategic possibilities, keeping completely to myself. My idea was: If I act as if I was attacking 'a la Schliefen,' and thus fooled them thoroughly"—with one hand he outlined an area—"and begin with an energetic thrust, here, where they would not expect it at all"—his index finger pointed down to Sedan—"what will then be the consequence? Slowly, my ideas focused. I could see the sequence of the surprise attacks, everything firmed up. But still I kept it to myself; I didn't talk to anyone about my deliberations.
"I requested all supportive material and checked it out thoroughly. I surveyed the Maginot fortifications as far as they were known to us and marked on our general staff maps. Then I had relief maps and aerial photos set before me, but from all sections, not only from the area of my planned thrusts. Furthermore, I dealt with the entire road system and its pass-through volume, and checked the possibility of camouflaging the readiness positions.
"Gradually, I felt sure, and now I committed my Wehrmacht adjutants8 to absolute secrecy so that they could assist me. Slowly, I gained the conviction that is eminently necessary to feel that 'this is the way and no other.'
"In December 1939, the offensive plan moved from a mere idea into a more concrete stage. Great strategy takes place not only on an intellectual level, but according to its own laws, similar to city building and architecture—I am nearly tempted to say, it is artwork.
"Should that strategy lead to a complete success, should it be achieved, it will be by a logical interconnecting of all tactical details, which have to be sensible and carefully planned. These tactical details must be completely integrated and subordinated to one great strategic idea. They are, at the same time, both the foundation and structure. Naturally, precautionary preparations had to be planned in order to meet all possible unknowns. Furthermore, to reach the great goal, surprise is necessary.
"Now I had to deal with the details and the respective tactics of attack; I took my time and did it thoroughly. From maps we went to sand box exercises. I still kept the circle of the insiders small, and according to my later experiences my precautions were absolutely correct.
"Beginning January 1940, that strategy was solidly cemented by all tactical detail planning.
"Now I took Keitel and Jodl9 into my confidence—no, I did not win them over for my plans right away. They disapproved and raised objections, like: Would it not be wiser to go northwards around the Maginot fortifications?
"Just that is what the adversaries expect and make preparations for, I told them. My offensive plans were too bold, too daring.
"Naturally it was risky; not only the front-thrust but also the flanks from South, West and even from the East were in danger, in case the divisions following the first thrust are not able to secure the break-through area in time. They didn't make it easy for me to convince them.
"The blocking barrier of Maginot? Well, I was sure about that. The Czech barrier forts, directed against us then and built by French engineers similar to the Maginot bunkers—not only did I have a close look at those, they were for me useful objects for shooting trials. The results met my expectations—the bunkers were cleanly penetrated by direct shots of 8.8 special shells. Also, by Stuka attacks I would either eliminate them or keep them down.
"Around the middle of February, the newly nominated commanding generals, among them Manstein, reported in. (Gen. Rudolf) Schmundt made me aware of him, indicating that his ideas about the war strategy in the West were nearly the same as mine. After he reported in, I gave Manstein the opportunity to present his thoughts about the West offensive. Yes, it was as Schmundt told me.
"Manstein was the only general who found the way to the same basic plan of operation; my thinking was thus confirmed. I still kept silent though—the fewer who knew about it, the more surprising the thrust would be. It would not have been prudent to let Manstein know how far advanced beyond the basic strategic concept the tactical details had already been worked out."
Hitler tells of his detailed planning 
During his talk, Adolf Hitler had turned over map after map covering the months of the "drole de guerre" (funny war) until May 1940. On the map you could notice the markings of the take-off positions for the attack.
"I don't want to get involved now with all the details, like the rapid taking over of crossings, bridges, and barriers. Once they were situated close to the border, I engaged raiding commandos—partly even on bicycles—so they could quickly and silently run over the enemy positions.
"Most important was the storming of Eben Emael, the impenetrable, modern barrier fort. It could be taken without heavy losses only by a surprise raid, by coordinating the attack from the air and the ground. Gliders should silently land on top of the fort and drop off the commandos. Airplanes with parachute troops, and gliders with raiding commandos, will engage as tactical considerations at the time require it. Whenever possible, airfields behind the enemy lines will be captured that way.
"Believe me, Giesler, all these attacks I discussed, and exercised on a model, with officers and flying personnel, pioneers, parachutists and infantries—and we succeeded totally."
Adolf Hitler opened the next map: it showed the attack that took place on the morning of May 10th with the markings for the first day targets. Following that were maps with sections of the different divisions, then a second map series marking the success by the individual panzer and battle groups.
Drawn on a larger scale could be seen the hard battle for Sedan. That was the energetic thrust the enemy did not expect—then the breakthrough and the advance of the panzers, secured at their flanks by the forward pushing divisions. Now, map after map followed, sometimes two for one day, graphically reporting the battle success of the panzer thrust along the eastside of the Somme to Abeville.
"My biggest worry was securing the flanks; counterattacks from the South and Southwest, energetically executed, would have grown to a serious threat. Logically, at the same time, the 'Schliefen attack' had to be seriously carried out in order to draw the main forces of the enemy, the motorized units, into Belgian territory. The deception succeeded; the mass of the enemy forces moved into those battle areas, as I imagined they would, and were cordoned off. The frontal attack of our divisions also showed total success and forced Holland and Belgium to surrender. The operation, later called 'Sichelschnitt' (sickle cut), became a decisive success. But the total defeat of the Western allies was not yet won."
The Dunkirk miracle—was it really Hitler's error?
Translators' Commentary:  A lot of consternation and wild speculation among military historians has centered about the Dunkirk operation of May 26 to June 4, 1940. Hitler's description of these fateful days strongly supports the belief that it was primarily political considerations that led him to the decision to hold the panzers which were ready to encircle and defeat close to a half million soldiers of the British expedition corps. We know of Hitler's aversion—at least at that time—to fight the Brits tooth and nail.
He thought his already obvious victory in the West should convince England to enter into peace negotiations and discussions of a new order in Europe together with Germany. Thoughts of himself as a European, and not only a German, military leader were in his mind—thoughts very different, as we know, from those of Churchill and his sinister advisers and dark Hintermaenner who wanted war.
The decision to hold the panzer corps at Dunkirk was discussed at the OKW and agreed to by von Rundstedt and his chief of staff—Manstein`s successor—Gen. von Sodenstern. Hitler, Keitel, Jodel and Rundstedt had two military considerations in mind leading to this decision:
1) The rapid thrust of the panzer had driven men and material to the utmost limits—rest and repair were necessary. On May 23rd, Panzerkorps Kleist reported close to 50% of their panzers lost. The flat environment of Dunkirk demanded full strength of the panzer corps. Rundstedt gave the halt order and overruled OKH, and Brauchitsch and Halder's further advance.
2) The Southern flank of Army Group A was partly wide open. Even though the sickle movement of the two Army groups cut the Allied forces in half, there were still formidable French forces, tanks and motorized divisions assembled South and West of the Somme and Aisne to be reckoned with.
It is also known that Goering assured Hitler that the Luftwaffe, if called, would be able to devastate the grounded British expedition corps. As it turned out, the bad weather grounded the Reichsmarschall's bombers for days, allowing 338,000 British soldiers to escape across the channel. England was saved, but thousands of weapons and vehicles were left at the beaches.
German Panzer and infantry crossed the Somme and Marne after a short, hard fought battle and took Paris. In a forest clearing at Compiegne, in the same railway car the German delegation signed the armistice in 1918, the French general Huntzinger signed the new armistice of June 22, 1940.
Adolf Hitler continues: "The opponent was actually decisively beaten in the North sector. Pressed from the East and South by our fast-moving troops, cut off towards the West, only the sea remained as the last open flight path. The mass of those primarily English forces was concentrated around Dunkirk, on the Flanders plains, which I remembered well from my world war time. Oh, I know, my Dunkirk decision was described as a big mistake, not only by the circle of the so-smart general staff—those "know it alls" and those with their so-Christian feelings—thought it was my biggest stupidity not to have completely destroyed the already-beaten British forces.
"Various considerations kept me from doing so.
"First, the military reasons. The Flanders lowlands restrict tank operations basically to the roads. Long drawn-out battles, with our own losses and the possible high breakdown of our tanks, were to be expected. For further necessary operations towards the West and South, into France proper, I could not sacrifice one tank. But above all, we must not waste our strength and lose time. The enemy had been shocked; now everything had to be done stroke by stroke.
"After listening to Rundstedt, my inner circle of military advisers also shared that opinion. It was absolutely necessary to continue the attack to the West and South without any hesitation before the enemy succeeds in building up a strong defense along the Somme and the Aisne. Our follow-up thrust already met with strong resistance there. It also had to be assumed the English would send additional troops, assisted by the artillery support of their battleships, across the Channel – they could not let France down as they did Poland!
"We had to attack towards the West—Paris and Northern France had to be taken very fast, to make it impossible for the English to land additional troops. We also had to direct an offensive toward the South, with a thrust behind the French fortifications. We had to enforce a final decision and thus bring the French campaign to a quick finish because there was another reason of a military-political kind. I did not remain orientated to only one side: for a long time I was listening, worried, toward the East.
"And did not a slight possibility of peace still exist, even though a vague one, which I might have obstructed by a pitiless defeat of the Dunkirk army?"
Adolf Hitler was deliberating on rational grounds as he was so often doing in the past years; he did not think only as a German—he thought as a European. He truly thought in a sense of a higher humanity which he wanted to be realized within ethnically-based unified societies (Volksgemeinschaften).
That he judged the possibility of peace higher, there is in my eyes one proof: On June 24, 1940, at his headquarters Bruly de Peche, he gave orders for peacetime tasks10, issuing a decree on the 25th giving authority to Speer and me to begin the restructuring of German cities.
Later, I was once more reminded of the "mistake of Dunkirk." If I remember correctly, it was in August 1943 after the devastating air attacks in Hamburg. In an adjoining room, Adolf Hitler gave orders to an adjutant. A pile of photographs were lying on a table; I picked them up.
They were horrible testimonials of the effect the phosphor-hail had on women and children by that terrible terror attack at Hamburg with over 40,000 civilian death victims.
When Adolf Hitler returned to the work room, he saw the photographs in my hand. With a quiet, but very resolute voice he said: "Let it go, Giesler, don't look at the pictures anymore. After a while, I had to rethink. It didn't agree with my character to step on the one who lies on the ground. I was mistaken—magnanimity will not be recognized. They repay my sparing them at Dunkirk with bombs and phosphor on women and children whose men and husbands were fighting for Europe. What you see there is destructive brutality"—he pointed to the photographs—"again and again one tries not to believe this; now I know—no mercy!"
Those words were for me proof that his decisions at that time came from ethical ideas of war, rather than only military and political reasons.
I thought back to fall 1942 at Winniza. Upset and pondering, I had arrived there late at night or early morning and could not sleep. After Adolf Hitler talked with me, the explanation for his mistrust and chilly attitude toward the generals was evident. It was not commonly so, because, contrary to that, he kept the front officers and fighting troops in high esteem—and of whom he said: They know what is at stake.
It dawned on me why he so thoroughly explained, with the map documents, his strategic and tactical decisions and the way the French campaign was won. It was not based on the fact that the first example of that documentation was now set on the table; it was not just the explanation of his carefully planned campaign. No doubt, by reviewing, he wanted to assure himself that his strategic idea, his tactical dispositions were correct and had led to a surprisingly rapid success. His explanations were by no means arrogant. Deeds, courage and self-sacrifice of the soldiers and commanders always took first place, above all events.
"Only with such soldiers and officers could I dare to plan such an audacious performance," he said to me. He followed with the remark, "The strategy for the Russian campaign was deliberated exactly the same way."
For awhile he was silent and then he continued, "When I recognized, after the talks with Molotov, that no other possibilities existed—I had the choice: fight or give up and betray Europe. I decided to fight. It was the hardest decision of my life."
I asked myself: Why does Adolf Hitler reveal all these problems and thoughts to me. Apart from the fact that his loneliness urged him to talk, he knew I was not only a National Socialist and follower he could trust, but, in addition, close to him as his architect.
He also recognized that I understood his goals—even more, he sensed that I saw him as a far-forward thinker who was already planning and fighting for the next generation. The joint work on city building conceptions and their architectural details created trust; he accepted and respected me. During those hours of mutual planning, he saw himself bound to peace, and his real mission as forming a new social order of the German people and their environment. He found the answer to the challenge of the time, the challenge of the technique, and the challenge of the new social order. In those hours, he was lifted up; I was more to him than his architect.
As always, I attended lunch. Adolf Hitler was pensive; our discussion was restricted to my impressions of the Danube bank design in Budapest. Right on the first day of our joint lunch and dinner, I asked to be served the same food as he was having. Hitler mentioned that I could order the mess-menu—it would not disturb him at all.
"No," I replied, "I'm not pretending. I really want to get acquainted with your diet, and for the orderlies it is simpler to serve." So I spooned the roasted semolina soup and forked the potato pancakes with vegetables. At that lunch, they served milk-rice, and with it ground chocolate in a small cup, as dessert. I sprinkled some over the milk-rice. Adolf Hitler criticized, "That's too little—it is a rare pleasure," and then poured nearly everything out of the cup over my rice.
"I am not allowed too much of it," he remarked. I could see that by his small rice portion. It was rather surprising how little nourishment he needed.
After dinner he said, "Giesler, you are not only exhausted, but you also have not had enough sleep. I can see it. You will now take a walk, naturally with company—with Professor Brandt—and then go to the sauna, and you will sleep well. I'm very busy with military discussions and deadlines; no planning talks today. I'll see you at tea time, late evening after the Lage."
During the walk, I talked with Karl Brandt, of whom I think highly, about Hitler's loneliness and his great burden. "If I am already worn out after hours in my small professional work here, and the talks with him, think then about the continuous demands made on him."
"No," Brandt interrupted me, "you have to look at it differently, Giesler. It's obvious that you are tired out by the nightly discussions with the Chief, but also obvious that, for him, it means complete relaxation. He gains distance and new energy for decision-making. That's why you're so important here now.
Kietel and Jodl explain
I had dinner at the casino barracks and had a chance to talk to Field Marshal Keitel, with General Jodl present—naturally about the French campaign. I wanted to listen to his assessment.
"Well, when I think about the past it gives me confidence," Keitel said. "He rarely talks about it; he was probably inspired by the map-collection.
What he presented to you, based on the maps, I can only add it was his idea, in all details his work. He alone was the commander of the French campaign."
Keitel continued, "When he explained, in January 1940, his concept about the Western campaign, worked out to all strategic details, I was startled by his audacity, even though I had to acknowledge the brilliant strategy." Jodl nodded, agreeing, and remarked, "We were pretty much perplexed when he put it on our table, complete with all details!"
"For his attack solution, he first won Jodl over, when I still could not accept it," Keitel added. "I asked myself: would we succeed in deceiving the Allies to such an extent that they would thrust their motorized army and tank units into the Belgian-Holland region, in order to block the 'Schliefen-Wing'? Would they consider the breakthrough at Sedan as a tactical, space-limited attack only? Could the flanks for the panzer thrust to the coast be secured at all? I never would have had the courage for such an audacious operation.
"General Schmundt said later that Manstein had the same thoughts. His ideas were not accepted and were refused by the chief of the General Staff (Halder). I found that out in January and arranged that Manstein could present his ideas to the Fuehrer. That was possible when he reported to the Fuehrer after his nomination to a Commanding General (Kommandierenden General) in middle February 1940.
"At that time, the Fuehrer had already planned and committed down to tactical details beyond the strategic operations—up to the commandos he needed for Eben Emael. With an incomparable insistence, he pushed through his strategic ideas and all tactical measurements. When Manstein presented his ideas for an offensive campaign, he could by that time only confirm what the Fuehrer had intended."
Field Marshal Keitel and General Jodl were hung at Nuremberg11; General Schmundt became a victim of the July 20th assassination. But the Field Marshal confirmed what I heard from him in Winniza in the notes he left. The courageous, inspired strategy of the Western campaign was explicitly and absolutely Adolf Hitler's work; he alone was the chief commander of the French campaign.
Endnotes
1. Winniza, Ukraine was the location of Hitler's headquarters called Werwolf. Franz Franz
2. Halder, Kriegstagwebuch 1939-1942, 3 vols., Stuttgart Kohlahammer, 1962-64
3. Some staff officers on the way from Luftwaffen General Felmy (chief of Luftflotte 2) to a place in the Rhine Valley—they were supposed to go by train, but they got hold of a small 4-seater plane—ran into foggy weather and emergency-landed in Dutch territory. One staff officer tried to burn, and then swallow, the documents they were carrying, but was not successful. They were delivered to the Dutch General Staff and, because the secrecy was breached, the attack had to be postponed. Felby was replaced because of this incident.
4. Halder was the chief of the general staff at that time. Schliefen's plan in WWI was to make the right wing of the German forces strong and fast-moving. However, they stopped at the Marne River and didn't move on; never captured Paris.
5. See TBR, Jan/Feb 2009, "Hitler in Paris" part two, page 60
6. The Nov. 8, 1939 bomb explosion at the Buergerbraukeller in Munich, which Hitler attended, but left early.
7. It was Hans Oster, who passed the date of the invasion of the Netherlands to the Dutch attache in Berlin. (See TBR, Nov/Dec 2009, "Valkyrie-The Last Circle," page 51)
8. Schmundt from the Wehrmacht (Armed Forces), von Puttkammer from the Navy, von Below from the Luftwaffe, Engle from the Army, Schaub from the Party.
9. Chief of Staff OKW Wilhelm Keitel and his assistant Chief of Operations OKW Alfred Jodl.
10. At the time of the German-French armistice, Hitler visited Paris with architects Giesler and Speer. Hitler told them, "For you a tough time begins, work and pressure, the forming of cities and monuments which are put into your trust." (See TBR, Jan/Feb 2009, "Hitler in Paris," page 58)
11. Though Keitel and Jodl pleaded not guilty, the Nuremberg court found them both guilty on all charges, and shamefully hanged them on October 16, 1946, though they had requested to be executed by a firing squad, which was the only honorable method for officers. Jodl's last words were "My greetings to you, my Germany;" Keitel's were "I follow now my sons—all for Germany!" In 1953, Jodl was found posthumously "not guilty" by a German court and the verdict was declared "a mistake."