Exit polls show AfD beating Merkel's CDU with 21% of the vote in northeast state elections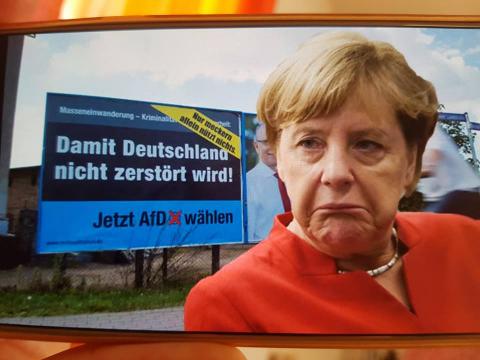 The AfD billboard in the background reads "So that Germany is not destroyed."
---
Alternative für Deutschland party representatives entered Mecklenburg-Western Pomerania's 71-seat Schwerin assembly Sunday for the first time according to exit poll results. Coming in at 21% puts them in 2nd place after the Social Democratic Party.

Incumbent Premier Erwin Sellering, a Social Democrat who has governed in coalition with the regional CDU for the past 10 years, was returned with 30 percent, according to initial results.

This puts Angela Merkel's Christian Democratic Party in third place with  19%.
Final results:

Social Democrats - 30.6% compared to 35.6 in 2011.
Alternative for Germany - 20.8% compared to not being on the ballot in 2011.
Christian Democrats – 19% compared to 23 in 2011
The Left – 13.2% compared to 18.4 in 2011
Greens – 4.8% compared to 8.7 in 2011 – Because they're under 5% they lose their representation in the parliament
NPD – 3% compared to 6 in 2011 - they also lose there few spots in the state parliament

Angela Merkel's remarks include defence of her actions:
"Of course that has to do with refugee policies. Nevertheless I still hold that the decisions, as they were made, were the right ones."
She said the government must reflect on "how we can now win back trust and move forward."
"We must recognize that at the moment many people do not have enough confidence in the ability of the government to find solutions for this matter, even though we have already handled a lot."
Actually not true, since none of the programs they promise have had successful implementation. Many words, little action.

As a matter of irony, Sunday's election in MeckPomm coincides with the first anniversary of the day, a year ago, when Angela Merkel decided to bring thousands of migrants to Germany on trains ... bypassing the Lisbon Treaty of the EU. She is paying the price for her arrogance, which she tried to disguise as compassion.

Lots of photos and story here: http://www.reuters.com/article/us-germany-election-idUSKCN1190XG?il=0
More elections coming up: In two weeks a new state parliament is elected in Berlin. Before the federal election in September next year, there are the elections in Saarland (26 March), in Schleswig-Holstein (7. May) and in North Rhine-Westphalia (14 May), three more political mood tests. In addition, a new president will be elected on 12 February.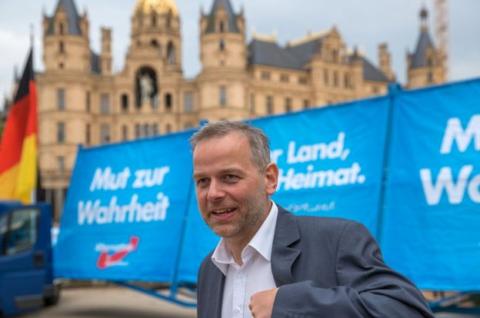 Lief-Eric Holm was the frontrunner among AfD candidates in Mecklenburg-West Pommerania.
---