New book just out on "Holocaust" by Dr. Thomas Dalton challenges basic beliefs
By Carolyn Yeager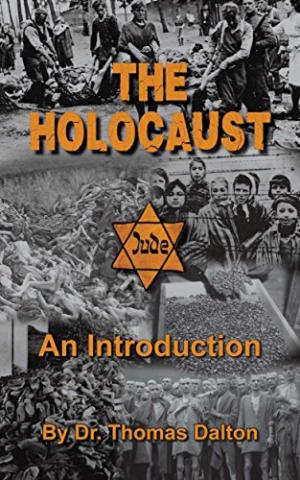 AS NEW HOLOCAUST MUSEUMS CONTINUE TO BE BUILT, as more schools add compulsory "Holocaust education" to their curriculum, and more governments cave under the pressure to give legal protection to this WWII atrocity propaganda campaign turned official history – it's Thomas Dalton to the rescue again.
His new book is titled The Holocaust – An Introduction, Exploring the Evidence. It is a basic presentation intended to simplify the questions asked by educated thinking persons, explain why they're asked, and point out the lack of answers from the Holocaust historians. No one can do this better than Thomas Dalton, in my estimation. His previous book on the subject, Debating the Holocaust, did a fantastic and fair job of presenting both sides, and was therefore widely read. Now he has turned again to the effort to make the subject understandable to every reader, and hopefully to get the attention of those who have been led or coerced into believing the case is closed.
He presents is as a murder mystery. I confess I've only read what's available at Amazon.com, (which you should read too) but I've ordered the book and will write more about it after I've read the whole thing. I'm not expecting any surprises for people like myself, but I do expect it may turn out to be the clearest exposition yet of why the "Holocaust" story, as it stands, is impossible to defend, both scientifically and historically.
It's a book written for the believer. It's the job of all of us who no longer believe to get it into the hands of believers. It's priced at only $9.95 and there are already some cheaper copies available from other dealers at Amazon. The Kindle version is only $2.99. After I've read it, I may buy several more copies so that I can hand them out to anyone I think might actually read it. Unfortunately, there are many who would actually refuse to even open the cover – proof that for them the 'Holocaust' has become a sacred religion. Even though they would deny it, their belief in the 'Holocaust' story as it's covered in the media and movies is fully akin to a religious belief.
This is the kind of resistance Thomas Dalton is up against with his new book. He deserves all the help from us he can get.
Other new books on holocaust topics:
Germar Rudolf – "Fail: Denying the Holocaust" How Deborah Lipstadt Botched Her Attempt to Demonstrate the Growing Assault on Truth and Memory $12 (scheduled for print release in late September)
Carlo Mattogno – "Fail: Debunking Holocaust Denial Theories" How James and Lance Morcan Botched their Attempt to Affirm the Historicity of the Nazi Genocide $9.95
Carlo Mattogno -  "Curated Lies: The Auschwitz Museum's Misrepresentatons, Distortions and Deceptions" $19.95
And I'd like to note that my illustrated booklet based on my 2009 Auschwitz tour can now be read free here on this site.