The Heretics' Hour: Sadists and Masochists - Torture of German POWs
Oct. 29, 2012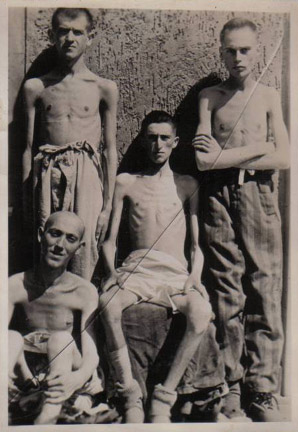 The Germans as a whole, and more especially the "Nazis" and nationalists, are expected to play the role of "bad guy" in world history, right from the time Germans became a modern nation in 1871 with the unification of independent German states  under Otto Bismarck. But the fact of the matter is that the Germans suffered more at the hands of the British during WWII than the other way around.  Pictured at right are four German men after being interned at the notorious Bad Nenndorf  secret prison set up by  the British during their occupation of north-west Germany in 1945. They are far from the worst of the cases discovered there.

In a new book not yet released, Cruel Britannia, investigative journalist Ian Cobain looks at torture carried out at the London Cage and Camp 020 on captured German soldiers and officers during and after WWII … from 1940 until 1949.

Carolyn Yeager and her guest Hadding Scott go over published extracts from the book and discuss why the White Nationalist community is so resistant to changing its perceptions about who were the good guys and who the bad guys in WWII.