The Heretics' Hour Hall of Fame: Who Started WWII?
Oldies but Goodies
This early Heretics' Hour program from August 23, 2010, with Carolyn's favorite guest of all time, Wilhelm Kriessmann, is too good to be forgotten and left back in the archives. This program, "Who Started World War II?"  was originally recorded for Voice of Reason network.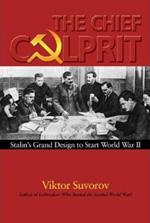 Dr. Wilhelm Kriessmann returns as Carolyn's guest to discuss the ideas and important data presented in Viktor Suvorov's book, The Chief Culprit: Stalin's Grand Design to Start WWII. Topics include:
Revisionists get prison terms in France and Austria;
Goal of Soviet Union was to communize Europe through Germany;
Offensive military build-up in USSR began in 1939;
Massive movement of Red Army troops and material to western border was completed in June 1941;
Operation Barbarossa narrowly beat a devastating attack from Soviet Union;
Who was behind Rudolf Hess' peace mission to Britain.

13 MB / 32 kbps mono / 0 hour 57 min.