Saturday Afternoon: Rodney Martin on Nadja, Greg and Mark
August 4, 2012.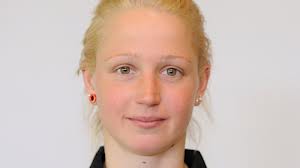 Rodney Martin of World View Foundations is Carolyn's guest for a discussion that begins with the beautiful Nadja Drygalla (pictured right), the German Olympic rower who was sent home from London like a bad child when it was publicized that her boyfriend was "a member of the 'Rostock National Socialists'" who had run in a state election on the NPD (National Party) ticket. Martin also reported on Greek triple jumper Voula Papachristou, said to be a supporter of Golden Dawn, who was expelled from the games for a "racist tweet."
In the second hour, Rodney and Carolyn turn to the subject of Greg Johnson and Mark Weber — the former's confusing Old Right-New Right formalization, and how the  latter's bad management and laziness  has turned the once prestigious IHR into a failing and continually broke organization . The question then asked was whether these two are working together for some purpose. Some comments from listeners were read.