"The International Jew" Study Hour - Episode 16
Oct. 11, 2012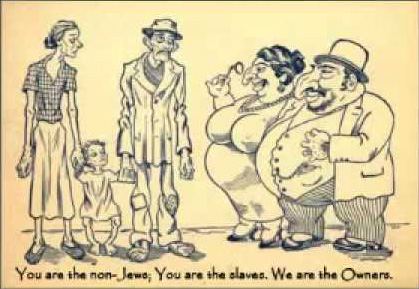 Hadding Scott and Carolyn Yeager complete Chapter 13, "Jewish" Plan to Split Society by "Ideas."
This chapter discusses the plan described in The Protocols to attack Collective Opinion by introducing "the poison of liberalism" and  the concept of  "broad-mindedness" which descends quickly into material-mindedness. First comes the prostitution of service to profits, then the disappearance of the profits.
Rather than a division between "Capital" and "Labor," there is brought about a division between Gentile laborers and Gentile managers, who have to go to the Jewish capitalists for funds. A total revolution will be necessary to unfasten the International Jewish system's grip on the world. The chapter ends with the question whether Gentiles are competent to do it.
Image caption reads: "You are the non-Jews. You are the slaves. We are the Owners."
Note: We are using the Noontide Press publication of The International Jew — The World's Foremost Problem which can be found online here as a pdf file.