Saturday Afternoon: A Chat with Hadding Scott
June 16, 2012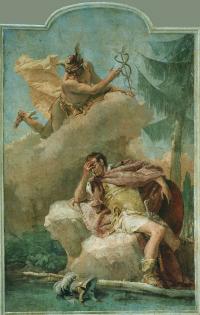 Hadding Scott is Carolyn's guest for two hours of "movement" talk,  beginning with how Hadding got started into historical revisionist thinking. Already at university, he was asking uncomfortable questions and speaking out. He joined the National Alliance in the early 1990′s and shortly met and got to know Dr. William Pierce. After Pierce's death, Hadding authored 8 American Dissident radio broadcasts in 2003. Scott has long been a presence on the Internet. His current websites are National-Socialist Worldview,  The Legacy of Dr. William Pierce,  Setting the Record Straight,  and Deutsche Wochenchau, a collection of German WWII newsreels.
One of his latest articles "Our Weapon – The Truth" was published at The Occidental Observer.  Hadding taught himself Latin, Greek and German.
The image shown at right is a favorite of his -  "Mercury Appearing to Aeneas" by Giovanni Battista Tiepolo (1757). Mercury tells the Trojan refugee that he must leave the easy life that he has found in Carthage and fulfill Jupiter's plan by founding Rome.