Thousands of African invaders picked up off Libya coast and brought to Europe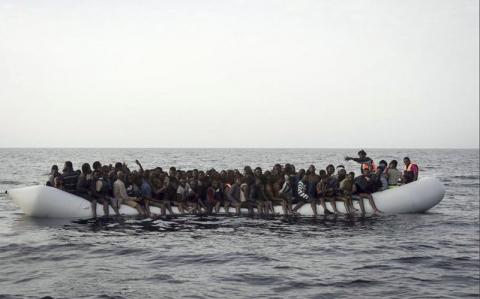 One out of 30 overcrowded vessels that left Libya on Tuesday whose inhabitants were picked up by European rescue ships and delivered to Italy, where they will remain. Does this make sense?
---
IF SUB-SAHARAN AND OTHER AFRICANS CAN MANAGE TO GET A LITTLE WAY OUT IN THE WATER off the coast of Libya, packed into a rubber dinghy, they can be picked up by European Navy ships that are patroling the Mediterranan Sea - and brought to Europe.
They never return to Africa. Even though the Africans invaders are still much closer to Libya when they are 'rescued', they are taken to migrant centers in Italy, where they sit indefinitely unless they escape into Europe, headed to Germany or the UK in search of the best welfare handouts.
And guess who is ultimately responsible for this - Hillary Clinton, who works in league with George Soros. She insisted on bringing down Libyan leader Muammar Gaddafi when she was Secretary of State and turn Libya into a war zone.  She used our US armed forces to do this dirty work. Now she wants to bring down Syran leader Bashar Al-Assad to make it a permanent war zone, necessitating more migration.
According to The New Observer:
On Wednesday, October 5, European navy ships carried out more than 30 operations off the Libyan coast, taking at least 4,700 Africans off boats just a few miles from the North African coast.
The previous day, at least 6,000 Africans, packed into barely seaworthy rubber dinghies, were also picked up off the Libyan coast.
Does this sound like a plan? It's truly insane for indigenous Europeans to allow their land (and they have no other) to be destroyed by hordes of 70 IQ foreign races. It has to be because they don't get the truth and are lulled and bullied by their national media, in league with the 'one-world' philosopy of the European Union. This is why we need WWII revisionism! Please read the entire article here.