The Trump-Romney Question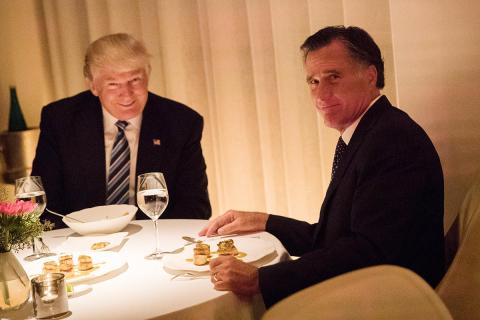 The expressions in this photograph are priceless.
---
By Carolyn Yeager
I HAVEN'T SEEN ANYONE BRING UP WHAT SEEMS OBVIOUS TO ME. Donald Trump is working to bridge the gap between Mitt Romney and himself as part of his stated goal to unite the Republican party behind him. Romney, as his most vociferous critic, and also the highest status person in that wing of the party, can bring all other "Never Trumpers" around with him.
Trump's goal is to unite the entire country behind him. He's starting with the Republican party and with the party's former top Republican, Romney, by dangling in front of him the prestigious Secretary of State position. Brilliant? Certainly. We the people, and certainly we who have been Trump supporters from the beginning need to stop second-guessing our man and instead sit back and enjoy what he is unfolding before our wondering eyes. It's great and it's going to get even greater!