Why would they lie?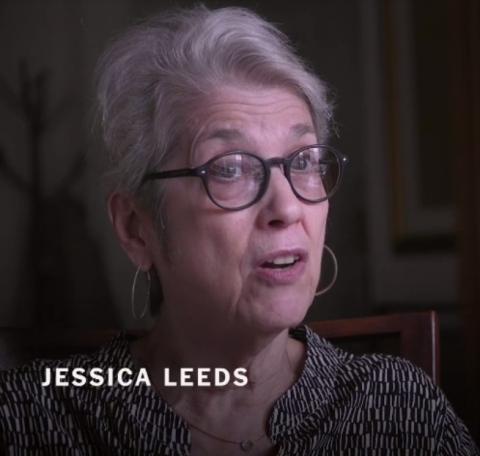 By Carolyn Yeager
THIS QUESTION HAS BEEN ASKED FOR THE PAST FEW DAYS BY FEMALE PUNDITS and news show hosts, and all liberal Democrats on TV … about the women who are coming forth to accuse Republican nominee for president, Donald Trump, of forcing unwanted sexual advances on them. What reason would they have for lying? It was asked the other night by Megyn Kelly of Fox News, with a sorrowful look on her face as she seemed to be trying to make her eyes water to demonstrate how seriously she takes it.
But this question is one those of us engaged in historical revisionism are very familiar with. In holocaust revisionism, especially, it is used as a standard defense for the wild stories told by survivors (or surlievors, as I call them) without any corroborating evidence or witnesses to back them up. Why would they lie about such a thing, it is asked. What reason do they have to lie?
How naive. Plenty of reasons, is the answer.
First, they hate the person they are lying about and see him (or her) as the enemy. These women are all liberal progressives and feminists who despise Trump and believe having him in the White House would be a disaster. So they feel virtuous in doing what they can to harm his chances.
Second, some women have fantasies and pick up details they hear or read elsewhere and incorporate them into their own "story." We will see this in the case of Jessica Leeds.
Third, women are notoriously vindictive when given the chance. In our long past in which women were forced to be submissive and had no legal rights, some have been left with a residue of wanting to get even with dominating men.
Fourth, there is such a phenomenon as "the bandwagon" and these women are now joining it. There is security in numbers. Any experience they may have had with Trump in the past – no matter how slight and undefined – they can now re-interpret and fill-in to make themselves a part of the growing chorus.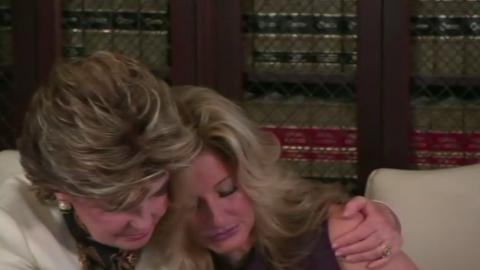 Feminist Attorney Gloria Allred comforts her client Summer Zervos as she publicly accuses Donald Trump of kissing her without her permission.
---
What gets me is the woman who appears emotionally traumatized (above) because Trump kissed her after she was disqualified on The Apprentice TV show in 2007 - 9 years ago! Maybe he was trying to make her feel better. I mean, how terrible is a kiss? But she said in a statement to him yesterday, standing beside her female lawyer, "You do not have the right to treat women as sexual objects just because you are a star." At the time, she gladly accepted a consolation job from him at one of his gold courses.
A new twist comes from Zervos' cousin John Barry of Mission Viejo, Calif. He said in a statement that Zervos spoke glowingly of Trump until the real estate mogul rebuffed an invitation to visit her restaurant during the primary campaign. "I think Summer wishes she could still be on reality TV, and in an effort to get that back she's saying all of these negative things about Mr. Trump," Barry said. "That's not how she talked about him before."
Jessica Leeds story has been badly compromised
The very first woman to come out with her "sex" accusation against Trump is Jessica Leeds and now her colorful story has been refuted by an eye-witness in the airplane. In addition, she has a history of conflict with Trump property holdings.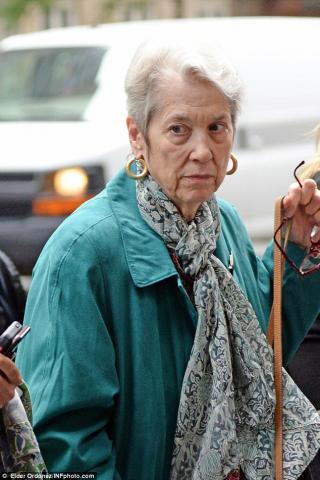 Leeds (right) had stated in a videotaped interview that she had been invited to move to the first class cabin because there was a vacant seat. [This good fortune happened to me once on a flight from Hawaii to Dallas; it's not unusual.] The seat turned out to be next to the well-known Donald Trump. I think she would have had the aisle seat. They chatted some for about an hour. Then -
"It wasn't until they cleared the meal ...that … somehow or another … the armrest in, in the seat disappeared, and it was a real shock when all of a sudden … his hands were all over me. He started encroaching on my space, and … I hesitate to use this expression but I'm going to, and that is, he was like an octopus and it was like he had six arms, he was all over the place. If he had stuck with … the upper part of the body, I might not have gotten (smiling) … I might not have gotten that upset. But it was when he started putting his hand up my skirt … and, that was it. That Was It. I was out of there. And I don't think I said a word."
---
UPDATE 10/15, 8:30 pm -- It has been reported by Infowars.com:
Leeds also said Trump "was like an octopus. His hands were everywhere," which is almost word-for-word the same description used in a 2014 sexual allegation made against Coronation Street actor Bill Roache. "He was like an octopus. Hands everywhere," Roache's accuser told police.
Leeds' statement was also nearly identical to lyrics used in the Velvet Underground song "The Gift." "My God, he was like an octopus. Hands all over the place," the lyrics went.
UPDATE 10/16, 8:00 PM -- I just heard Leeds saying on this video recording @2m5sec that her seat in First Class was the first seat (aisle) in the cabin. Up at the front is where the stewardesses (as she calls them) hang out, so there was no way they would not have seen what was happening in the first seats! This woman has some 'splaining to do.
---
First, the stewardesses would have stopped any "encroachment on one's space" from continuing. They are trained to do that. Also, it has been proven that the plane she says she was on had unmoveable armrests in First Class. That is, the armrest couldn't be raised up. But "somehow or other" it moved. This is so very reminiscent of holocaust surlievor tales wherein it can't be explained how crucial things happen, but somehow they did. A perfect example of this is Irene Zisblatt, author of the cringeworthy The Fifth Diamond, telling how when entering the gas chamber at Auschwitz she found herself somehow or other being pushed backward and somehow or other she was outside when the door was closed. Also, somehow or other, no guard noticed her and she was able to go and hide under a low roof until they had all left. Somehow or other.
Enter Anthony Gilberthorpe
There was a man in the seat across the aisle whom she said was aware of what was taking place but didn't do or say anything. "The guy in the seat across the aisle could see," she said to CNN. This man has come forward after reading about this and seeing the NY Times video. His name is Anthony Gilberthorpe of London. He said he was on the flight in either 1980 or 1981 (Leeds says it was 1979).
"I have only met this accuser once and frankly cannot imagine why she is seeking to make out that Trump made sexual advances on her. Not only did he not do so (and I was present at all times) but it was she that was the one being flirtatious."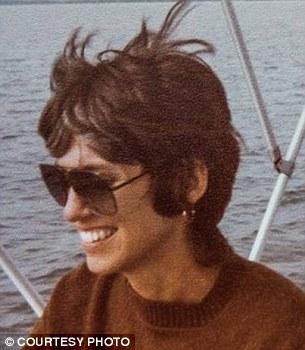 According to the New York Post, Gilberthorpe, 54, said he was sitting across the first class aisle from the couple and saw nothing inappropriate. Leeds was wearing a white pantsuit, he said, while Trump was wearing a suit and cuff-links, which he gave to his British flight companion. (Note that Leeds said she was wearing a skirt.) [A young Leeds at right]

Gilberthorpe said Leeds was "trying too hard" to win Trump over, and when Trump excused himself to go to the lavatory, Leeds told Gilberthorpe "she wanted to marry him." He said there was no kissing, but the "shrill" Leeds was "very much in your face" with the real estate developer.
Gilberthorpe is even saying he wants to meet Leeds face to face to challenge her:
"I will go to head to head with her — I will meet her again. I will see her eyes across the table with my eyes and I will challenge her on the points she made. And I'll tell you what, I would do this whether it was for Trump, for Clinton, for Obama, or for any man who's been accused of sexually molesting someone when I know he did not."
Leeds could not immediately be reached for comment.
So there you go – it's two against one. And what this woman said to Anderson Cooper on CNN really challenges her credibility. She said Trump's hands on her body and trying to kiss her went on for 15 minutes!! Cooper found that problematic and so would anyone. After tolerating it for all that time, she said she got her bag and went back to the 2nd class section, to the furthest back seat. But didn't mention any of it to the stewardesses? And they didn't notice her strange behavior and ask her if she was alright? No, it just doesn't work that way. This woman is a liar, just like Irene Zisblatt. We have to conclude that if the one who began this attack on Trump is telling a false story, there is no reason to believe any of the others who have jumped on the bandwagon. Case closed.
_____________________________________________

More answers to "Why would they lie?" from GotNews.com
Summer Zervos humiliated on The Apprentice and because Trump didn't come her restaurant

Cathy Heller long-time Dem donor and business competitor
Kirsten Anderson aspiring photogropher hopes to grow business
Rachel Crooks college drop-out disappointed Trump didn't make her a model
Mindy McGillivray single mom with history of arrests wants daughter to look up to her