By Carolyn Yeager
A new article in hoaxter Denis Avey's hometown newspaper The Derbyshire Times shows this photo of Avey holding his book with a price sticker of £4, partially covered by his fingers.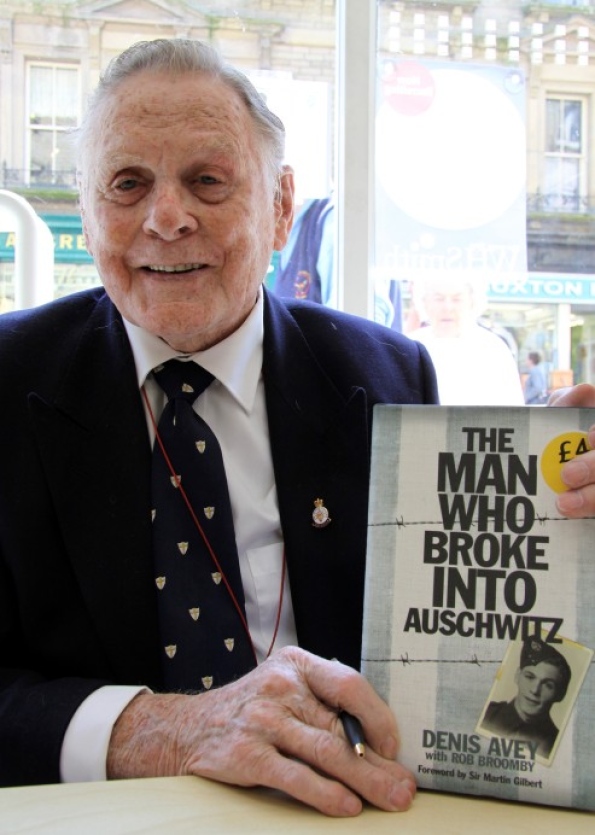 He is at a book-signing event at WH Smith's bookstore in Buxton, near where he lives. His book, The Man Who Broke Into Auschwitz, is listed at £20, but appears to have been discounted from the beginning to cause enough copies to be sold to push it to "best seller" status. In the publishing industry, being able to describe the book as a "best seller" is more important than if it actually was a best seller. When the U.S. edition comes out this summer expect to see "Best Seller in Britian!" or some such wording emblazoned on the cover. This will improve U.S. sales where there is a much larger population from which to draw.
The article in the Derbyshire Times is clearly a PR (public relations) release from the publisher, which is what so much of "the news" really is. These "articles" and photos will appear in as many outlets as are willing to publish them. Repetition is the name of the game, and it works. The more times people see it, the more convinced they are of its importance and authenticity.
Selling a £20 book for £4 immediately after publication is an increasingly common practice, but not for quality books that prestigious publishers take pride in offering. This is a just another cheap "holo fiction" that the publishers are hoping, given enough time, might become another Night.