Hitler's final offer to Poland's Josef Beck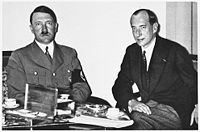 Giesler: "Until the last massive snub by the Polish leadership at the end of August 1939, he couldn't imagine that they would let it come to a fight."
Adolf Hitler and Polish Foreign Minister Jozef Beck meet together in 1937 when relations were still fairly good. By August 1939, Beck was ignoring Hitler's requests to talk about their common borders and Hitler's main concern that could wait no longer – Danzig.
The Germans, on August 29, made a new offer to negotiate with Poland. By this offer, they were telling the world that they preferred diplomacy to war. The Poles, by refusing this offer to talk, told the world that they favored war. British Foreign Secretary Lord Halifax, by refusing to encourage the Poles to negotiate, also favored war. What Halifax did encourage was for the Hitler government to believe that the Poles were willing to talk, when he knew they were not.
On the 28th, Beck informed the British he would not negotiate without an explicit statement from Hitler that Germany had abandoned Danzig once and for all, and that she would never again seek to improve her transit communications to East Prussia through the Polish Corridor. This, however, was not relayed to the Germans.
A note given from Hitler's government to the British Ambassador to Germany, Nevile Henderson, at 7:15 p.m. on August 29, stated that Hitler wished the British Government to advise Poland to send an emissary to Berlin on the following day, Wednesday, August 30th. He emphasized that urgency was required by the pressure of events, and he wished the British to know that Germany expected the arrival of a representative from Poland not later than midnight on August 30th. Hitler assured Henderson that he would negotiate with Poland on a basis of full equality. Henderson assured Halifax that the terms would be moderate. Henderson also urged Polish Ambassador to Germany Jozef Lipski, before midnight on August 29th that his country could and should send a special envoy to Berlin the following day. Lipski informed Beck and Beck called in Britain's Ambassador to Poland Hugh Kennard.
Kennard was extremely anti-German, as was his boss Halifax. Therefore, Kennard did not advise Beck to stop the Polish mobilization scheduled for that morning, August 30, and went so far as to advise him to reject Hitler's offer, even though his own government had dishonestly assured Germany two days before that Poland was prepared to negotiate.
Nevile Henderson                           Lord Halifax
On the morning of August 30, Henderson messaged Halifax that midnight August 30 was not an unconditional deadline and Berlin was not an unconditional location - the Hitler government was willing to accommodate the Poles in this regard as long as an assurance of a desire to negotiate was made. But by that afternoon, the general Polish mobilization notices had been posted throughout Poland and Beck had issued an "Orwellian" communiqué stating that Poland had supported all efforts for peace by Allies or neutrals, but their efforts had brought no reaction from Germany. Still, Hitler, Goering and Ribbentrop continued to hope that the Poles would yet send an emissary to Berlin – and even into the morning of the 31st.
As it turned out, Beck had sent instructions to Lipski shortly before noon to accept no proposals and enter into no negotiations with the German Government. This became known when the telegram was intercepted and decoded by Goering's special investigation office. Saying his conscience was now clear as he had done his best for months under trying circumstances, Hitler issued the final invasion order in the early afternoon of August 31st.
The Polish refusal to discuss a settlement with Germany on any terms, and the insult of no reply from either Britain or Poland to Hitler's final offer, was the "massive snub."