Auschwitz: The Underground Guided Tour
Buy this book …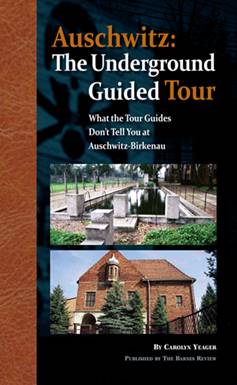 Auschwitz: The Underground Guided Tour
What the Tour Guides Don't Tell You at Auschwitz-Birkenau
 by Carolyn Yeager
Published by The Barnes Review
This remarkable study of Auschwitz is unlike anything yet published. Though it is purposely small in size and easy to read, it carries a powerful punch. The author visited Auschwitz as a tourist armed with a broad study of the literature surrounding the world-famous site, and from that visit has proceeded to deconstruct the Auschwitz shown to her and others as a "death" or "extermination" camp. By taking the reader on an "underground guided tour" around Auschwitz-Birkenau, she clearly demonstrates it to be, at varying times and locations within the perimeters, a simple labor, concentration and transit camp for political prisoners, where the health of the inmates was a prime concern of the camp authorities. Sound unbelievable? After reading this carefully researched book, you will see the horror stories for so long spread about Auschwitz-Birkenau in a new, more skeptical, light, and you may very well be so impressed you'll want to share your new vision with others. A cautiously written work that moves toward a surprising conclusion, leaving us pondering how so much that is not true has seeped into our consciousness as "fact." Lavishly illustrated.
Available from
Soft cover, 48 pages, $10
 To order call toll-free at
1-877-773-9077 to charge
copies to Visa or MC. (Call after 11 a.m.
from Eastern and Central time zones)
Or mail check or money order to TBR,
PO Box 15877, Wash. D.C. 20003.
No S&H inside U.S. 
Bulk Discounts: 1-5 copies, $10 ea.
6-49 copies, $7 ea. 50-99, $6 ea.
100 or more only $5 ea.