The Heretics' Hour: Absurdities and Insanities All Around Us
Sept. 24, 2012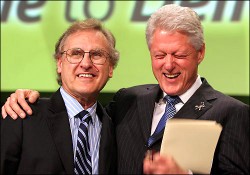 Circumcision is again the lead topic on The Heretics' Hour. Carolyn discusses some famous iconic figures who are circumcision promoters:  Bill Clinton, Bill Gates and Oprah Winfrey (thru Dr. Phil and others on her network). Oprah promotes SkinMedica, a skin product made from harvested foreskins. Infant foreskins are also used to make new skin for burn victims and wounds that won't heal; it is highly lucrative for the hospitals and clinics that sell them after they are cut off of helpless infants. Oprah also involved herself in "The Holocaust" by teaming up with Elie Wiesel and endorsing his fictional book Night as non-fiction.
Image: Bill Clinton with his close friend Stephen Lewis, an outspoken feminist and vehement promoter of male circumcision. Lewis is Jewish and former head of UNAIDS.
In the second hour, Carolyn turns to the BUGS view of Adolf Hitler,  the Goebbel's collection of youthful writings to be auctioned off, the Daily Mail atrocity of a review of a new book on German WWII soldiers, and more.