Full Jewish press is on to keep Special Envoy for Anti-Semitism in State Department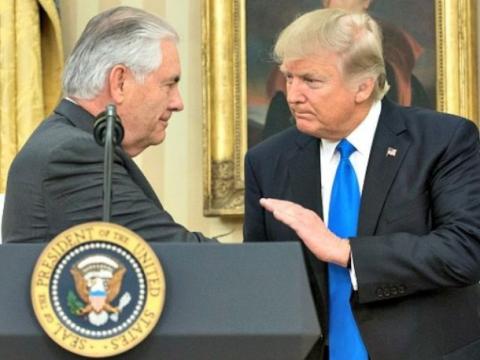 President Donald Trump welcomes Rex Tillerson to his administration after Tillerson's swearing in as Secretary of State. Now the Department is facing budget cuts that are instigating a controversy with Jews.
---
This Special Office was originally opposed by the State Department, but George W. Bush thought it would help him carry Florida in 2004.
By Carolyn Yeager
AS PROMISED, A BIPARTISAN GROUP OF 167 MEMBERS OF CONGRESS [out of 435 – less than half] have signed a letter to President Donald Trump asking him to keep intact the State Department's Office of Special Envoy to Monitor and Combat Anti-Semitism. As I posted on February 27, President Trump plans to cut billions of dollars from the State Department budget and this particular office is on the cutting board.
Rightly so, I would say.
But Jews and their allies in Congress are pushing to keep the 2004 legislation in place. The letter begins: "As Members of Congress who care deeply about anti-Semitism at home and abroad, we urge you to maintain and prioritize the appointment of the Special Envoy to Monitor and Combat Anti-Semitism." The initiative was spearheaded by Jewish Representative Eliot Engel (D-NY) who also happens to be chairman of the World Jewish Congress International Council of Jewish Parliamentarians.
Of the five co-sponsors, three are also Jewish (Nita Lowey D-NY, Ileana Ros-Lehtinen R-FL, Ted Deutch D-FL), one is Black (Marc Veasey D-TX) and one is White Catholic who had been a sponsor in 2004 (Christopher H. Smith (R-NJ).
The letter and signatures can be seen here. I recognize the names of Keith Ellison and Sheila Jackson Lee among the signatures. The letter plays up only a couple of serious attacks on Jews during the entire 13 years the office has been operating worldwide.
The letter further states: "We view U.S. Leadership on combating anti-Semitism and promoting human rights as pivotal components of American diplomacy and foreign policy." Well, why not Israeli leadership?
I can tell you why: Israel is not respected or liked in the world, in addition to their having the practice of always getting someone else to do their work for them.
The only organizations that have come out in support of this letter are Jewish organizations. They are listed as: Anti-Defamation League, American Jewish Committee, B'nai B'rith International, Jewish Council for Public Affairs, National Coalition Supporting Eurasian Jewry, the Simon Wiesenthal Center, Religious Action Center for Reform Judaism, World Jewish Restitution Organization, World Jewish Congress, Human Rights First, J Street, and the Zionist Organization of America.
Whew ... that's pretty telling, and it's because the Office only serves the interests of Jews and Israel. It certainly doesn't fit with "America First" that President Trump has outlined as our new direction. Let's take a look at what this office accomplishes and you be the judge whether it serves the United States taxpayer (who's paying for it!) or Israel.
According to Ariel Ben-Solomon, writing for the Jewish News Service:
"past envoys have met with representatives of various countries to discuss issues of antisemitism or other Jewish concerns, such as proposed European bans on Jewish ritual circumcision."
According to Hannah Rosenthal, U.S. Special Envoy from 2009 to 2012,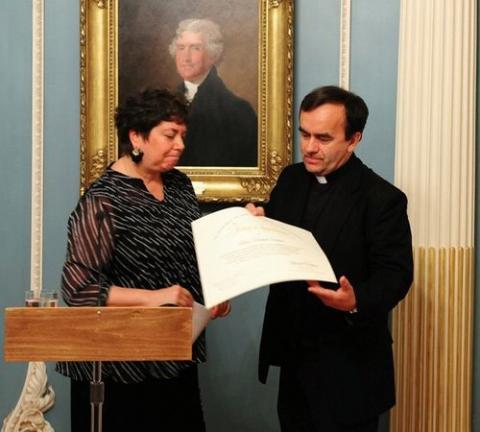 "in July 2011, she confronted Arab states on antisemitism, and gave Saudi Arabia's ambassador to the US, Adel al-Jubeir, a book that debunked The Protocols of the Elders of Zion." She also awarded the totally fraudulent French priest Father Patrick Desbois with a Tribute of Appreciation certificate in May 2011 (photo above -enlarge).

According to Ira Forman, current Special Envoy,
"he often traveled to Europe to deal with antisemitism. He spoke with the Polish government about anti-Jewish hate crimes and a law banning kosher slaughter and talked with Morocco's ambassador at large for Jewish affairs about issues such as the rehabilitation of Jewish cemeteries.
According to Steven Stalinsky, executive director of MEMRI (Middle East Media Research Institute), his office:
"received a $200,000 State Department grant in 2011 to help expand the State Department's documentation of antisemitism in the Arab and Muslim world."
The research was "used to get the television channels belonging to Hamas and Hezbollah removed from satellite TV carriers in the US, Europe and Asia, as well as Egyptian and Saudi channels disseminating antisemitic content."
Further research has "led to the arrest and expulsion of antisemitic sheikhs in Germany, Spain, Italy, Belgium, Australia and Montreal, Canada."
Stalinsky acknowledged that "the annual reports by the envoy's office were not always thorough and could have used more examples of antisemitism."
That's because they actually can't find many examples to document, so they use the office and money to promote their other issues. Sorry, but it's just like greedy Jews to get as much of the pie for themselves in spite of whether they can actually eat it or not!
Keeping the office and the envoy, Stalinsky added, "will also reassure the Jewish community of the president's commitment to fighting anti-Semitism."
In other words, we can't do too much for the Jews. This is a boondoggle that plain-speaking Trump wants out of and the American people would want out of too, if they knew what it really was.
According to Morton Klein, the president of the Zionist Organization of America (ZOA),
"ZOA strongly supports having a special envoy who will emphasize Muslim antisemitism, which is the driving factor for the increase of antisemitism in Europe, in the US and on college campuses."
Which brings up the question why is it that Jews, (like George Soros and Klein himself) and all the major Jewish organizations lobby so hard to have more Muslims enter the United States, Canada, and Europe. If Jews mean what they say, it doesn't make sense. But Jews don't mean what they say. Jews want evidence of anti-Semitism in order to demand special protections, but don't want to actually suffer from it.
They are putting the United States prestige and money behind their sick Jewish practices of ritual circumcision and kosher slaughter, of banning free speech and cleaning up old Jewish cemeteries that Jews themselves have abandoned. But Jews are only 2 to 2.5% of the US population. We are not a Jewish nation! How did we get boondoggled into representing and defending their peculiar lifestyle practices to people all around the world?
How the position of Special Envoy to Monitor Anti-Semitism was created
The envoy position was created by the Global Anti-Semitism Review Act of 2004, which was sponsored in the House of Representatives by the late Jewish Congressman Tom Lantos (D-Calif.), who dubbed himself "the only Holocaust survivor ever to serve in Congress."
I wrote a little about Lantos in this article at Elie Wiesel Cons The World. He was born in 1928 (same year as Elie Wiesel) to a Jewish family living in Budapest, Hungary. According to his Foundation biography, "as a teenager he was sent to a forced labor camp by the German Nazi occupant military. After escaping the labor camp, he sought refuge with an aunt who lived in Budapest in a safe house operated by Raoul Wallenberg …" and joined some sort of resistance organization. Because of his blond hair and blue eyes, he was able to move around the city delivering food and supplies to other safe houses. This is a story told by Lantos himself, without any research carried out to confirm it. But the nutty people from San Mateo county and San Francisco elected him to Congress in 1980 and he made the most of it.
Lantos cared about people so much that in May 2000 he was involved in an automobile accident and failed to stop after driving over a young boy's foot. He was later fined only for inattentive driving! He was outed as a practiced liar in Eric Hunt's documentary film The Last Days of the Big Lie (beginning at 1:10:56). Lantos also appeared in Steven Spielberg's The Last Days documentary.
Sen. George Voinovich, a Catholic Republican from Jewish stronghold Cleveland, Ohio, was willing to sponsor the bill in the Senate. The bill passed both chambers of Congress by Unanimous Consent! No vote count record was made in either case.
US State Department opposed the bill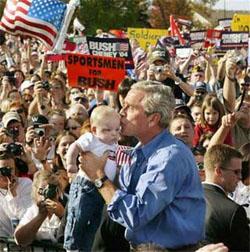 George W. Bush signed the bill into law on his official Air Force One Jet on his way to campaign in Florida (photo right) for his second term. "This nation will keep watch; we will make sure that the ancient impulse of anti-Semitism never finds a home in the modern world," Bush said to Florida voters, knowing the state's Jewish population was the third largest in the world, after Israel and New York, and knowing he absolutely needed to win the state.
"Today, I signed the Global Anti-Semitism Review Act of 2004. This law commits the government to keep a record of anti-Semitic acts throughout the world, and also a record of responses to those acts," he said.
The Bush campaign hoped at the time that his strong support for Israel and aggressive outreach efforts could win a majority of Florida's sizeable Jewish community.
The US State Department had opposed the legislation, saying it was unnecessary as the department already compiles such information in its annual reports on human rights and religious freedom. But it had drawn fire for its position from Jewish groups – which are known to wield significant political power especially during a presidential election year – and in September, more than 100 prominent Americans signed a letter to US Secretary of State Colin Powell saying that stance was "wrong."
"The fight against anti-Semitism deserves specific, focused attention," said the letter.

(These letters signed by 100 or so 'prominent' persons are the tried and true mode of operation used when Jews and 'progressives' apply pressure.) Jewish groups hailed passage of the bill which they said provided a new avenue to fight anti-Semitism. The bill requires the department to document acts of physical violence against Jews, their property, cemeteries and places of worship abroad, as well as local governments' responses to them, and take note of instances of anti-Jewish propaganda and governments' readiness to promote unbiased school curricula. It sounds like enslavement to Jews, does it not? It is!

Does this Office deserve to continue?
Considering that this Office of the Special Envoy was put into place from the beginning for the purpose of gaining votes in a Presidential election (as was President Jimmy Carter's decision to move along the US Holocaust Memorial Museum in 1979 and Harry Truman's decision to recognize Israel as a state in 1948, both of which later proved to be mistakes) – the opportunity to shut down this office now is a fortunate second chance opportunity. These second chances don't come often, so one hopes President Trump sticks to his guns despite the barrage of fire coming his way, and frees his State Department from this useless parasitic appendage. He needs your support!