President Trump - Cut the State Dept. "Special Envoy to Monitor Anti-Semitism" to offset your increased defense spending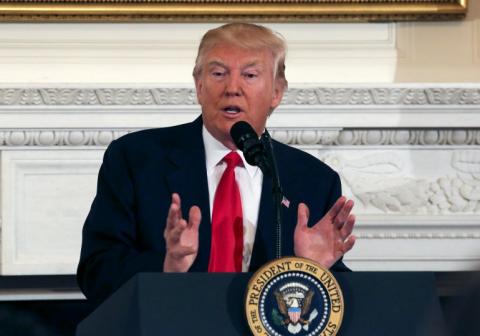 President Donald Trump speaks at the National Governors Association meeting in the State Dining Room of the White House on Feb. 27, 2017 (Credit: Aude Guerrucci-Pool/Getty Images)
---
by Carolyn Yeager
PRESIDENT TRUMP INSTRUCTED FEDERAL AGENCIES MONDAY TO ASSEMBLE A BUDGET for the coming fiscal year that includes a 9% increase in Defense Department spending, with drastic enough cuts to wasteful spending elsewhere in the government to compensate. He intends to leave Social Security and Medicare alone.
Trump is reported to want a budget with tens of billions of dollars in reductions to the Environmental Protection Agency and the State Department (largely in foreign aid), as well as a few other domestic agencies here and there.
One area he can easily save money is the unnecessary position of Special Envoy to Monitor and Combat Anti-Semitism, which was only established within the State Dept. in 2004 and accomplishes absolutely nothing for the United States of America. It is a plum thrown to Jews, just as is the U.S. Holocaust Museum, but a heck of a lot more expensive than the museum.
I have talked about this agency before but it is worthy of another visit. It really has no vital purpose because, in association with the State Department, it's job is to expose and somehow reduce anti-Semitism around the world! I don't think this is something Donald Trump would consider necessarily the job of the United States, but I have not yet found any way to get a message to Trump. I don't think there is any way, so I'll write it up here and hope by some miracle it might reach a personage with some influence.
What does the Special Envoy do?
The current Special Envoy to Monitor and Combat Anti-Semitism is Ira N. Forman [important to read]. His job is to provide input on anti-Semitism for the annual reports on Human Rights Practices and International Religious Freedom produced by the Bureau of Democracy, Human Rights and Labor (DRL). Forman's background includes serving 15 years as the Executive Director of the National Jewish Democratic Council, and four years with the American Israel Public Affairs Committee as Political Director and Legisltive Liason.

From the State Dept. website:
The Special Envoy to Monitor and Combat Anti-Semitism advances U.S. foreign policy on anti-Semitism. [??!] Anti-Semitism is discrimination against or hatred toward Jews. The Special Envoy develops and implements policies and projects to support efforts to combat anti-Semitism.
The Special Envoy was established by the Global Anti-Semitism Review Act of 2004. The Bureau of Democracy, Human Rights and Labor (DRL) produces the State Department's annual reports on Human Rights Practices and International Religious Freedom, and the Special Envoy provides input on anti-Semitism for these reports.
The Special Envoy to Monitor and Combat Anti-Semitism welcomes information on anti-Semitic incidents, including personal and property attacks; government policies, including judicial/prosecutorial decisions and educational programs on the issue; and press and mass media reports. The office can be contacted at: SEASinfo@state.gov.
As of January 20, 2017, material from the administration of Barack Obama can be found on the archive.
The State Dept. website has changed
The Special Envoy used to have a fairly large staff listed on the State Dept. website, but all that doesn't seem to be made public any longer. I can see why, since it showed a lot of Jewish names with jobs in this office and had to have been a good resource for antisemites to use to show how government money is wasted. The people in this department must be willing to make things up because so many "antisemitic" events are perpetrated by Jews themselves as false-flags in order to gain sympathy, move an agenda forward, and to justify the existence of agencies like this one.
Recently, there's been a rash of incidents in Jewish cemeteries (pushed over headstones) that both President Trump and Vice-President Pence were corralled into publicly denouncing. Since no perpetrators have been caught, it could very well have been done by Jews, considering their track record in this type of desecration. This is likely what the Special Envoy's office is primarily involved with - "antisemitism" produced by Jews themselves!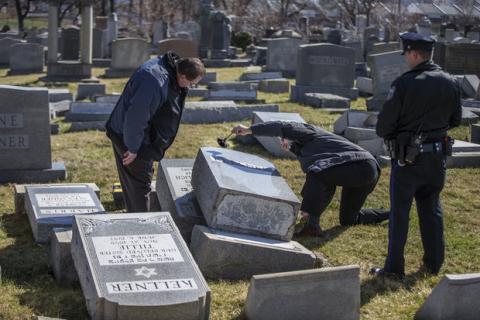 Police dusting for fingerprints at the Mount Carmel Jewish Cemetery in Philadelphia on Sunday, Feb. 26, 2017, where more than 100 headstones were vandalized less than a week after similar vandalism in Missouri. 
---
This is a special office that our government can certainly do without, and our nation can do without. It clearly was formed because of demands of Jews to begin with, under the Bush II administration. George W. was notoriously willing to do the Jews' bidding; his administration was filled with neo-cons; his Secretary of State was Condoleeza Rice. Trump would of course be vociferously attacked if he were to close this office down entirely, but what better time to do it than during this general cost-cutting effort in a new administration.