Lutz Bachmann's show trial in Dresden coincides with Adolf Hitler's 127th birthday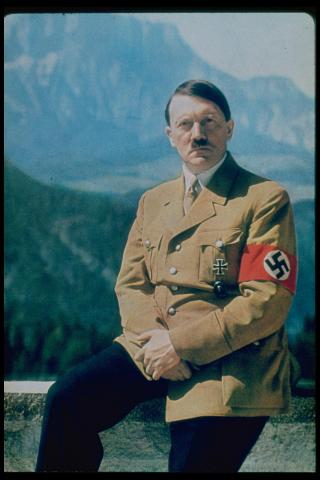 Adolf Hitler on the veranda of his private home "The Berghof" in the Obersalzberg of the Bavarian Alps. While he is looking very serious here, he said he was always happiest when at home among his beloved high peaks.
---
By Carolyn Yeager
THE BIRTH OF GERMANY'S GREATEST LEADER took place on April 20, 1889, as you should know. Every year it is celebrated by those of us who love the German Nation as Adolf Hitler represented it. Once again this year we say "Thank you, our Führer, for the example of strength and sacrifice you bequeathed to us. Our gratitude to you is boundless; your light and brilliance shine ever more brightly in the social and political darkness that we are experiencing in 2016. Our hope is that your memory will continue to undergo a renaissance of love and admiration from all the world. We love you!"
* * *
Now, I know that Lutz Bachmann and his PEGIDA movement publicly rejects Adolf Hitler and National-Socialism, but even so the work he does is more in line with the values of National-Socialism than any of the political parties of standing in Germany today, with the exception of the new Alternative für Deutschland.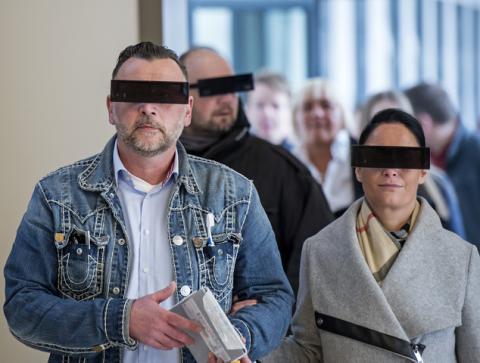 Lutz Bachmann, wife Vicky and a supporter all sporting specially designed sunglasses meant to mock the censorship laws in Germany.

Lutz appeared with his wife in a Dresden courtroom on Tuesday wearing specially-fashioned sunglasses giving the effect of a black censorship bar across the eyes – he told reporters they represented censorship in Germany. Bachmann's attorney, Katja Reichel, spent much of Tuesday's three-hour opening session arguing that there was no proof that the the Facebook account in Lutz Bachmann's name was public at all. [Back in Sept. 2014 before PEGIDA was organized, a post had appeared under his name calling "refugees" cattle and scum.] The whole trial revolves around how many people saw this post because he's charged with" inciting hatred with the potential to disturb public peace." If found guilty, he could be sentenced to a fine or all the way up to five years in prison.
Here is a nasty anti-Bachmann video produced by Deutsche Welle.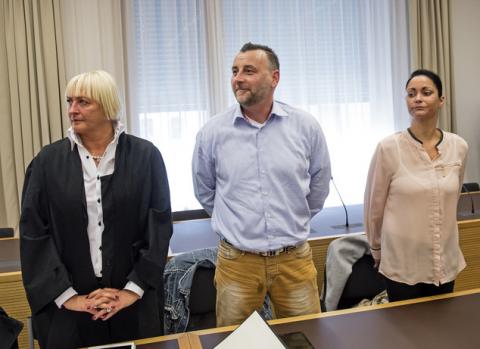 (l to r) Defense attorney Katja Reichel, Bachmann, Vicky Bachmann stand awaiting the opening of the trial in Dresden Tuesday.
During this first session (the next are scheduled for May 3 and May 10), defense attorney Reichel declared Facebook to be a "highly untransparent company." The state's attorney responded that the case is based on statements made by Bachmann acknowledging he made the comments, not on the Facebook page itself. It's really silly but this is the way Paragraph 130 works in Germany to simply harrass patriots who speak their mind about the forced racial/ethnic change of their country. It reads like this:
Whosoever, in a manner capable of disturbing the public peace:
incites hatred against a national, racial, religious group or a group defined by their ethnic origins, against segments of the population or individuals because of their belonging to one of the aforementioned groups or segments of the population or calls for violent or arbitrary measures against them; or

assaults the human dignity of others by insulting, maliciously maligning an aforementioned group, segments of the population or individuals because of their belonging to one of the aforementioned groups or segments of the population, or defaming segments of the population,
shall be liable to imprisonment from three months to five years.
For myself, I don't know how newly-arrived "migrants" can be defined as "segments of the population" already, but that is a matter of political interpretation. This special provision §130 was put in the German Basic Law especially to prevent any recurrence of an Adolf Hitler and his brand of German patriotism. This tells us clearly that no Nationalism and no Patriotism can be allowed by the Powers-that-be, because it prevents, or greatly slows, the mixing of the races and ethnicities in the speeded- up time frame the elites want.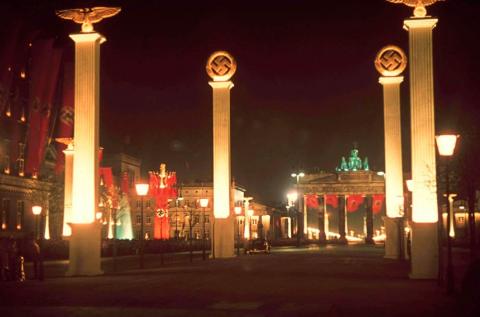 Berlin at midnight on April 20, 1939 -- specially lit up for the Führer's 50th birthday celebration. Superb!
Lutz Bachmann may not want to be associated with Adolf Hitler … but he is anyway. White Europeans who care about a White Christian Europe will never get away from this great leader.  We should all stop trying to do so and just embrace him. His words:
We will do whatever is in our strength to resist our enemies. A spirit has arisen in this land that the world has never conquered! A faithful sense of community has seized our people! No people in the world will take from us what we gained after so long a detour of domestic strife, and that makes us so proud over against other peoples. In the age of Jewish-capitalist rule by money, status and class, the National Socialist people's state stands as an unshakeable monument of social justice and clear reason. It will survive not only this war, but the coming millennium!
An empire will collapse. Mr. Churchill may believe it will be Germany, but I know that it will be England!
Adolf Hitler, Jan. 30, 1942
Hitler spoke the truth. The British Empire did collapse, and soon, never to return. Britain allowed immigration from its former colonies until they took over their one-time master. Germany, on the other hand, was rebuilt and, instilled with the enduring spirit of National-Socialism and love of their own, remained a mainly ethnic German state until the recent heavy targeting from the middle-east by the Globalist-Zionist powers.
In today's insane world, Churchill the destroyer is still lionized in Britain, while Hitler the savior is condemned in Germany. Ask yourself why.
Happy Birthday, Adolf. And good luck, Lutz. We're all Germans.
My previous posts for Hitler's birthday:  2012  2013  2014  2015