Professor Robert Faurisson found guilty of racial defamation in French court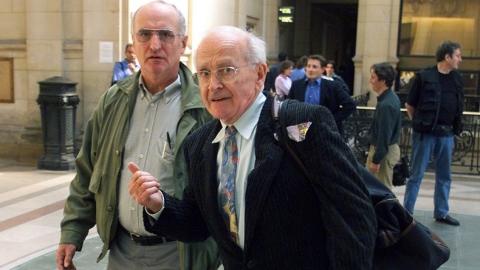 Robert Faurisson (right) with unidentified man at the Paris correctional court on Sept. 27, where he was sentenced to 4 months imprisonment (suspended) and a €4,000 fine.
---
IN AN EMAIL FROM DAMIEN VIGUIER, ROBERT FAURISSON'S BARRISTER, to certain interested parties, it was learned that on September 27th, the 17th chamber of the Paris correctional court ruled that Professor Faurisson was guilty of one charge out of the three that were prosecuted against him on June 21.
All charges stemmed from the talk Faurisson gave in Tehran in 2006 titled "The Victories of Revisionism" and his published paper of that name. [See also Faurisson's recent follow-up at jan27.org] The lawsuit was brought, as usual, by the Jewish LICRA [International League against Racism and Anti-Semitism], who were granted €3,000 in damages and €2,000 in legal costs. Adding that to the fine of €4,000, the total judgment amounts to €9,000.
Faurisson was also sentenced to four months' imprisonment (suspended). He is 87 years old and in poor health. He cares for his wife who is in even poorer health than he.
Professor Faurisson immediately lodged an appeal against this decision.
The other two charges of disputing the existence of crimes against humanity were declared null.
In addition, the next day on Sept. 28 he appeared before the same court for having spoken about the Nazi gas chambers on the website Meta TV [in June 2014: http://meta.tv/robert-faurisso n-au-bal-des-quenelles].
In this one, the sentence won't be announced until later. Incredible! ... that this subject cannot be discussed because it offends the Jews. The false narrative is state-sanctioned. This is what we must avoid at all costs in the United States.