Shock: Amazon deep-sixes all Holocaust Revisionist books; begs for a boycott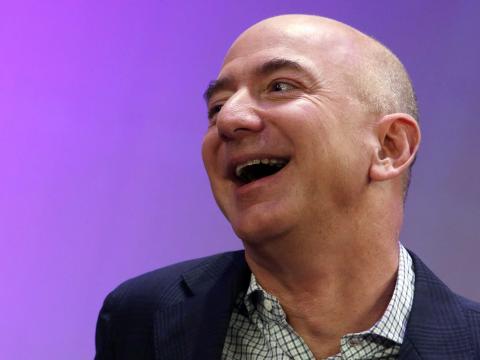 Quit making this Jew rich.
---
By Carolyn Yeager
IN A MIDDLE FINGER TO AMERICAN CONSTITUTIONAL FREE-SPEECH TRADITIONS AND LAWS, Amazon.com has wiped all Holocaust Revisionist books from its website. Seemingly overnight, this assault on Truth has taken place, obviously in conformity with the international Jewish lobby against truth in historical research and publishing.
Jeff Bezos (pictured above) is worth around 80 BILLION dollars from the growth of the publicly-traded company he founded and owns. Amazon succeeded because of its liberal policies, but now that has changed. You'll look in vain for any of the Holocaust Handbook series edited by Germar Rudolf that had been available on the site, while you'll have no trouble finding all the books arguing for the 'Holocaust', including the emotional, anti-historical diatribes of Deborah Lipstadt. 
Even Thomas Dalton's classic balanced book Debating the Holocaust: A New Look At Both Sides is 'disappeared' from Amazon's pages. The "other side" is no longer allowed to give it's arguments! This is a step toward criminalizing holocaust revisionism by making it appear disreputable.

Please put principles above your own convenience by boycotting Amazon when it comes to ANY purchases, not just books. And send letters to the management. Of course, it won't do any good but do it anyway. I intend to.