WJC takes credit for Amazon's book banning; promises more to come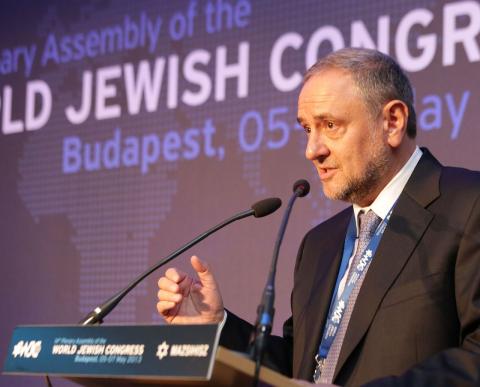 World Jewish Congress CEO Robert Singer speaks at a conference in Budapest, Hungary in 2013.
---
By Carolyn Yeager
THIS IS THE STATEMENT RELEASED THURSDAY by World Jewish Congress CEO Robert Singer praising the banning of an entire category of historical revisionist books by Amazon.com CEO Jeff Bezos. As you will see, Jews do believe (and want us to believe) that Jewish interests come before the interests of all others – especially the interests of the "notorious bigots of our time," those White European-Americans who want to study and correct inaccuracies in the official historical narrative.
**Singer is a typical international Jew, born into a family of refuseniks in 1956 in Chernivtsi, Ukraine; moved from there to Israel with his family at age 15 (1971). At some point he came to America to study, receiving a Master of Science in Management Engineering from the University of Bridgeport, Connecticut in 1996, and taking courses at Harvard and Columbia business schools between 2005-2008. He became CEO of the WJC in 2013. **
My underlining. I will put my further comments below.
Thu, 09 Mar 2017
NEW YORK – World Jewish Congress CEO Robert Singer on Thursday thanked Amazon CEO Jeff Bezos for removing several Holocaust-denial books flagged by the WJC on multiple occasions since 2013, and as recently as earlier this month, as being in violation of Amazon's guidelines prohibiting the sale of material that "promote or glorify hatred." In a letter to Bezos, Singer offered the WJC's assistance in helping to identify and flag other offensive material in similar violation of Amazon's standards.
"On behalf of the more than 100 Jewish communities affiliated with the World Jewish Congress, I want to thank you and the staff at Amazon for removing the three Holocaust-denial books that my organization brought to your attention in a series of recent letters, and again in my article in the Los Angeles Times earlier this month," wrote Singer in the letter to Bezos.
 
"The three titles that you removed - Holocaust: The Greatest Lie Ever Told, by Eleanor Wittakers; The Hoax of the Twentieth Century: The Case Against the Presumed Extermination of European Jewry, by Arthur R Butz; and Did Six Million Really Die? by Richard Harwood – are blatantly anti-Semitic works penned by some of the most notorious bigots of our time, and we commend you for recognizing the potential harm of enabling their accessibility on Amazon.
 
"We are also gratified to note that Amazon has removed numerous other Holocaust-denying items from its website. It is encouraging to know that Amazon is endeavouring to enforce its own standards and guidelines prohibiting the sale of material that "promote or glorify hatred, violence, racial, sexual or religious intolerance."
 
"The World Jewish Congress stands ready to assist you in every way possible to identify and flag other offensive material that similarly violate Amazon's guidelines, and ensure their quick removal from the website. We would welcome the opportunity to meet with you or one of your colleagues to discuss this matter further," the letter concluded.
My further commentary  ...
Robert Singer writes that the three books he mentions by name violate Amazon's "standards and guidelines" for items of sale on it's website. This is not true and he presents no evidence for it. He quotes the Amazon guidelines as prohibiting the sale of materials that "promote or glorify hatred, violence, racial, sexual or religious intolerance."
I have read two of the three books he names – The Hoax of the Twentieth Century by Arthur Butz, and Did Six Million Really Die? By Richard Harwood. I found no hate, nor any glorification of violence or racial, sexual or religious intolerance from the authors. I'm quite sure the vast majority of people who would read those books could not point to any of that either.
So what's going on? Jews have been instructed to believe that EXPRESSIONS OF DOUBT about their official "Holocaust" narrative – which posits the murder of 6 million Jews who were especially targeted by the National-Socialist regime between 1933 and 1945, the majority of whom were asphyxiated in homicidal "gas chambers" built for that purpose – is HATE. Even putting their word for this – Holocaust – between quote marks, as I have just done, is hate because quote marks indicate doubt. Yes, Jews are actually and precisely criminalizing, and/or making moral judgments about expressing doubt about a narrative that is as full of holes as a kitchen utility strainer. Non-Jews are not allowed to express doubt about what Jews have enshrined as a sacred, universally applicable genocidal event ruled by their holy number 6.
What does the World Jewish Congress, as the representative of all world Jewry (over 100 communities, they say!), not bound by national borders, expect all non-Jews to believe? The following:
Non-Jews are the perpetrators of the 6-million Holocaust against the Jews;

The Jews were perfectly innocent; were (and still are) persecuted just for being Jews (antisemitism);

Non-Jews can never atone for the unimaginable harm done to Jews no matter how much they give Jews in reparations or in opportunities;

The Holocaust is about the Jews and only about the Jews;

World War II is important and remembered solely because it ended the genocide of the Jews by the German nation under Adolf Hitler.
I would also like to comment on the Jew-approved Holocaust history books and "survivor's" novels/memoirs. For example, there is historian Daniel Goldhagen's Hitler's Willing Executioners. Among survivors, I can mention Joserph Hirt's false accusations, and "Child Survivor" Paul Argiewicz, and total fabricator Martin Gray, and imposter Joshua Kaufman, and dishonest Richard Stashevsky. Now we can talk about hate. They all made false and extremely hateful, mean-spirited accusations/defamations against Germans and against anyone who "denied" their stories.
I can add anonymous e-mailers who write to me. Here is the latest one:
 CarolynYeagerisafraud ([email protected]) sent a message using the contact form at https://carolynyeager.net/contact.
You come from a line of DEFEATED Germans. They LOST TWO World Wars and started TWO World Wars. You must feel ashamed of that, don't you? You're people are not what you make them out to be. They lost and the bigotry you keep trying to keep alive, will lose too. You come from a long line of losers and people who have really messed up the world. Keep telling people your last name is a name that stands for true glory on the battlefield [not that I have done that -cy], if that makes you feel better. But the truth is, Germans have squandered so much in the 19th & 20th centuries. You're roots are rubbish. The German nation has proven itself to be worthless without the help of the rest of the world.
So hate is where you want to find it. It is much easier to find in the writings of pro-Holocaust historians than in Revisionist's writings. Revisionists are busy defending themselves from hate, as they are threatened and brought up on criminal charges on a regular basis. In return, they threaten no one, except for those persons who feel feel threatened by honest scientific and historical research.
Jeff Bezos should be ashamed of himself and should get mail about it from as large a number as possible. But more importantly, we should fight these "hate" accusations in a much more aggressive manner than we've done so far. We've pretty much just let it go and taken the position that if we're nice, fair-minded, admitting our side's faults (and then some!), that we'll get some respect that way. We should take a lesson from Donald Trump – he is a fighter who doesn't let anything go by. Those who dismiss him for not being "pure" enough are, in comparison, weak pansy's hiding behind pseudonyms for the most part.
________________________________
Call Amazon's corporate headquarters in Seattle at 206-266-1000 or email Jeff Bezos at [email protected].
From Michael Hoffman:
Dear Victim of Amazon's Censorship
With your appropriate documentation in hand, you may wish to contact the American Library Association and its "Banned Books Week" and ask them to document and publicize the ban on your books by Amazon.com  Ask that the books be included in the list of banned books that will circulate throughout the U.S. during "National Banned Books Week" in September. Ask what else they can do to defend the people's right to read your books.
Here is information and contact addresses:
Office for Intellectual Freedom — American Library Association