"Capitalist" French mayor becomes anti-immigrant to save his city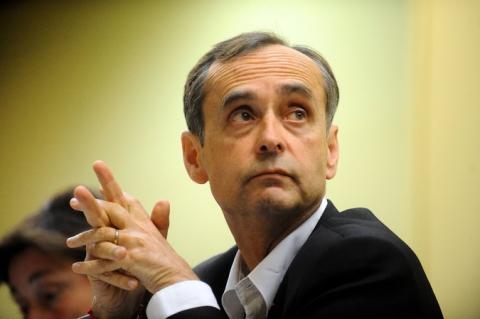 The New York Times features an article on Robert Ménard, right, who founded Reporters Sans Frontières — Reporters Without Borders -as a passionate defender of free speech. 
Now, as mayor of Béziers, one of the oldest cities in France, he is a passionate defender of French culture and majority ... in France.
His story is a warning to all Europeans (including the American, British and Canadian variety) about what to expect when you wait too long. The Muslims who have taken over simply laugh at you.
Some excerpts from the article:
Mr. Ménard founded Reporters Sans Frontières in 1985 with friends, and until he left it in 2008, was an uncompromising defender of free speech, becoming ever more so as the years went on, and even speaking up against the law silencing French Holocaust deniers like Robert Faurisson. [and Vincent Reynouard-cy]

"I don't want this city to be majority-Muslim, at all," he said. "There is a majority of the Muslim population that is incapable of living within the norms of this country."

"I love this country," he said, ticking off France's prowess in literature, art and architecture, even its "way of looking at women. I am as attached to them as to my own eyes," he said.

"The identity of this city is not a Muslim identity," Mr. Ménard continued. "This is a problem of numbers. When you've got two-thirds of the kids in a school with Muslim names — that's a disaster. Impossible. There's no way you could want this."

In September, he strode into public housing here, wearing his tricolor official sash — the French national colors — and accompanied by a retinue of aides, to accost a Syrian refugee wearing a Berkeley T-shirt.

In his carefully enunciated diction, Mr. Ménard told the bemused-looking refugee, "Sir, you are not welcome in this city."

[…]

On the streets of Béziers, the apocalypse pictured by the mayor does not seem imminent. Muslim women wearing head scarves sat quietly on benches in the lush, green Parc des Poètes on a recent afternoon. Nobody bothered them, and they appeared unperturbed.

Teenage Muslim boys, asked what they thought of the mayor, laughed and said they could not care less about him. Turkish takeout spots on the central promenade were doing a brisk business.

"Whether or not one is French, that is not up to Ménard to decide," said Omar Khatiri, a longtime resident who was born in France and is a critic of the mayor. "We've always been multicultural here in Béziers," Mr. Khatiri said. Mr. Ménard's anti-immigrant talk has led to "tensions in the neighborhoods," he said.

"He's a racist," a Moroccan man, who would give his name only as Bader, said in the tiny cafe he operates behind a 12th-century church here. "We've got to get rid of him. He wants France only for the French."


Mr. Ménard has "made hatred and racism ordinary," said a local civic activist, Linda Mendy Hamdani.

Brice Blazy, a city councilman opposed to Mr. Ménard, in a separate interview, made much the same point, saying, "There are no taboos anymore."

In the stores and restaurants run by native French, though, there was praise for the cleaned-up facades of Béziers' old city, the cleaner streets and the more aggressive policing instituted by Mr. Ménard.

"He's close to the people. And he dares to say, 'That's enough with the disorder,' " said Amandine Bistuer, who helps run Le Victor, a handsome old cafe on the central square.

"He's accessible, and he only wants what's good for the city," said her colleague Fabien Ascencio. "He speaks frankly, and speaks like us."

Philippe Constans, who runs a leather-goods store, said, "We no longer have the impression that the city is in a vegetative state."
http://www.nytimes.com/2015/11/03/world/europe/french-mayor-who-once-defended-journalists-now-denounces-immigrants.html?_r=1