Greg Johnson echos Kevin MacDonald in opposing 'Holocaust' revisionism - One must ask why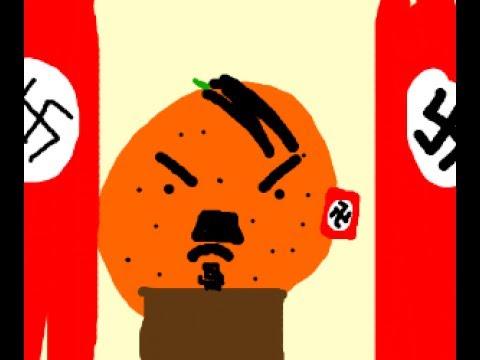 Greg Johnson doesn't like Hitler or swastikas. He might draw him this way.
---
By Carolyn Yeager
IN A RECENT PODCAST WITH ANDREW ANGLIN purportedly to discuss the Alt-Right, Greg Johnson maintained the position that the Holocaust should be accepted, but ignored.
Holocaust revisionism is too complex for all but a few people to understand, he said, and professed the view that to be moral, White European-Americans must accept the Lie of the Holocaust and reject Adolf Hitler and the Third Reich.
In this, he is unsurprisingly in tune with Kevin MacDonald and, let us not forget, every Jewish organization and media outlet in the world.
In this article, I have quoted extensively from Johnson and give my own response to his arguments. The emphasis is mine. I'm basically in agreement with Anglin, but he did not give a vigorous defense of revisionism and seemed determined to get along with Greg Johnson, in contrast to the past when he rejected Johnson due to his [Anglin's] professed hatred of homosexuality. He's obviously moderated that. The podcast can also be heard here.
@Approximately 17m Anglin says: Anyone on the Alt-Right would agree with my views on Hitler that "the holocaust did not happen. This has been blown all out of proportion into this war propaganda created by the US and the Allies during the war … this holocaust is the same as Assad bombing his own people or weapons of mass destruction in Iraq. This idea that the Third Reich was some kind of evil is just made up."
@21:22 Johnson: There are two ways to answer "All right-wingers are Nazis and Nazis are evil, and therefore we're all evil."
No, Nazis are not evil
Or
To dismiss as unjust and stupid and childish the accusation that everybody on the Right is a Nazi.
I think the latter is much easier than the former. I do not think that we have to rehabilitate the Third Reich simply to have sensible White Identity politics in every other white country on the earth. And even in Germany today, for that matter.
In my opinion, the latter is NOT easier than the former, but Greg thinks so because he doesn't believe the former. More on that later. Notice he says "other" when mentioning Germany, but then quickly adds Germany too, although doesn't explain how his failure to rehabilitate the Third Reich and absolve it of responsibility for the 'Holocaust' will lead to White identity politics in Germany.
Johnson is willing to sacrifice Germans as the perpetrators of genocide.
@22m: Nothing that we do depends on what happened in Germany during the Third Reich. Nothing depends on that, in my view.
Our views are based on objective reality, they're not based on historical contingencies; the fact of the matter is objectively there are races, races are different, they have different forms of life that are suitable to them, etc.

First he says "my view," then switches to "Our views." I would have asked him who is "our?"
In my view, the White race is probably more tolerant of homosexuality than any other race. That's why he wants to live in an all-White country where he and his kind are safer. He pretends he's giving an intellectual view while he's largely protecting his interest group … not Whites but homosexuals!
@23m Greg: Diversity creates conflict, friction. That's why the best solution to war and racial conflict is to give every people it's own homogeneous homeland. […] We need to restore the homogeneous homelands for white people. […] This argument doesn't depend on anything about the Third Reich. The Nazis could have killed 1, 2 or 6 million Jews; my answer to that: "I'm sorry, but if the Nazis killed 20 million jews that doesn't mean the white race has to die. That's an absurdity, a moral obscenity to argue that. We just need to reject that; we don't have to rehabilitate the Third Reich."
IMO, Greg is always imagining massacres or other measures against homosexuals, like being placed into camps … especially by Nazi and/or Fascist governments. The Third Reich was officially opposed to homosexuality even though it tolerated those who kept their activities private and personal. This is exactly why Greg doesn't want to rehabilitate the Third Reich.
@24:30 Greg brought up the NSDAP's 25 Points: "The Germans needed to have colonies, and they wanted colonies of White people." "They were talking about colonizing Ukraine and Russia."
The idea to colonize Ukraine and Russia was in Hitler's 2nd unpublished book, which no one read until recently.
Andrew did cross Greg here on African colonies in the 25 Points, but Greg then made up that "they really were not interested in having African colonies" as though he knows what they were interested in.

Hadding Scott contributed that by the late 1930s Hitler was in fact extremely interested in having Germany's stolen African colonies returned. It was one of his demands in the negotiations with Britain on the eve of war with Poland, and it was a demand in one of Hitler's peace-offers from early 1940. The return of the colonies would have solved some big economic problems for Germany, Hadding says

That doesn't mean Hitler didn't also want to colonize Ukraine for its incredibly fertile farmland. So what? At that time the Soviets owned Ukraine and we know all about the Holodomor, don't we?

@26:50 Greg: My feeling about where our movement has to go … we're in a hole. We're regarded as immoral. When you're in a hole you need to stop digging. The way to do that is to be morally exemplary people to the extent that that is possible for us."
So homosexuals can be or are 'morally exemplary'? Very rarely so. But Greg is in a warped reality. For him, Nazis are immoral because they condemn Jews and homosexuality.
28m Greg: The establishment has invested billions of dollars for decades turning anything to do with National Socialism into something as toxic as possible … and it's a very well-defended set of taboos that they created. It's a very well defended set of triggers that they've implanted in people. It's foolish for us to attack the enemy at their best defended points … because we can make a case for White identity and white interests that doesn't depend on whether or not the Nazis got it right or wrong. Or whether or not during the war they did things they ought not to have done.
What could they possibly have done that the Allies didn't do? It's not just Nazis but includes the entire WWI and WWII globalist, Jewish scenario. Johnson is OKAY with that globalist scenario, in reality, because it protects homosexuals.
29m Greg: There are many things I think the National Socialists did wrong, and I do think that their plans for the Slavic East really were genocidal – not in the general Plan Ost sense, which was a post-war fabrication as far as I can tell – but in the sense that we talk about White genocide today. They planned basically to make it impossible for these people to exist in their own homelands and to replace them with Germans … and that's immoral. If we're decrying White genocide today we should decry white genocide during the 2nd world war as well.
After admitting "Plan Ost" was a fabrication, what is Greg going by to conclude Hitler planned to kick these people out of their own homelands? Some of that territory was considered to be, and was, German homelands (where Germans had been previously kicked out). In Table Talk, Hitler speaks of how the "natives" will remain there and be better off than they were before. Realizing his argument is weak if this is all he can come up with (for one thing because it was never actually carried out), Greg goes back to generalizing:
29:55 Greg: Anyway, I just don't think anything we do today depends on rehabilitating the reputation of National-Socialism. Because it's a silly argument and the necessity is so great for us to take our own side
He often uses the term "silly" for what he cannot attack with facts or figures.
30:38 Greg: "Genocide" is what all this holocaust propaganda is presupposing. … The real lesson of the holocaust is that stateless peoples are susceptible to being exterminated, and the solution to that is for stateless people to have their own homelands.
The Jews have the ethno state and that means there will never be another holocaust for them. … They've got their mountain of nuclear and biological and chemical weapons. There's never going to be another genocide against Jews.
Notice he calls it propaganda, but still is willing to let it stand because 'the real lesson' is that people like him could be exterminated. Twice he affirms that the Jewish"holocaust-genocide" took place.
I ask, how do you create a White homeland? White is not an ethnicity. Others are ethno-states. Does he suggest a Europe based on skin color, on Whiteness, without national borders?

32:20 Andrew: I think the lesson of the holocaust is that it didn't happen but it should have.
I don't agree with this either. Destroying all the Jews the Third Reich could round up would not take care of the Jewish Problem in the world, but only make it stronger and give it a REAL moral advantage rather than the fake one they now hold. The Jewish extermination narrative is a lie.
As far as German-Polish border disputes, these have happened for at least a thousand years. Whether or not Germany thought they were owed a larger percentage of Poland or not is historically irrelevant.
Border disputes are actually relatively recent. There is a lot to be said about Polish-German history, but I am also, like Andrew, not going to go into it here.

As far as the argument that we can say Well, we're not the Nazis – when have logic, reason, facts and arguments won over the public mind? The larger public is moved by emotion and that is exactly what has determined the course of history. The Jews clearly understand this, to not take that approach. […] The idea you believe the same things that Hitler did but you can say "I had nothing to do with that" … it just doesn't make any sense to me. I don't think anyone is going to go along with that.
[Andrew then expounded, contrary to Johnson, that it is the 'holocaust of the jews' that is the reason used to deny Whites the right to organize for their own interests.]
41m Greg: The whole revisionist school of thought is a vast rabbit hole that you can go down where you have to be weighing various arguments and criticizing facts, weighing the evidentiary worth of different documents … and it's the kind of thing only a tiny minority of people are mentally able to really engage in, in the first place. And, therefore, it's actually a very, very hard sell to convince people, rationally, that there's significant flaws in the standard holocaust narrative.
Absolutely FALSE on its face. I submit Greg is being devious here, although I grant his ignorance and lack of any attention to revisionist arguments, seeming only to have listened to Mark Weber long ago. What major revisionist book has he read? Clearly, none. He presents a specious argument based on personal opinion. The truth of the matter is that only revisionist-scholars who write books have to do this work he complains of. The rest of us can grasp it easily from the simplest of basic arguments put forth, as Andrew Anglin says. The "hard sell" comes not from its complexity but from the media lockdown that exists on it and the laws passed in most countries making it a crime to dispute it (which only adds another powerful argument against it). Of White countries, only the USA retains some semblance of freedom to discuss it, but those who do are still punished in social and economic ways, and still denied any media space other than the Internet to discuss it.
This is true tyranny.
And speaking of rabbit holes, it is actually the official Holocaust narrative that is a vast rabbit hole that doesn't lead to the given official conclusions.
@45m Greg: I just don't think that the facts (concerning WWII and the Jewish population) actually matter as much as they're made out to be. And I do agree that logic, facts and reason don't sway most people but moral arguments sway a lot of people. If you're going to sway a lot of people to the idea that 'Oh we can't be self-confident as White people because the Holocaust', you can deal more effectively with the moral intuitions and false moral intuitions that are at the root of that than by blowing up the conventional holocaust narrative.
Oh really? I disagree. I think people are interested in and influenced by objectively determined facts BUT they are prevented from hearing the facts of revisionism. That's all. When they DO hear them, they often have the beginning of a change of mind. Why does Greg seem so bent on NOT blowing up the conventional holocaust narrative? Why does MacDonald also not want to blow up the conventional holocaust narrative? Anglin did not ask him that. The subject changed to the idea that fewer and fewer people cared about it.
But that avoids the proper question. And allowed Greg to state: "Exactly. The issue is caring about the holocaust rather than what actually happened." which is just another way of "stepping over" and leaving it alone.
DO NOT DISTURB THE OFFICIAL JEWISH NARRATIVE, is the position of Greg and Kevin.
@47:50 - Greg emphasized that Whites should say 'We have our own genocide to deal with, why should we be worrying about the Jewish genocide'. And "We need to withdraw the magic from it."
Andrew - "That's my position. That's what I've always done. … I've always said it didn't happen, Jews just made it up."
Greg and Andrew are not on the same page here!
@1hr14m: Greg discusses moving out of the US because he fears San Francisco is too expensive for him now that Paypal has dropped Counter-Currents and other monetary pressures may also come along. What was interesting is that he claims one has to live in a city in order to have good medical care, good restaurants, airport, etc.
This is NOT TRUE. He lives in cities because gays are safer there and he likes the annonymity. Greg is basically a liberal … that's what his"New Right" was about, a more liberal Right. A homosexual-accepting Right. This exactly explains who Greg Johnson is and what drives him. He demands the good life (restaurants, etc) and is good at getting others to pay for it. Whom does that remind you of?
He has never liked National-Socialism because it was too dictatorial. He wants lots of freedom. But he also wants to be protected. It's all about him and what's good for him and his tribe.
* * *
If Greg Johnson and Kevin MacDonald were honest, they would not be saying that 'Holocaust' revisionism is too complex or too boring and that only a tiny minority of people can understand it – they would be saying that only a tiny minority are courageous enough to put their name on books and articles about it . But many, many more (millions by my estimation) grasp their arguments very well and are convinced by them. They don't need to prove to themselves every detail about Zyklon B, how many bodies a crematory furnace holds and how much time it takes to burn a body down to ash, or where each and every Jew went during the war, etc. etc. to understand the whole incredible tale is not in the realm of reality.
Can you say 'war propaganda?'
Rather than being a never ending tunnel with many twists and turns, never truly arriving at a final destination, Holocaust revisionism is full of revelations that liberate one from brainwashing and media indoctrination. It's about showing how none of the extermination claims are actually proven … or provable!
I look forward to the day we all join hands around a campfire (virtual or real) in honor of the final victory over the Holocaust lie. What a victory that will be.