Leopold Wenger's letters from France: January-April 1941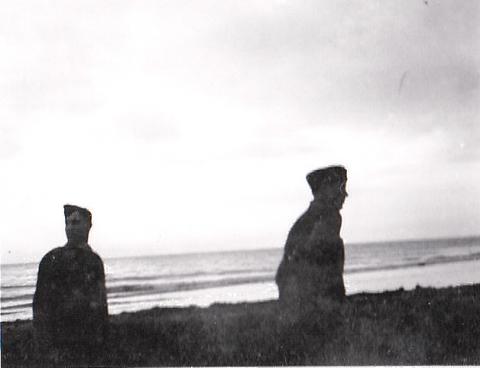 "I am on the beach almost every day," writes Leopold Wenger to his family from his location in France on the English Channel coast.
---
copyright 2013 Wilhelm Wenger and Carolyn Yeager
Translated from the German by Hasso Castrup

10 January 1941: Today I flew for the first time in the new year and have seen England's coast for the first time. About the false alarm in Leoben on Christmas Eve, I had to laugh.
So far none of us can fly! And for us, there are no more air-raid alarms; there is no time for that—bombing starts immediately.
20 January 1941: Today, all the snow has melted away. It's positively unpleasant—you can hardly believe it. The soil is just bottomless. It looks like Spring wants to begin already. I am almost every day on the beach, watching the sunset again and again, a truly wonderful, impressive experience. Today, however, there came up a very violent storm and I had to think of Mom whose desire  has always been to experience a storm at sea up close, with lashing waves. Our guards, however, are less enthusiastic about it.
8 March 1941: [After returning back from a vacation] I came back to my hotel half an hour ago, at 20 hours, and since I am a worthy son, I write immediately. I had a long stay in Trier. This morning, I arrived at 11 o'clock in Rouen, and I stayed there till 17 hours. I looked around in the city and saw what was there to see. The cathedral, harbor. Finally, I went to the soldier cinema. I came back with the last tram just before the front door closed for the night. 
9 March 1941: I've been back for a whole day here, but I cannot accustom myself to the routine.  I have not done any real service today, so am enjoying the Sunday. I have met a few people and had to report everywhere that I'm back. This afternoon I brought my place in order and then I paddled in the park lake. While I was away, a few of our men found somewhere two old paddle boats with which we now paddle in our "lake" and stage great naval battles. Only it's rather embarrassing if you fall into the water and are then soaking wet.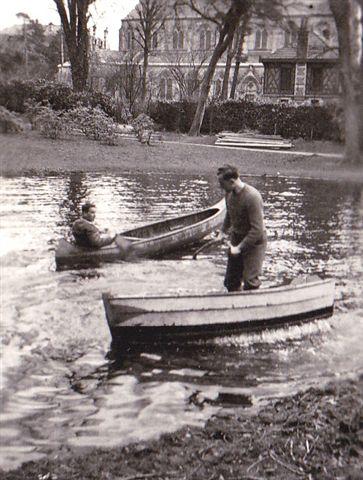 "This afternoon ... I paddled in the park lake ... it's rather embarrassing if you fall into the water..."
---
Incidentally, today was a wonderful day, a real Sunday. At first I took a walk on the beach and then went to the soldiers cinema, and then again at the beach. Everywhere was choking full of people.  I met a few friends who were going to take a ride with their motorboat. I was happy to join them and it was a wonderful boat trip. Finally, we docked at the pier in the middle of the night. Anyway, it was very funny.
Some terrible news today: On March 1st ration cards were introduced for all sorts of things. And I was going to have a suit made. I hope it will still be possible.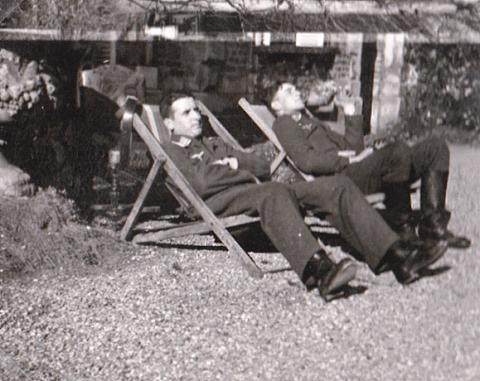 Poldi and fellow pilot enjoy the early Spring sun at their lodgings in Le Havre, March 1941
---

13 March 1941: Since I got back I have not flown even once. But we have to do all kinds of nonsense. 
Here I will hardly get to fly because I have to go somewhere else, here in the area. I'm curious if it will be less stiff. I have not yet been to the city before closing time. I have bought only vanilla; was not able to buy anything else. I will hardly get any shirts, etc., precisely because the ration cards have been introduced and it is forbidden for us to buy fabric.  I will try my best.
On Monday, March 10th, we experienced a fairly loud midnight concert of flak and bombs. This time, Tommy had come with several machines. Sometimes we could see quite well when our anti-aircraft gunners caught them with the searchlights.  You can imagine the hellish concert. One machine was hit, then tipped over and it probably plunged into the water. The next day we visited the bombed location. It all went wrong for them (the Brits). A whole lot of duds were lying around everywhere. The streets were littered with flak splinters. It has literally rained with splinters.  

17th March 1941: The only thing I could find to date, as regards Mom's wishes, was vanilla. [French vanilla is famous -cy] While I cannot imagine what you can do with this black stuff, I hope Mom finds some use for it.
The chocolate is for my dear sister for the hair-cutting. And as to the iron: the large fragment is from a bomb that I saw strike on 20 December last year, the small ones are from anti-aircraft shells, which rained down on the night of 10 March. Please keep all of this for me!
For Mom, I got this fabric. I've already sent a similar one. If Mom can not use this stuff for herself, then use it for Greterl. I've also caught a starfish, cooked it, eviscerated and dried it. I think I did quite a good job.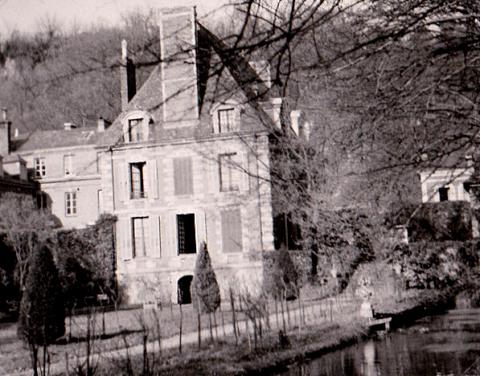 Our new pilot accomodations, Beaumont le Roger
---

21 March 1941: Beaumont le Roger  Now I have again changed my location and lay no longer by the sea, but in a small town. The journey here with the truck took a whole afternoon.  In this nest, you can buy nothing at all. There is no decent restaurant, pub or cafe, nor a department store. Thus, one is forced to be thrifty. We look like pigs, dirty from all the dust. Our first question was, of course, where is the bath. We are now two ensigns, a senior cadet (at the moment) and lead a great life. We live in a very nice, pretty garden.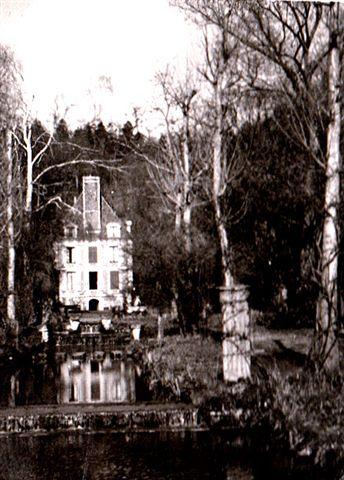 Beaumont garden, above, and Laundry, below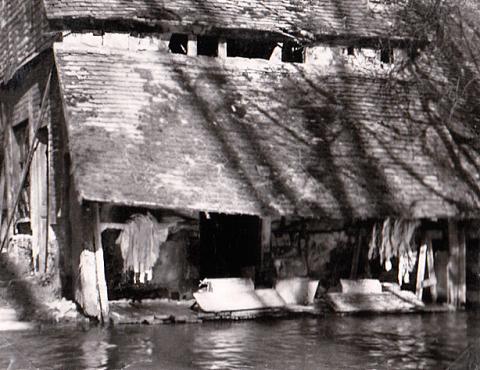 On the first evening we were all greatly welcomed. In the morning, and by 2 o'clock, we had to stop the attempt to drink us under the table. At the welcome evening we were also asked who was the youngest and it turned out that I am. A packet was handed to me, to my surprise, which said: to the youngest pilot of our unit. This [treatment] is not hard to put up with! Incidentally, I have just sent 3 packets to Leoben.

1 April 1941: Well, I've been waiting eagerly for Dad's report on the reorganization Gleichenberg. In the summer I would quite like to come and see it for myself.
I have a lot to learn and it buzzes in my head—only tactics and more tactics! But it's all new to me and very interesting. Of course, I do no flying here. Our Mom will be somewhat calmed by that. But for me it is a disadvantage, since I'm out of practice. Willy should learn English properly because, if he wants to become a pilot, he must bear in mind that one can use this language in many places.

11 April 1941: Effective from 1 February 1941 I was promoted to Oberfähnrich [corresponds to sergeant first class]. Within a few minutes, this occasion started an evening with booze since we celebrate everything that comes our way.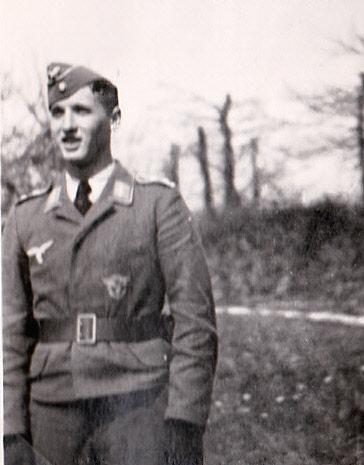 "Effective from 1 February 1941 I was promoted to Oberfähnrich..."
---
13 April 1941:  I have been on duty at the command post in the afternoon and, to our surprise, we had to leave the base, so that our festive Easter lunch got cold. Our orderlies, crafty guys, had purchased chicken for us pilots and let the cook roast them for us. We have been looking forward to it for days and then suddenly there was an alarm ordered (readiness). When we returned, the food was cold of course, but still very good.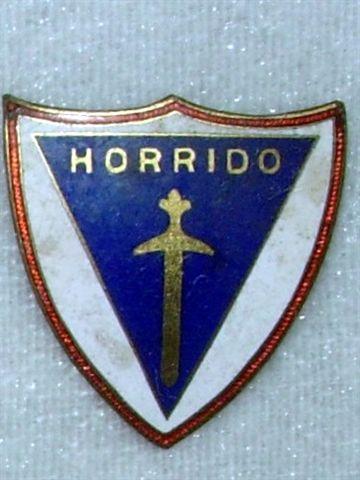 Our squadron's insignia, which is painted on our machines on the snout, shows a sword lying perpendicular and the inscription: "Horrido." A hunting call. This squadron was once led by squadron commander Helmut Wick. The hit list of the squadron is very high. 
Now almost every night we have seen and heard our night bombers fly to England. Tommy comes very rarely, and only in case of unfavorable weather, with low clouds—only then they fly. But if even one of us comes up there, he runs away, dropping his bombs no matter where.

19 April 1941:  We are still having a lot of fun. We are once again on the move. Today we have moved and early tomorrow morning we are to proceed further. How much I like that, you can imagine. But it's also great fun to see something new all the time.  As a result of an error, I am again without my luggage; it is a few hundred kilometers further, somewhere in a column which I will meet in a few weeks. 

25 April 1941: (probably Cherbourg) I was for all this time away, as part of the advance party, and now live in a city in a hotel. It would be quite as nice here, but we must stand in readiness from daybreak to dark, and that is from 5 hours in the morning until 22 hours. That we are really tired then can be imagined. You will surely see our lieutenant in the newsreels, because he has just scored his 20th air victory (Lt. E. Rudorffer). I'm now back to flying after quite a long break. Incidentally, two days ago I became a Lieutenant. Now I must go to Paris to procure the most necessary items.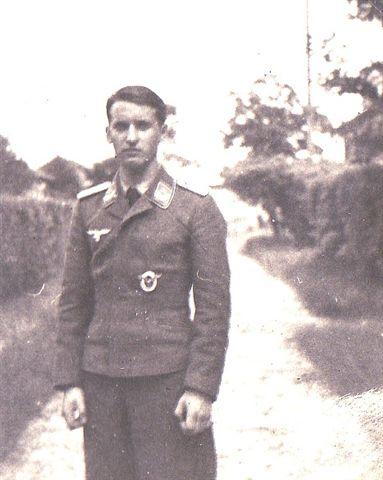 Poldi becomes a Lieutenant!
---
29 April 1941:  Today I returned from Paris. I was like a pack mule. I now have all the accessories and materials for breeches, long pants and a tunic. Now I just need a place where I will stay longer and where there is an uniform tailor.  I have also bought a leather coat. It is perfectly designed, sits wonderfully and has a warm lining. Only it is unusually heavy. It is, of course, Luftwaffen blue. I could not find suitable boots. I still have the ration card. Now I only lack the dagger, but I did not want to buy it in Paris. For Willy, I could not find any other slippers than those from a Moroccan store.
Yesterday I was at the Eiffel Tower for the first time. The railway travel is pleasurable because I now get tickets for the second class.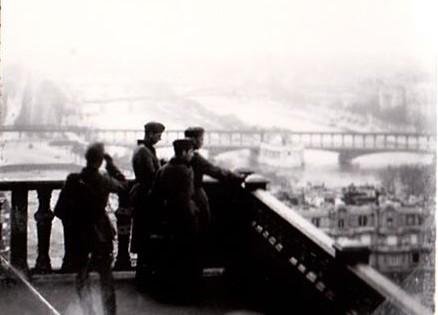 Poldi's group taking in the view from the Eiffel Tower in Paris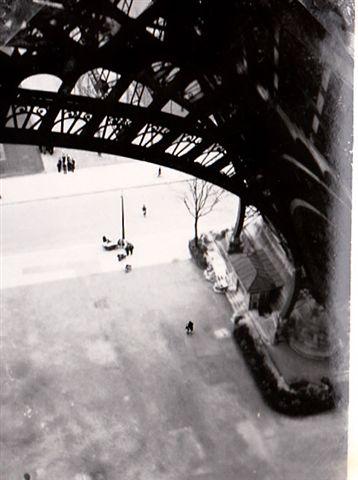 Looking down from the Eiffel Tower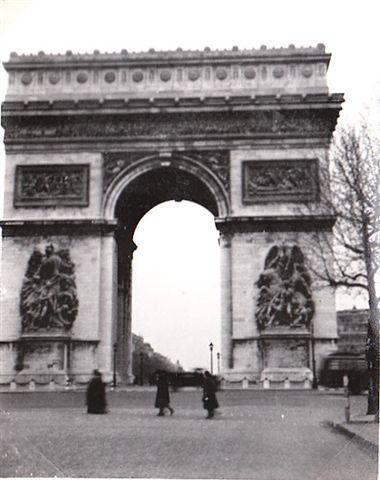 The young airmen viewing the Arc de Triomphe, Paris, April 28, 1941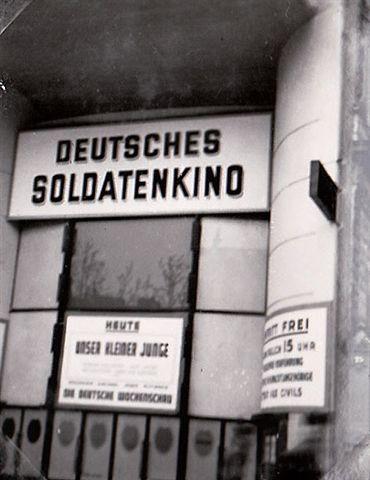 The German soldiers' cinema in Paris
---
To be continued ...