Fox News opens series on the problems Hasidic Jews bring to the U.S. communities they enter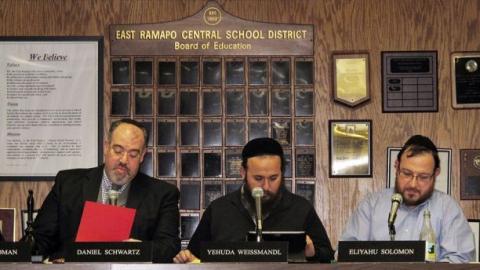 Some members of the East Ramapo (NY) Central School District Board of Education on which Orthodox Jews are a majority. (AP)
---
By Carollyn Yeager
FOX NEWS PUBLISHED ON MONDAY THE first of three articles promised on this subject that I have covered extensively in around 10 or so articles. I give it high marks for a mainstream source. Written by Fox senior reporter Elizabeth Llorente, it doesn't flinch or back down from most of the touchy issues associated with Orthodox Hasidic Jewry. I encourage everyone to read it here. There are a couple of worthwhile videos you can watch too. And the comments are of course interesting.
However, it's suspicious they came out with this on the day of Trump's North Korea summit meeting, meaning it's already pushed completely out of the headlines. The Jewish Lobby has no doubt been at work to minimize its impact. Still, I'll play it up here and you can do the same wherever you can find space to give a link to it.
The article begins by observing that unusually large family size is a distinguishing mark of Orthodox Jewry—with 10 children per family not being unusual. Combine this with a poor secular education, early marriage and the tradition of young men remaining in full-time religious Talmudic study until their Thirties, and you get communities with the highest rates of welfare assistance, subsidized housing, food stamps and Medicaid. Indeed, the all-Hasidic village of New Square, north of New York City has 77 percent of residents receiving food stamps in order to eat, the highest rate in the U.S.
Poverty rates in communities with concentrations of Hasidic Jews
District                   Pop.         % in poverty      Median h/h income
Borough Park, NY .. 105,913   20.6% ….....      $36,893
Lakewood, NJ …....  100,758   31.5% ….....      $42,993
Spring Valley, NY …  32,603    26.4% ….....      $45,355
New Square, NY ….... 8357     70% ….....         $21,773
Kiryas Joel, NY …....  23,094    55.7% ….....     $26,341
Williamsburg, NY …...17,965    53.2% ….....     $23,188
Percent households receiving food stamps/SNAP in the past 12 months: US: 13% ; NJ 9.3%; NY 15.4%
Median household income in 2016 dollars: US $55, 322; NJ: $73,702; NY: $60,741
---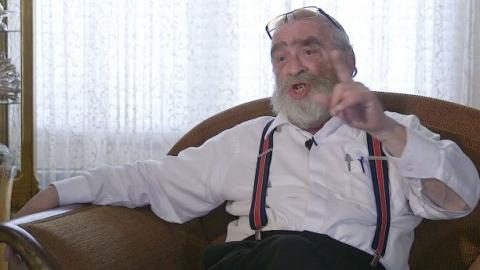 Isaac Abraham, advocate for Hasidic communities, says those who complain about the Orthodox are "none other than racist low-life bastards." (Photo:Benjamin Nazario)
---
The article does point out that the biggest culprit in allowing this to go on are politicians who know these groups' power to deliver huge, uncontested blocs of election-altering votes.
Naftuli Moster, a reformer who grew up in a Hasidic home as one of 17 children, said that "for the sake of votes, too many political leaders have turned a blind eye" to the problems caused by these communities as well as the problems within them.
"They know how to game the system," said Samuel C. Heilman, a sociology professor at Queens College of the City University of New York.  "They know the ins and outs, or they get professionals and find out how to apply for things like Section 8 housing subsidies. It's usually done legally."
Heilman also said, "They'll do what rabbis tell them to do because they'll get assistance."
Gentile groups who go up against the Orthodox Jews never seem to win. The charge of racism, antisemitism and religious intolerance is usually used against them.The answer given by Isaac Abraham, an advocate for the Hasidic community in Williamsburg, is that others should accept that the group is growing and will look out for its own best interests.
"If these little towns want to putz around with racism, no problem," Abraham said. "We have and we shall overcome them. ... They'll be running for cover, because the lawsuits will be coming."
---
Part 2 was published already on Tuesday: Hasidic Leaders sharply limit members' web, smartphone use: "It's like we're in North Korea"

To Orthodox Jews, there is no need to surf the Internet or explore a marketplace of ideas, because the truth is right there in the Torah.
Part 3  Community in Conflict: Hasidic Jews and Defection. It was really hard for me to find this today (Wednesday). It is not featured on the 'front page'; only by clicking on the reporter's name on Part 1 did I discover it. Were the lawsuits threatened? Did Fox News run for cover? This seems to me the most sensitive topic of all, so it's possible Fox was worried about it.