9,000 take to the streets again in Dresden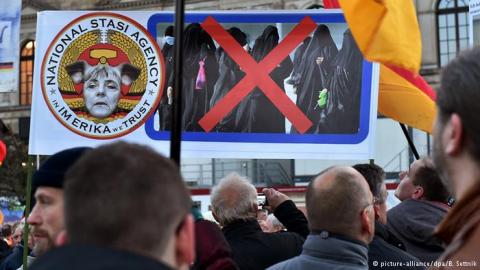 Angry Germans turn out again to the Pegida-sponsored Monday rally, and Tatjana Festerling, the group's leader, called Chancellor Angela Merkel, "the most dangerous woman in Europe" and demanded she resign. Festerling ran in the Dresden mayoral election in June and garnered 10% of the vote. Good video.

Deutsche Welle, Germany's official news agency, could hardly bring itself to publish the story. They like to focus on Lutz Bachmann and his "hitler selfies" instead of the legitimate concerns of the participants. But they did publish the great picture that I have used for this post. It's quite powerful but I haven't figured out the "erica" part yet: Im Erica in place of America.

Another great picture from the rally: "They want to lynch the Chancellor and Vice-Chancellor ... at least." Click pictures to enlarge