ADL seeks pardon for Jewish "holocaust restitution expert" - follows Leo Frank pattern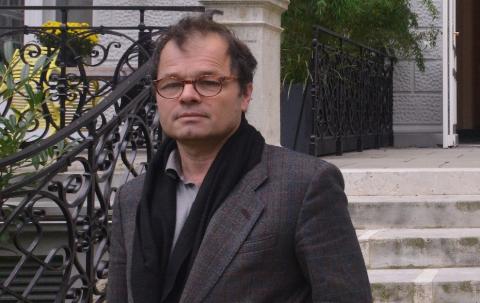 Stephan Templ, headed for jail despite his Tribe's best efforts
The Jewish Forward reports that Austria's president DENIED a request from the Anti-Defamation League to pardon a Jewish journalist/author facing jail time in Austria for omitting to name his estranged aunt, who owned a share of the property, from his family's application for holocaust restitution.
Stephan Templ applied for restitution on his mother's behalf in 2005. He was successful and his mother later managed to sell her share of the building for £870,000. [The property the Jews say belonged to them has so much sentimental value for them, doesn't it? They always immediately sell it.]
Andrew Srulevitch, ADL's assistant director for international affairs, sent the plea to nullify the prison sentence of Stephan Templ to Austrian President Heinz Fischer. The Austrian Supreme Court had in May rejected Templ's appeal of his April 2014 conviction of fraud against Austria. Though he was sentenced to three years in jail, it was later reduced to one year. But even one year is too much for the Jewish brotherhood, served by the ADL.
Now get this: "Templ is the author of a 2001 book on restitution in which he criticized the Austrian state and society's theft of Jewish property and failures to offer restitution. Many Austrian Jews, including the anti-fascist campaigner and journalist Karl Pfeifer, said they considered the conviction to be a result of a vendetta against Templ. Austrian officials deny this, saying his conviction is consistent with the law and penal code."
Piling it on, the ADL's national director Jonathan Greenblatt also wrote to the President of Austria, saying "The extraordinary use of criminal law by the state in the case of Stephan Templ raises some uncomfortable questions." In other words, criminal law is only to be used against the goyim, the Austrian folk, not against the Jews.