AfD questions disabilities in migrant children; accused of bringing back Nazism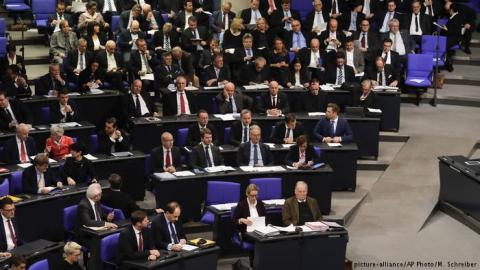 The AfD faction in the Bundestag with leaders Alice Weidel and Alexander Gauland seated in front.
---
By Carolyn Yeager
Deutsche Welle has reported on a question raised by the opposition Alternative fuer Deutschland (AfD) party as if it were the return of Adolf Hitler in the flesh. Their article is interjected with old stories and pictures representing euthanasia during the Third Reich and warnings of its resurrection by the AfD!
Parliamentary questions are a routine method of gaining information for lawmakers. In this instance, the query was broken down into five questions to Chancellor Angela Merkel's coalition government, asking for data on disability by age, migratory background, and main cause, and for statistics on disabled children born to parents, "especially those resulting from [incestual] marriage within the family."
The query was prefaced with a 1995 British study and two German media articles – dating back to 2003 and 2008 - implying links between incest and children born disabled. Very interesting, I would say, and justified. But in Germany, all hell broke loose. Especially from the Church folks and the communists, but also a spokesman for Chancellor Merkel's party.
Catholic Prelate Karl Jüsten spoke for the German Catholic Bishops Conference, saying the query's wording implied a difference between worthy and unworthy life. (The exact wording was not given.) But Jüsten insisted. "For the Catholic Church, all disabled [persons] are equal, regardless of how the disability originated, whether through birth or misfortunes in life." Isn't that nice. However, the state pays the bill, not the Church, and therefore legislators have a right to study it.
Peter Dabrock, a theologian and chairman of the German Ethics Council said it was "shocking and fully unacceptable that a German Bundestag question conveys in subtext that a rise in disabilities is a societal scourge." Hmm, such a thing is a societal scourge, dummy!
Dabrock said the AfD had "consciously transgressed the boundary of extreme-right vocabulary" and posited an "abstruse connection" to Germany's migration issue. All persons, whether disabled or not, should "recognize clearly which dark intellect such questions come from." Yada, yada, yada.
Not to be outdone, Peter Weiss, social welfare spokesman for Chancellor Angela Merkel's Christian Democrats (CDU) described the AfD question as "completely inhumanely contemptuous."
And Left party (former East Germany Communist party) co-leader Dietmar Bartsch accused the Bundestag's 92-member AfD group of staging a "fully illegitimate provocation," saying the query used the language of the NSDAP in the Third Reich and thus violated post-war Germany's Basic Law first-article principle of human dignity.
Wow, this is some heavy stuff, and all from a few questions seeking information. This is the rough road the AfD has got to travel just to bring it's supporters concerns to the German Federal Parliament that has been growing increasingly far left in recent years. Because of this climate, they have been very careful in presenting their issues so far, yet still the reaction has been close to hysterical every time. These particular questions have been tabled (whatever that means in Germany) so I don't know when we'll hear more about it, if ever.