AfD wins largest increase from 2013 in Hesse regional election with 13%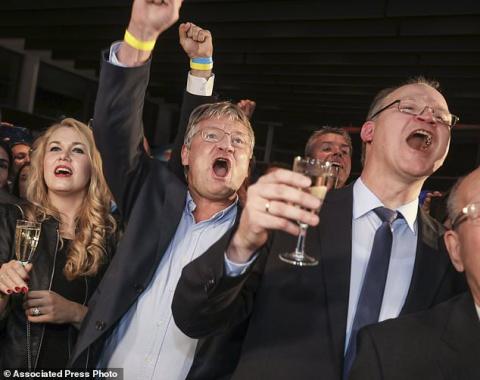 Natalia Meuthen (left), wife of AfD co-chairman Joerg Meuthen (center), and AfD state chairman Klaus Herrmann celebrate after the state election in the German state of Hesse in Wiesbaden, western Germany, Sunday, Oct. 28, 2018. The nationalist Alternative for Germany, AfD, were elected into the parliament for the first time. (Frank Rumpenhorst/dpa via AP)
---
UPDATE - Angela Merkel has announced she will not run again for CDU Chairman at the party's annual meeting in December. At last, at last! She says she will remain Chancellor until her term expires in 2021 but, of course, if her government coalition falls apart at any time, there could be a call for new elections. The CDU made a historically poor performance in the last two state elections.

---
by Carolyn Yeager
BUT YOU WOULDN'T KNOW IT FROM READING THE GERMAN NEWS OUTLETS, who are all playing down the Alternative for Germany's success since it wasn't the big winner of the night and "only came in 4th" out of six parties that earned the minimum 5%. They fail to mention the AfD's +9 point increase from 2013, which is greater than the 8.5 point increase being so wildly celebrated for the liberal Green Party.
The fact that the Greens won between 19 and 20 per cent of the total vote in this Western Germany state, equaling the result for the declining Social Democratic Party (which lost eleven percent from 2013 – the biggest loser in that regard!) is enough reason for the press to accord them the title of big winner of this election. Well, the Greens probably took their substantial increase directly from the Reds!
Despite the slanted coverage, the AfD leadership was fully aware of the polling, and of its own goals. It did exactly as expected, and this party that only formed in 2013 is now represented in every state legislature in Germany and in the national Bundestag. Alice Weidel, Bundestag faction leader, tweeted:
"The AfD is now firmly established in the German electorate. Here to stay!"
The AfD has 17 seats in the Hesse state legislature compared to the CDU's 35 seats.

As for Angela Merkel and the CDU, they have little to cheer about; they can only be grateful that they didn't do worse and remain the dominant party (barely) that can form the Hesse coalition government.
The final results from the ARD:
CDU 27%     down 11.3% from 2013
SPD 19.8        down 10.9
GRN 19.8       up 8.7
AFD 13.1          up 9
FDP 7.5            up 2.5
Left 6.3            up 1.1