Another one out – Cheers for Trump's handling of it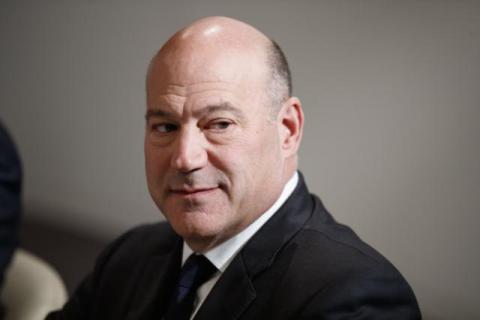 Gary Cohn at a World Economic Forum meeting Jan. 25 in Davos seated between President Trump and Prime Minister Benjamin Netanyahu of Israel. (AP Photo/Evan Vucci)
---
By Carolyn Yeager
BIG WALL STREET JEW GARY COHN ANNOUNCED TODAY HE WAS RESIGNING as Chief Econonic Advisor to President Donald Trump. Trump appeared non-plussed as he thanked Cohn for his "dedicated service to the American people" in a formal statement.
This is good news for those of us who want less Jewish influence in our government. Cohn was widely seen as part of a triumvirate of senior liberal Jewish advisors that includes daughter Ivanka and son-in-law Jared Kushner, both belonging to the orthodox Hasid community. Cohn's departure is expected to take place in about three weeks. Jared recently lost his top security clearance at the White House and he and Ivanka have been quiet lately.
The idea that any of these people (Jews) control Donald Trump is wishful thinking, or just an expression of anti-Trumpism. The imagined controllers include Israel's Netanyahu – who might be out of office himself sooner rather than later, if we're lucky. We're not guaranteed that Cohn won't be replaced by another Jew since they dominate economics and finance, but at least they know they're replaceable. Trump has been saying:
"There'll be people — I'm not going to be specific — but there'll be people that change. Sometimes they want to go out and do something else. But they all want to be in the White House. So many people want to come in. I have a choice of anybody. I could take any position in the West Wing, and I'll have a choice of the 10 top people having to do with that position."
I like tariffs too
It is widely thought that Trump's decision to impose tariffs on foreign steel and aluminum is the impetus for Cohn's decision to resign. I have liked Trump's call for steel and aluminum tariffs right from the beginning, and I'm disappointed in all the fear that is being expressed about it. I also like his subsequent threatening to impose tariffs on automobiles coming in from Germany and Japan. Why should everyone have free access to our markets? I do not fear a slight increase in prices for imported goods and I think the main selling point for 'free trade' - cheaper goods - is not something that makes our lives better. They touted that back in the 90's to sell the WTO and our lives have only gotten worse since then. Our country certainly has, in any case!

So I believe in protectionism, but what I don't trust are our politicians, most of whom are not patriots. The mid-term elections coming up are very important and we should all get out there and vote for patriots, which necessarily have to be Trump Republicans. Even if there are some things about them that we don't like, that is still the only viable choice we have right now. No one should wimp out, and we must do the best we can with what's available.

Charlottesville an unresolved issue
An unnamed Trump ally is reported to have called Cohn's departure a defeat for the former Goldman Sachs executive, who, before breaking with Trump over Charlottesville last year, was said to be in the running to head the Federal Reserve or become White House chief of staff.
"The Swamp devours Wall Street's golden boy Gary Cohn," the Trump ally said in a text message., according to one source. "Didn't become fed chair, didn't become CoS (Chief of Staff), didn't stop tariffs."
Cohn was very close to resigning last summer when Trump refused to single out for condemnation white protesters in Charlottesville. Cohn reportedly wrote a letter of resignation but did not submit it. At the time. he told the Financial Times that citizens "standing up for equality and freedom can never be equated with white supremacists, neo-Nazis, and the KKK," adding that the administration "can and must do better in consistently and unequivocally condemning these groups."
That didn't happen and now we can celebrate our coming freedom from Gary Cohn.
Trump "likes conflict"
Hours before Cohn announced he was stepping down, Trump went on Twitter to deny the "new Fake News narrative" that there was chaos in the White House.
The new Fake News narrative is that there is CHAOS in the White House. Wrong! People will always come & go, and I want strong dialogue before making a final decision. I still have some people that I want to change (always seeking perfection). There is no Chaos, only great Energy!
In his joint press conference later in the day with visiting Prime Minister Stefan Löfven of Sweden, Trump said, "It's tough, I like conflict, I like having two people with different points of view — and I certainly have that — and then I make a decision." [It sounds to me like the way Adolf Hitler liked his government to function.] "But I like watching it, I like seeing it, and I think it's the best way to go. Believe me, everyone wants to work in the White House," Trump declared. "They all want a piece of that Oval Office, they want a piece of the West Wing. Not only in terms of it looks great on their résumé — it's just a great place to work."