Antisemitism is here to stay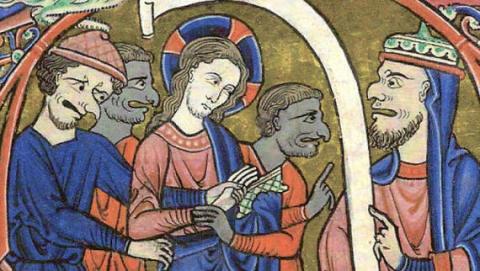 Medieval illustration of Jesus being forcibly led by hook-nosed Jews before the Jewish High Priest Caiaphas. (from Salvin Hours c 1275. Photo: British Library)

---
By Carolyn Yeager
THESE DAYS, WE REGULARLY SEE IN THE JEWISH NEWS MEDIA story after story proclaiming that 'antisemitism is on the rise." In Poland, in Germany, in Austria and Hungary, in British and US cities – the same phrase is repeated. And everywhere else, too. Will Jews never learn that the more they try to control what others think and say about them, the more antisemitism they create?
Antisemitism (dislike of Jews) will never go away. It's here to stay because it's caused by Jews themselves.
The current big push to "wipe out" antisemitism is a phony issue being used by Jews to get more laws on the books to protect Jews from the consequences of their actions. It is a cynical campaign devised by high-level Jewish strategists to further their entry into places, perhaps previously partly closed off, where they can make money. International or Diaspora Jewry became partial to bank notes (and their equivalent in precious metals, jewels, paintings, etc.), because they are easily transportable and able to be invested and/or held secretly and safely in many nations. It is important to Jews that these goods keep up a high value in our societies. (It's not a coincidence that Jews are so overrepresented in the fine art world and stock brokering, for example.)

Connected to that, Jewry has changed our Western social values from faith, family and homeland to gold, hedge funds and conspicuous consumption. Jews are more in control of our societies than most people are aware – in fact, most people have no idea at all of the high level of control Jews exercise over their lives.
But when people do get wise, they become antisemites. And this is the other side of the campaign of the Jews against antisemitism – to keep you from realizing the reality of their power and influence over you. They famously present themselves as either friends or victims, every kind of victim imaginable.
The latest idea in Germany to fight antisemitism is to mandate visits to former WWII concentration camps which have been turned into tourist centers – visits by Muslim migrants who bring their antisemitic views with them from their home countries. Even though this won't work with these people because they don't have the ethnic background to care about what happened in Europe during WWII (or any time), the German government is willing to spend their German taxpayers' money to keep the Jews satisfied that something is being done on their behalf. The Jews want to always see programs carried out for their benefit that cost the Gentiles money, even though they know as well as I do that these programs won't change anything.
The migrants are being told that to get along in Germany they must believe in the Holocaust and take it seriously. Thus, some who want to get along and succeed will adopt the necessary attitude toward Jews in public, but they won't change their private views. Jews and their sympathizers seem to think that a trip to a former concentration camp is more influential on the visitor that it actually is. In my experience, it works like this: those who are already believers will find the camp visit moving and/or convincing; those who are doubters or fence-sitters will not be moved and may even find that their doubts are reinforced. Visiting a camp does not change anyone.
Jews are also putting up elaborate new holocaust museums and centers in every city and town in the world, large and small. The latest I know about is a complex to be built in central Vienna, Austria, and another going up in a popular, peaceful park next to the Parliament in London. Why are they allowed to intrude on the landscape everywhere? Because Jews have money and friends and that equals power over the ruling establishments (which also have their share of Jewish members). Jews obviously do not care if they anger or upset the average man in the street, which means they actually do not care if they are disliked. They care about exercising power.
The only real fear Jews have is that there will be a popular uprising against them, which has happened many times in the past. Jews characterize these uprisings against them as unjust, as unwarranted persecution for no reason - in other words, they use guile to turn what is unacceptable in them and their actions within Gentile society into a blow and an accusation against that society. This is the meaning of the common saying: "The Jew cries out in pain as he strikes you." They have labeled the reaction against them as anti-human rights, anti-semitic, xenophobic, and now in current lingo, racist. Not so long ago (in my memory) everyone was 'racist'; now that has been changed - by the Jewish lobby - to be seen as a personality defect serious enough to have one fired from one's job, kicked out of a university, and even dragged in front of a court of law and sentenced to prison. Jews have been responsible for all the so-called international laws that impinge on the sovereignty of nations; in fact, Jews invented international law for that very purpose! 

So I repeat, dislike of Jews has always existed and it is based on the behavior of Jews. Their tendency toward arrogant or dismissive attitudes toward the concerns of non-Jews (which each and every Jew may not be fully cognizant of) is a turn-off. So is the criminality of Jews that is directed toward non-Jews, mainly in white-collar financial schemes, but also in many other more repulsive areas such as pornography and the sex trade. Finally, it is based on the way Jews look out for other Jews to the detriment of their host people, not only in business and professional advancement, but in their vaunted charity as well.

Considering Jews' attachment to their centuries-old religious and cultural programming that they are a special, chosen people (with corresponding special privileges), how could antisemitism ever be ended? I think that can only happen if they succeed in turning the rest of us into masochistic, self-hating, blubbering punching bags or else door mats.
If antisemitism is our only defense, we would be not only fools but craven cowards to give it up.