Beate Zschäpe scheduled to testify on Wednesday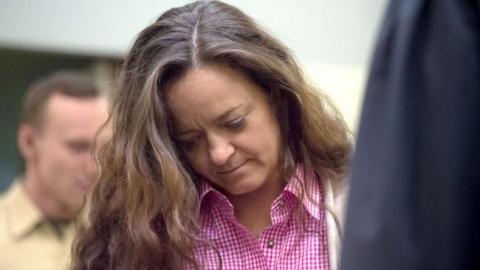 Beate Zschäpe enters the courtroom in Munich on Sept. 2, 2015. She is typically gazing down, avoiding eye contact.
Update: Court adjourned for one week - see comment
After remaining silent for two and a half years, more than 240 days of court sessions, on the advice and even insistence of her lawyers Wolfgang Heer, Wolfgang Stahl and Anja Sturm (with whom she has been on the outs for awhile), Beate Zschäpe will break her silence. 

She has said: I have not asked to remain silent.
It is reported that she has worked out this new stratagy with the help of her newest lawyer, Mathias Grasel, who may read Zschäpe's statement in court without her actually speaking. She may possibly submit comments on individual acts. Criminal lawyer Hermann Borchert, of the same law firm as Grasel, is said to have been active in the background. Reportedly, they have been working on the statement for weeks.
The trial has been running since May 2013. It is based on circumstantial evidence and seems to be stuck, so a statement from Zschäpe is welcome and significant. To date, only one defendent, Carston S. has answered questions and another, Holger G. read a statement. Ralf Wohlleben and Andre E. have remained silent, along with Zschäpe.
A psychiatric evaluation in March revealed that she was suffering concentration difficulties and fatigue. The psychiatrist thought that Zchäpe's health may be put at risk by sticking to the strategy of silence. [What about 4 years of solitary confinement on suicide watch? Could that put one's mental and physical health at risk?]