Coming next: Climate refugees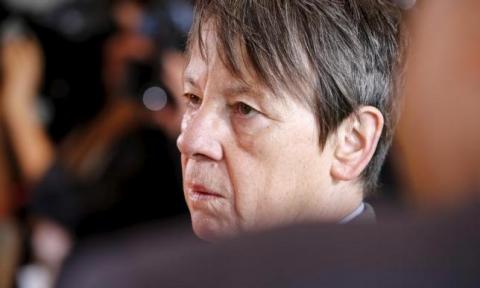 Liberal lesbian Federal Minister Barbara Hendricks with her man-cut hair foresees a huge increase in 'legitimate refugees' coming to Germany unless Europe takes responsibility for their environmental problems.
SPD Federal Environment Minister demands recognition for climate refugees !
Climate change could force millions more to flee
German Federal Environment Minister Barbara Hendricks calls for the UN to create a category for climate refugees. 
Without an effective climate policy, a massive new refugee movement will come to Germany, says Federal Environment Minister Barbara Hendricks (SPD - Lutz Bachmann calls it the Sharia Partei Deutschland).
"It is clear that there will be huge drought areas and flooded lands if we do not control climate change to a manageable level," Hendricks told the news magazine "Focus" on Saturday. "Already fragile states will be further destabilized. [Who destabilized them and why? -cy] This in turn will drive millions of people to flee and they will probably come to us."
Therefore Hendricks calls for recognition of climate refugees. "It would be the United Nations mission to create a category," said the Minister. "Currently, it is unfortunately the case that someone who comes to us for climate reasons is denounced by many as a so-called economic refugee. He has lost his livelihood," the Minister is quoted by "Focus" magazine as saying.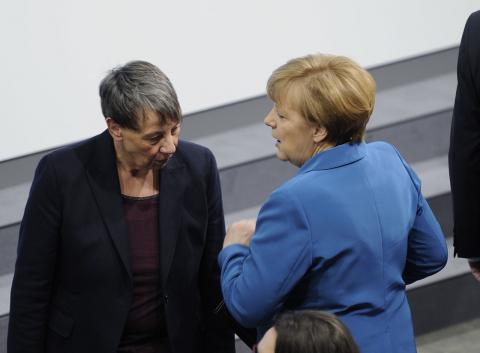 Right: Hendricks and Merkel at the signing of the coalition agreement for the 18th election period of the Bundestag in 2013.

Hendricks wants to work at the Paris World Climate Conference, beginning the end of November, to ensure that industrialized countries meet their responsibilities. "Climate policy is active refugee policy", said the Minister. "Finally we have signicantly polluted the soil during the decades of industrialization, and still contribute greatly to this." (AFP) ['We' signifies the global approach - 'we' are all responsible. We have a responsibility to "fragile" states that all happen to be around Israel ... and Muslim. -cy]
*     *     *
Barbara Hendricks is the first openly lesbian federal minister. In a casual way, she said at the end of an interview that she was looking forward to celebrating New Year's Eve with her partner in Berlin.