Fake news at work in Danube search for mythical Jewish bodies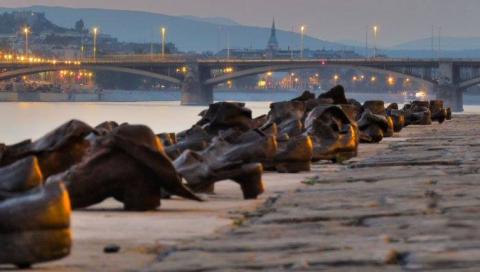 Cast-iron pairs of old shoes placed on the bank of the Danube in Central Budapest in 2001 serve as a "memorial" to the made-up story of a massacre of 20,000 Jews shot into the river by the Arrow Cross militia in 1944. Problem is there are no remains of bodies or of bullets.
---
By Carolyn Yeager
IF A SINGLE BODY WERE FISHED OUT OF THE DANUBE RIVER that could be shown by DNA testing to be that of a Jew from 1944, it would appear in big headlines all over the world: "Victim of Nazi Holocaust massacre discovered!"
But when an official search is undertaken by Israeli authorities and finds nothing, it is ignored by most media outlets, or made into a brief news item quickly forgotten.
This is the case with the joint effort to recover the remains of victims that were allegedly shot into the River Danube in Central Budapest at the time Hungarian Jews were being deported to Auschwitz.
Israel's ZAKA Search and Rescue conducted the search with the cooperation of the Hungarian government. Divers used a sonar device that can descend to a depth of 150 meters and scan within 130 meters, identifying objects. Yet nothing was found. Zero.
They intend to repeat the search one more time. But Mazsihisz, a federation of Jewish communities in Hungary, has asked the Hungarian and Israeli governments to drop their efforts, calling the search "pointless" and "disturbing." What it actually is is embarrassing!
Mazsihisz put out the unconfirmed, unproven statement noting that while "thousands of [Jewish] people had been shot into the river," many others [non-Jews] may be resting in the river also. "Their bones have probably been scattered … some washed away as far as the Black Sea." They added the usual objection when they know nothing will be found: "Disturbing the resting site of the dead is a complicated and sensitive issue." And "It would disturb the peace of the dead, whether Jewish or not, and would also violate the halakha [Jewish religious laws]."
What is the source of this unfounded myth?
Where did the story of the twenty thousand murdered Danube Jews come from? In 1944-45 accusations against the Germans were flying everywhere without regard for any basis in truth. Jews and Polish Resistance forces were building up a case to take to the post-war peace talks that they knew would take place. This was just another of the many unverified claims that were touted by the newspapers on the Allied side, and of which reports were written and signed.
There has never been any evidence for this story, but those who nevertheless push it shamelessly copied the thousands of shoes displayed at the Auschwitz Museum as magical 'proof' that all the wearers of those shoes were put to death in gas chambers—by placing cast iron shoes along the bank of the Danube in 2005 and calling it a memorial to those 20,000 who were told "to step out of their shoes before being shot." How nice that they so willingly complied and that this tourist attraction was able to be created 61 years later!
In 2011 human remains were discovered during construction work on a bridge overlooking the Danube and DNA tests found that 9 of 15 'samples' [not bodies] were from Ashkenazi Jews. This gave Chabad-affiliated Orthodox Jews in Hungary, like activist Slomo Koves (friend of Elie Wiesel), hope that some proof could be found for the old myth of the 20,000 murdered Danube Jews. This myth is currently at the heart of an ongoing, polarizing debate in Hungary about how government should address the issue of WWII complicity.