Feminist Ivanka is the "kiss of death" to Trump Administration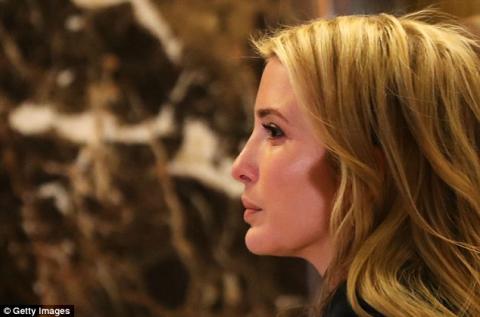 By Carolyn Yeager
THIS, TO MY MIND, SPOILED RICH-MAN'S DAUGHTER should be ashamed of herself for taking advantage of her relationship to the president to showcase herself and push her own liberal views based on 'make-work' that will in no way help the Trump administration with its supportive voter base. Does anyone think the Donald can switch to more liberal positions and still satisfy his conservative winning majority?
It's been announced Ivanka will meet over the next two weeks, starting today, with Cabinet officials and department heads to discuss "women's economic empowerment." But first she is meeting for two days with EPA administrator Scott Pruitt "as part of the administration's process to decide whether to abandon the Paris climate treaty." Alaska's Republican Senator Lisa Murkowski is expected to join the Tuesday meeting.
Pruitt thinks the Paris accord harms American competitiveness and he and White House chief strategist Steve Bannon are reportedly urging the president to withdraw from the climate deal. President Trump himself promised he would do so during the campaign. It is known that Ivanka passionately believes in global warming, and even brought Al Gore to Trump Tower to meet her father during the transition. She has managed to arrange the meetings with Pruitt (to try to moderate his views?) right before a larger meeting at the White House to discuss whether to stay or leave the deal. Will Ivanka attend this meeting too, or just advise her father of her findings ahead of it? It hasn't been stated but we'll soon find out.
Following the Pruitt meetings, Ivanka will continue what is being dubbed her "listening tour" with cabinet members. She'll sit down with HHS Secretary Tom Price, VA Secretary David Shulkin, and Labor Secretary Alexander Acosta to discuss 'workforce development' (apparently especially in relation to women in the workforce) and SBA Administrator Linda McMahon to discuss 'entrepreneurship.' All this is to accomplish what? Clearly, to give Ivanka an opportunity to get her own views across – views that are different than her father's. There is something intimidating about this – given how close father and daughter are – and it smacks of nepotism. In fact, if this isn't nepotism in action, I don't know what is.