Festival planned to honor Adolf Hitler's 129th birthday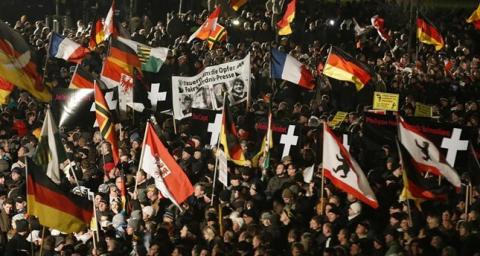 Enthusiasm for Adolf Hitler's accomplishments while Leader of Germany remains high around the world despite all attempts to blacken his name.

---
THE "SCHILD UND SCHWERT FESTIVAL" (SHIELD AND SWORD) IS BEING HELD ON PRIVATE PROPERTY in the Saxon town of Ostritz, close to the Polish border, on April 20, with around 800 people set to attend. Organized by the NPD (National Democratic Party), the two day event is in honor of Adolf Hitler's birthday.
On its website, the music festival lists a series of politicians from right-wing parties, including the NPD and Die Rechte, as speakers at the event. April 20 falls on a Friday this year, so they are making a two-day weekend event out of it – providing vendor stalls, including culinary and wine & beer stalls for the concert goers. The culinary choices will include grilled specialties and baguettes freshly prepared by comrades in the area. Entertainment will also include martial arts performances and speeches. Tickets are 45 euros.
We wish them a big success and a great time.
But not everyone is happy about it, of course. There are those anti-democratic forces who call themselves the defenders of Democracy who don't think it should occur. In Dresden (Saxony) dozens of German mayors signed a joint declaration on Friday, April 6 as an act of protest against the festival. A quote from the declaration:
Those who question human rights and those opposed to democracy and pluralism are not welcome here - they will not be made to feel at home in our region.
Forty town mayors handed the declaration over to Saxony premier Michael Kretschmer on Friday. Why is it that they welcome foreigners whose beliefs on those subjects differ greatly from their own, but if they are fellow Germans by blood who question those same beliefs, they are strongly opposed and censored, even arrested. Are these mayors insincere?
In any case, the event was registered on Nov. 20 last year and the police are preparing for it. One source says it is happening under the slogan "Reconquista Europa – create a counterculture."
Below: Historic scenes from the town of Ostritz in Saxony, Germany, where the festival will be held on the anniversary of Adolf Hitler's birthday.