Günter Deckert Sentenced to Five Months of Prison for Translating Book
The following was written and sent to me by Günter Deckert, long-time Nationalist leader in Germany and friend of Holocaust Revisionism. I have taken the liberty to make some minor changes in the interests of making it better understood to the English language reader. Günter Deckert was born at Heidelberg in 1940. His father was killed as a soldier in the war. Günter was a successful and much-respected teacher before he was forced out of that profession because of his political views. He previously served five years in a German Federal prison in the 1990's for violation of Section 130 -- a so-called "speech crime."  Günter Deckert is a husband, father and grandfather.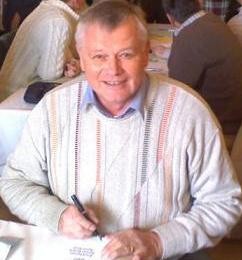 My "crime" this time… I made it possible that Carlo Mattogno´s Auschwitz – The First Gassings (Italian version 1992, English version 2002) could finally be published in German, too, in 2007.

Though most of the text in question had already been translated by one or two people, some pages in English as well as in Italian had been left. I finished the translation, did it over and tried to put the whole text into normal German. [The nature of] My co-operation to that German version is to be found on page 2 with the statement that I do not share the statements and conclusions of the author. (1)
Nevertheless, the political police (5 people) "raided" my home almost four years ago – it was my 12th "special visit"! They took my PC with them as well as two copies of the Mattogno book, one being my author´s copy, the other one being a copy sent to me by a German woman living in England -- she complained of the many misprints due to the fact that the Englishman setting it was without any German knowledge. Months later I got my PC back, broken. The action against me had been ordered by Mannheim prosecutor Grossmann after the "Bundesamt für Verfassungsschutz" (Central Office for the Protection of the Constitution). Attention! We have only got a so-called Basic Law never approved / voted for by the German [s as a] sovereign [people].  In summer 2009 the accusation was accepted by the "Amtsgericht" (county court) of Weinheim, my home town. I was without a lawyer because [it was] NOT necessary. As I only wanted to see what the single sitting judge "made" out of the accusation, I did not bring in a lot of paper work. Thus, the trial was over in one day. I got four months on probation (for three years) plus a fine of 600 Euros, and [also have] to pay for the costs.
Prosecutor Grossmann, who had wanted six months of prison, appealed, as did I. Now it was the term of the Mannheim District Court ("Landgericht" Mannheim), the Nürnberg of a lot of German revisionists.(2) A minor court ("Kleine Strafkammer") consisting of one professional judge, a certain Roos as president, plus two jurors (about my age) is the rule if you start with a county court. And therefore you are not forced to have a lawyer.
The Mannheim trial started on November 14, 2011 and finished on February 2, 2012. It resulted in those five months of prison, without probation. The trial took this long a  time because I had changed my tactics in order to make the court understand why I was in favour of revisionism. I gave all the reasons and proofs still possible to be brought forward before a court without being accused again.
At the beginning it seemed that Judge Roos had doubts as to the problem of "publicity"  or  "diffusion" of the book necessary to sentence a person. But in the end he jumped upon the suggestion of prosecutor Grossmann, stating that the possibility of coming across the book via the internet fulfilled what §130 demanded.
In February, on day 6, I was sentenced to those five months of prison as stated before. At the very end of the session, I declared that I will have this sentence revised by the Karlsruhe based regional district court ("Oberlandesgericht"). This declaration has to be made within a week! After being sent the written sentence which is not yet the case, I will have one month to give reasons for my revision. If I am lucky (?), the regional district court will not decide before the end of the year. And if I lose again, there is still the possibility of going to the so-called "Bundesverfassungsgericht" (Federal Constitutional Court ) in Karlsruhe .
Reports of the trial, above all the one of day 6, were to be found nationwide, naturally not objective at all. Our "democracy" with its "guaranteed basic rights" is pure theory; the everyday reality is the other way round.
 Those interested in learning more may ask for the six trial reports plus some of my motions. The English translation of the reports etc., done by Carlos W. Porter, will soon be finished. People can get them either via an e-mail attachment (free of costs, donations welcome) from [email protected] or via snail mail (about 30 pages A4 for 10 dollars) from Günter Deckert – Pf. 100 245, (D) 69442 Weinheim an der Bergstraße, Germany.
(1)     Lawyers that I asked recommended that I include that statement -- thinking that it would prevent the "system" from prosecuting me. Lawyers are of NO real use if it is a §130 case!  You cannot bring proofs to convince the court -- if you do so, another accusation is the result!
(2)     Zündel, Rudolf, Stolz – I have only 3 copies (in German) left of the documentation "Die Mannheimer etzer-Prozesse (§130: "Holo…."(-Leugnung) 2005 – 2009 gegen Ernst Zündel, Germar Rudolf, Sylvia Stolz" – 304 pages, some in English taken out of  The Barnes Review and The First Freedom, soft cover, $30 USD, shipping included. Send money in recommended letter which has proved to be fine and working.