German Intel Paid 'Neo-Nazi Informer' $240,000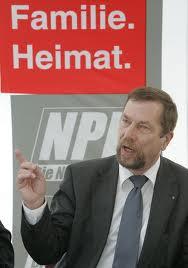 Germany's lower house of parliament, the Bundestag, has halted public subsidies to the Nationalist Party of Germany (NPD) over an unpaid fine.

All parties in Germany receive 85 euro cents for every vote they get in European, legislative and regional elections, which drops to 70 cents once they have four million votes or more. According to Der Spiegel, NPD spokesman Frank Franz said he was unsurprised by the decision which he believed to be a way of blocking the party from standing at this September's general election.
AND YET ...
BERLIN February 25, 2013 (AP)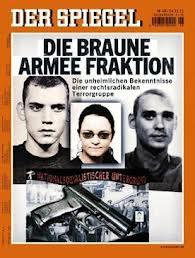 Germany's domestic intelligence agency has come under fire for paying almost a quarter of a million dollars to a neo-Nazi informer linked to a far-right terror group.  [This actually refers to the three, yes 3 persons (on Spiegel cover at left) who are being patsied by German Intelligence (a misnomer) as murderers in order to paint a picture of dangerous political extremism in Germany.]

Opposition lawmakers and anti-Nazi campaigners criticized the payments made over 18 years after they were first reported Sunday by conservative weekly Bild am Sonntag.
Officials at the intelligence agency declined to comment on the report. But the head of a parliamentary committee tasked with investigating a string of murders allegedly carried out by the group says the information appears accurate.

Lawmaker Sebastian Edathy told The Associated Press on Monday that the newspaper's report matched information submitted to his committee. Edathy said the payments totaling €180,000 ($240,000) to a man identified by the newspaper as Thomas R. were "off the scale" for an informant.
In other words, no money for the country's one nationalist political party, but over-the-top amounts of money to pay informants within the nationalist groups. It's hard work to try to build a murder case out of nothing.