Höcke called a "Nazi" by leading German politician; Trump hit for nationalist "Svengali" Bannon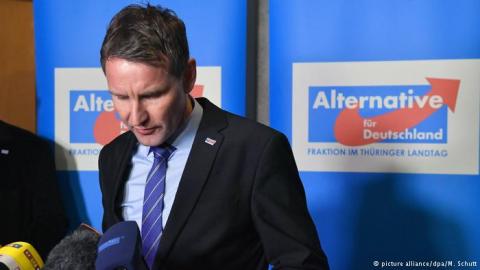 By Carolyn Yeager
NO RELIEF IN SIGHT FOR BJÖRN HÖCKE from the globalist "progressives" in Germany. The German press is also out to take down Donald Trump – much bigger game and much more difficult.
On Saturday, Thomas Oppermann, chairman of the Social Democrats (SPD) in Germany's parliament, doubled down against Thuringia's state Alternative für Deutschland (AfD) leader with the words, "For me, Björn Höcke is a Nazi."
As reported in Deutsch Welle, Oppermann said, "Someone who wants to resuscitate the ethnic ideology of the National Socialists has no place in a democratic society." He also said Germany could never again tolerate discrimination based on gender, religion, national origin (ethnicity) or heritage (race).
If this were truly the rule, it means Germany must accept Islam and mosques dotting the landscape. It means anyone from anywhere must be allowed to become a German citizen, with low-IQ dark-skinned, violence-prone "Germans" proliferating within the population. This is the result of rejecting "Nazisim." It means "German" has no meaning beyond a word indicating a geographical location, a tri-color flag of black-red-gold, and some carefully-preserved historical monuments such as the Brandenburg Gate as tourist destinations. Anything associated with the 12-year reign of "Nazism" must be clearly delineated with condemnatory "educational" exhibits, if not totally wiped out. This is what Oppermann means by a democratic society.
Oppermann's harsh comments are still in response to Hocke's "Holocaust" speech in January, when he said "We need nothing other than a 180 degree reversal on the politics of remembrance" and referred to the Berlin Memorial to the Murdered Jews of Europe as a "monument of shame" for Germans. This only proves once again that the "Holocaust" remains the #1 pillar upholding the Zionist-Globalist rule that took full power with the crushing of the "Nazi" regime in 1945 and the erection of the WWII psuedo-historical narrative. Any attempt to invite discussion of the real historical truths involved or to bring relief to the German folk will be most forcefully stamped down - so often by the German traitors themselves.
However, people like Björn Höcke and other patriotic Germans need to keep trying.
*    *    *
In other AfD news, on Saturday in Essen, North Rhine-Wesphalia, the regional election committee selected the 62-year-old politician Martin Renner to the top of the national list [running for the Bundestag]. Renner was able to win against Hamburg's AfD politician Kay Gottschalk, who was considered a candidate for co-chairman Marcus Pretzell (husband of national leader Frauke Petry). Renner received 179 votes and thus one more than necessary. 167 delegates voted for Gottschalk. Renner and Pretzell are deeply divided. The NRW-Landesverband claims almost 4600 members of the populist party. Nationwide, the AfD has more than 26,000 members.
* * *
Along with this, Donald Trump is being portrayed as a fascist who wants to shut down the free press in the US, and is following the agenda of his chief strategist Steve Bannon, described by Deutsche Welle opinion writer as "his murky eminence" and a "shadowy ideologue."
In the past, presidents had top aides and strategists who many in the public had never heard of and no one seemed to care. After all, it was the President's actions that were judged, not how he arrived at those decisions. No so with Trump, who is scrutinized and criticized by the opposition press every step of the way. Bannon is seen as an out and out Nationalist, who even uses the word in describing Trump's agenda. The DW writer claims the ultimate target of these two plotters is to bring down the entire establishment – including the Republican Party itself!