Here's why a Donald Trump presidency poses a real threat to the American political establishment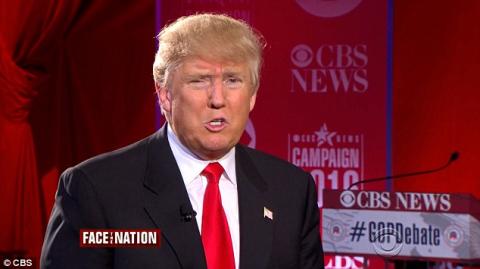 Politico headlined a post-debate story this morning: "Trump crosses the 9/11 line"
Yes, he sure did – when he said in last night's debate that the Bush administration's push to go to war in Iraq was based on a false narrative. Here's the statement that no other Republican running for office would dare to make:
"We should have never been in Iraq. They lied, they said there were weapons of mass destruction. There were none and they knew that there were none."
Trump is referring to President George W. Bush, Secretary of State Colin Powell, Secretary of Defense Rumsfeld, and others who concocted a lie to get the country to go along with the administration's desire to invade Iraq, the goal being to removie Saddam Hussein and gain control of middle east oil and to make Israel happy. All the details of this and much more will be available to a President Trump, I would imagine.

As president, he may not be willing to keep it hidden as all the other bought-and-paid-for candidates can be "trusted" to do. Trump also compared 9/11 to Pearl Harbor, saying 9/11 was worse because it was directed at civilians. Does Trump know they lied about Pearl Harbor too, in order to be able to declare war on Japan? Trump is no dummy, and he's also no warmonger, so what we know he must know also. It's just a matter of his judgement as to how much should be said. And this is what the establishment is so frightened about.
Here are some of the exchanges from last night as they were reported online this morning:
From The Hill:
"George Bush made a mistake," the billionaire continued. "Obviously we can make mistakes, but that one was a beauty."
"We should have never been in Iraq.They lied, they said there were weapons of mass destruction. There were none and they knew that there were none."
From Politico:
Bush: While Donald Trump was building a reality TV show, my brother was building a security apparatus to keep us safe. I'm proud of what he did."

Trump interrupted with the 9-11-related attack, and the room booed.

Asked whether he still supported impeachment, Trump didn't directly answer, instead railing against the "lies" that in his view led up to the war in Iraq.

"You call it whatever you want," Trump said. "They lied."
On Face the Nation with John Dickerson, taped Saturday night after the debate (watch at the link).
Jeb Bush complains that he is "sick and tired of [Trump] going after my family."

As Bush defended his brother's ability to keep the nation safe, Trump said, "The World Trade Center came down. I am not blaming [President Bush], although...the CIA said there was a lot of information that something like that was going to happen.

"Now, could he have done something about it? His CIA knew about things happening... but when Jeb gets up and says, we were safe under his brother, we weren't safe," Trump added.

"I'm just saying he went in there, he thought there were weapons of mass destruction, maybe or maybe he didn't," Trump said. "If he knew that there weren't weapons of mass destruction and if he used that as an excuse to go in and try to make up for some sins for previous years then it would be a lie."

He was still harsh about Bush's decision to push for the war in Iraq, saying it was a "disaster" that may lead to "the destruction of Europe" because of migrants fleeing the region.