The Heretics' Hour: "Why We Are Antisemites" - Adolf Hitler's 1920 speech at the Hofbräuhaus
Jan. 28, 2013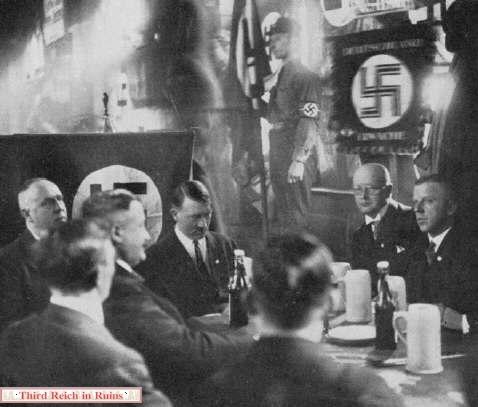 A hard-to-locate speech that was found and translated for Carolyn by Hasso Castrup of Denmark is read and commented upon. Over 9000 words long, it makes clear Hitler's intentions and who he saw as the major enemy as he embarked on an uphill battle to win the hearts and minds of the German masses for National Socialism. Some points made:
Northern ice-age races – the Aryans – learned to work as a way of life and the weak did not survive, strengthening the race;

Since the Jew is the destroyer of every state, as a pathogen he must be removed for the health of the state;

Jewish destruction occurs in three main areas:  The ethical duty to work, the national (racial) purity, and the culture;

Since every Jew is obligated to fight against antisemitism, it follows that every German will become an antisemite;

Spreading scientific knowledge of the danger of Jewry or removing economic power from the Jews is insufficient … it's necessary to penetrate into the common people and organize them.
This speech in it's entirety will be posted at carolynyeager.net.
Image: Hitler and the "Old Fighters" meet on February 24, 1929  in the Hofbräuhaus to mark an anniversary. Left to right: Gregor Strasser, Karl Fiehler (back to camera), Christian Weber, Hitler, Julius Schaub (back to camera, Franz Schwarz, Max Amann.