How the Aspirin trademark was stolen from Germany at the Versailles Treaty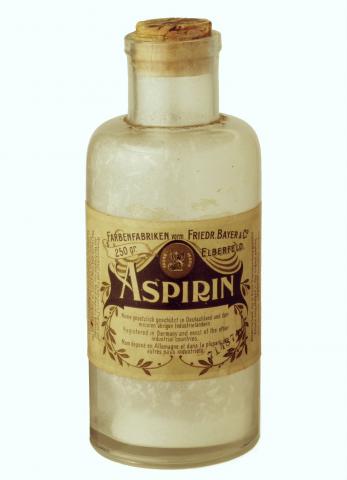 In 1898-99 German chemist Felix Hoffmann came across a recipe for a salicylic acid compound made by "French" chemist Charles Frederic Gerhardt (a German name).
Though the salicin from Willow Bark was known to relieve pain and reduce fever since it was isolated in the 1820's, it also upset the stomach. A few decades later, Gerhardt found that combining acetyl chloride with the salicylic acid made it less irritating. But he also decided it was too complex to make and dropped the idea.
Some years later, Hoffmann tested the recipe himself and found it worked. Already an employee of Bayer, he convinced the company to make the drug and name it Aspirin - from acetyl chloide and spiraea ulmaria, the plant salicylic acid comes from. First appearing as a powder, Bayer didn't release it in tablet form until 1915. [Image at right: bottle of Aspirin powder from 1899, from Bayer archives]

But after World War I Bayer was forced to give up the trademark as part of German war reparations! At the Treaty of Versailles, the trademark for Aspirin and for Heroin were given to France, Britain, Russia and the United States. 
That is how aspirin became a cheap drug and a generic name ... just to keep a German company from making millions off it.