July 30, 1938: Henry Ford Honored with Medal from Adolf Hitler
From the Detroit Free Press: This week in Michigan History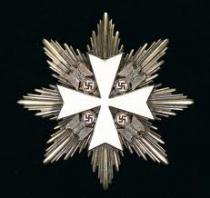 Henry Ford was awarded Nazi Germany's Grand Cross of the German Eagle on July 30, 1938, his 75th birthday. He was the first American to receive the medal, the highest decoration Germany bestowed on foreigners.
Fritz Hailer, the German vice consul in Detroit, presented it to him at Ford Motor's Dearborn offices, explaining that Adolf Hitler wanted to recognize how the automobile tycoon made cars available to the masses. The previous year, the same medal was given to Benito Mussolini, the founder of Fascism and leader of Italy from 1922 to 1943.
Hitler was a big fan of Ford, a noted anti-Semite whose anti-Jewish publications inspired Hitler's rantings and speeches. The Nazi führer mentioned only one American in his book "Mein Kampf" -- Ford -- and had a photo of him hanging in his office.
In 1937, Ford issued a [forced -cy] public apology for anti-Semitic pieces in his Dearborn Independent newspaper, including "The Protocols of the Elders of Zion," and his book "The International Jew." However, a few years later, his anti-Jewish publications were reprinted.
Ford's Grand Cross of the German Eagle (pictured right) along with his other personal belongings, are part of the Henry Ford's archival collection, according to spokeswoman Wendy Metros. It is not on display.