The Max Hamburger Story - Some Reasons Not to Believe It
by Carolyn Yeager
The interview with psychiatrist Max Hamburger that appeared in the March 2012 Dutch magazine Aanspraak was translated into English for me by Hasso Castrup. Some things that Hamburger said are revealing of his overall honesty when it comes to his statements about "the Holocaust." Being a "holocaust survivor" who appears in the famous photograph is, after all, his only claim to fame.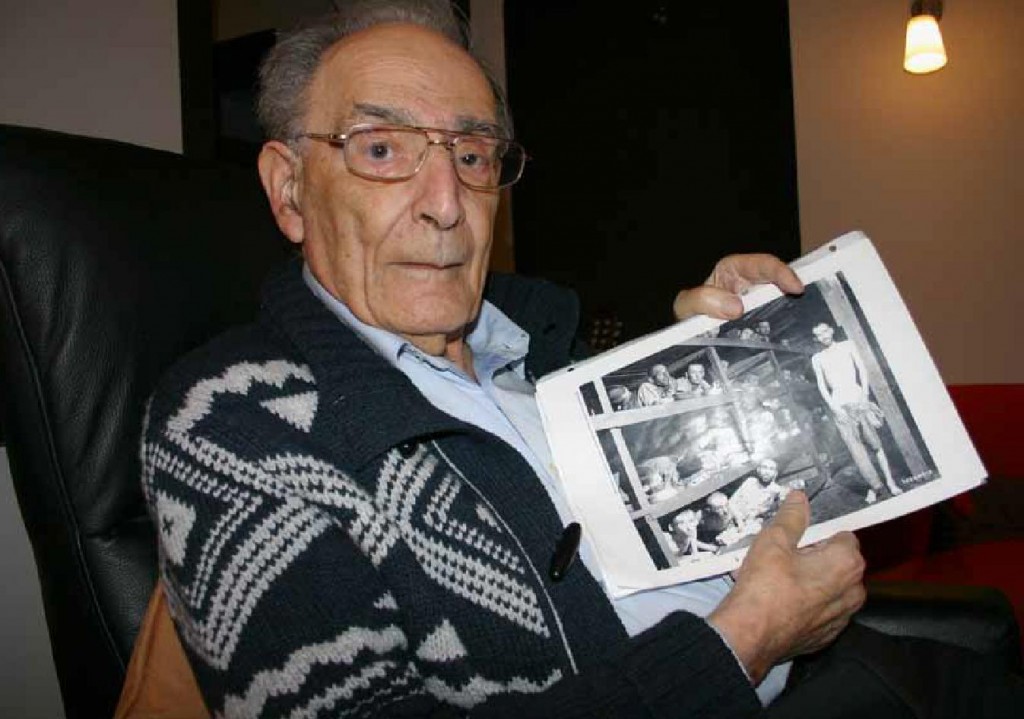 Max Hamburger in 2012 pointing to himself in the Famous Buchenwald Lie-beration Photo from 1945 (Source: Aanspraak magazine)



He says that "shortly afterwards we were betrayed and arrested, interrogated and deported to Westerbork. My mother was also betrayed." On Sunday,

February 6, 1944,

he saw her for the last time in the penal barracks at Westerbork. They fell into each other's arms and cried. But then … "In Auschwitz I met a fellow radiologist who was deported together with her. He told me that my mother was gassed on March 6, 1944. I arrived there on

February 10, 1944

(his 24th birthday, but he doesn't mention it), but did not see her again."
Since we know there were no gassings at Auschwitz, this is a dead giveaway that he's telling a big lie, although he's putting the lie in the mouth of an unnamed "fellow radiologist." This is a trick that is used often by so-called witnesses and "survivors." The so-called informant should always be named; if they can't name the informer, they should not be believed.
*   *    *
The train took them to Gross Rosen, where an old factory was assigned as their hospital. He says "we" had to vaccinate everyone against typhus in

February 1945

. Their only hope were reports of advancing Russians and Americans, which they knew of because a fellow prisoner secretly listened to the radio. At the evacuation of the camp they had to walk in the snow to the Czech Republic. From there they were taken by train from Prague to Flossenbürg camp in Bavaria.
According to USHMM, Gross Rosen camp was evacuated in early February '45 and "about 40,000" from the main camp and sub-camps had to march west. This is a lot of inoculation to be done in a few days. But more important, the 9-month period he spent at Gross Rosen between May 1944 and February 1945 is blank. May 1944 coincides with the time of the large Hungarian deportation to Auschwitz; Hamburger says he was with a Hungarian labor unit that had already been to Auschwitz and sent out from there. Would not the new arrivals also have been sent out from there in like manner? From here on, his narrative remains very sketchy, and is mostly made up of vague horror stories.
Please go to Elie Wiesel Cons The World for full article