One of Adolf Hitler's favorite entertainers dies at age 108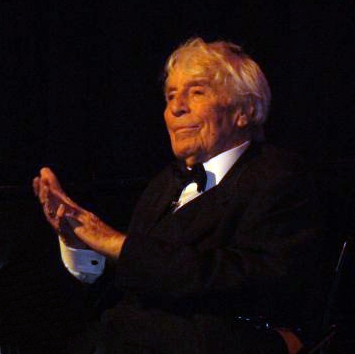 Johannes Heester in March 2006, age 102
Johannes Heester, a Dutch-born performer who made his reputation in National Socialist Germany and continued to perform until recent times, died on Christmas Eve at a hospital in Starnberg, Germany, where he had been for several days.
Heesters was a tenor who made his stage debut at the age of 30 at the Volksoper in Vienna in 1934. The following year he moved to Germany with his wife and daughters, where he became a crowd favorite at the Komische Oper and Admiralspalast.
During the time of the Third Reich, he performed for Adolf Hitler. Joseph Goebbels put him on the Gottbegnadeten list (literally God-given or "Important Artist Military Exempt" list) as an artist considered crucial to National Socialist culture.
Because of this and because he visited the Dachau concentration camp in 1941 (Dachau was the first labor camp in NS Germany and seen as a model of good planning and progressive ideas in the early 30's), he was seen as an enemy or traitor to many Dutch. Heesters entertained Wehrmacht soldiers during the war, but insisted he did not entertain SS troops when at Dachau, of which he was accused.
Heesters continued to be a popular performer in Germany well into his old age, making regular appearances on television and on stage. He made 1,600 appearances in his best-known role, as Count Danilo in Franz Lehar's operetta "The Merry Widow," and 750 as Honore in the musical "Gigi."
Above: The handsome Heesters at age 19 after a stage performance.

At age 98, he put health problems such as knee and appendix operations behind him to perform in Chekhov's "The Cherry Orchard." As he turned 105 in 2008, Heesters was performing in a musical comedy in Hamburg.

"To have nothing to do, to sit there waiting for little aches and pains, is fundamentally wrong," he once wrote. "Life has to be lived."
Read more at LA Times and Wikipedia.

Below: Herr Heesters in 2008 in the role of Franz Joseph 1 of Austria, at age 104.