Putin meets with world rabbis to denounce Hitler and anti-Semitism for the umpteenth time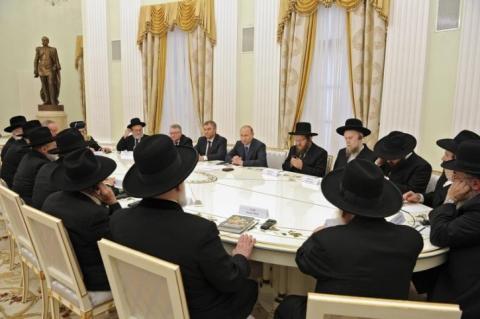 Russian President Vladimir Putin (C) meets with a delegation of Rabbis from several countries at the Kremlin in Moscow, July 9, 2014. REUTERS (click to enlarge)

While he reportedly admitted during this meeting that Dr. Josef Goebbels was a "talented man" and maybe even that Goebbels had 'achieved some of his goals' (this has not been reported everywhere), these words were later removed from the published statement on the ITAR-TASS website.
ITAR-TASS also represented Putin as meeting with "representatives of international public and religious organizations" rather than with the black-hatted Orthodox rabbis we see in the photos taken. Pro-Putin websites have substituted a older picture of Putin alone with Russian flags behind him when running this story.

Kremlin.ru reported Putin discussed the fight of Jewish people during WWII and the struggle that still exists today regarding anti-Semitism. He recalled his visit to Yad Vashem in Israel – a "Holocaust" museum – and also mentioned the Museum of Tolerance in Moscow (which he was instrumental in having had built, even personally donating a month's salary to the cause).
According to Jewish sources, Putin also praised all who "continue to wage an uncompromising struggle against all manifestations and any attempts to (legitimize) Nazi ideology."

They said Putin's words came during a meeting with European Jewish leaders that was attended by Israeli Sephardic Chief Rabbi Yitzchak Yosef and former Ashkenazi Chief Rabbi Israel Meir Lau, a "Holocaust" survivor. The meeting was arranged by Russian Chief Rabbi Berel Lazar.
The Chief Rabbi Yosef said that Putin asked him to convey a message of support to Prime Minister Benjamin Netanyahu, professing his friendship with the Jewish state and expressing his "support for its struggle to protect the safety of its citizens."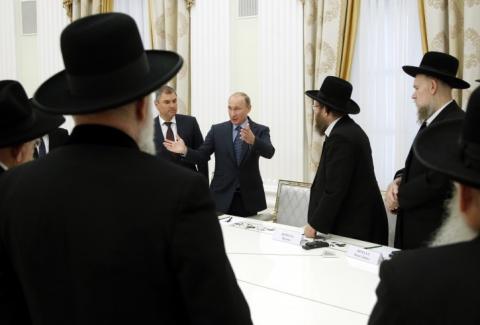 Russian President Vladimir Putin (C) welcomes a delegation of Rabbis from several countries, in the Kremlin in Moscow, Russia, 09 July 2014.  EPA/MAXIM SHIPENKOV / POOL (click to enlarge)